Such A Pretty Shame!
I really wish I liked this bra. It's a very pretty color, and it seems to work for everyone else that has reviewed it. But, for me, this just does not give the support I would like it to.
Published:
Pros:
Very pretty lace detailing and color, range of sizes, underwire, comfortable enough
Cons:
No real support, doesn't give the rounded shape I would expect from a bra, cups aren't flattering
This was kind of a risky purchase, since I only really wear push-up bras. However, I thought this looked really pretty in both blue and black, and it had nothing but good reviews, so I decided to go for it. I was going to order both colors, but decided to wait and see if I like the blue, then I would order the black if I did. I was even considering getting the
matching boyshorts
. Well, I'm glad I did that, because this bra is not for me.
The packaging of this is pretty minimal. It came in a plastic sleeve with the company logo on it. The bra comes on a hanger, with a tag attached to the bra.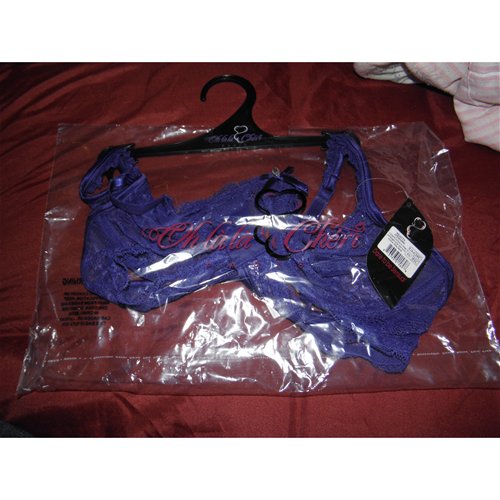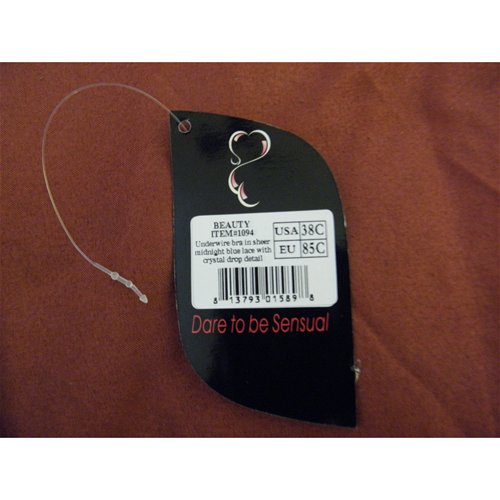 It has a small teardrop-shaped faceted bead in the center of the bra, on a bow between the cups. Generally, I don't really go for things like that, but this is not gaudy and doesn't look out of place. Although, if you really didn't like it, you could easily remove it.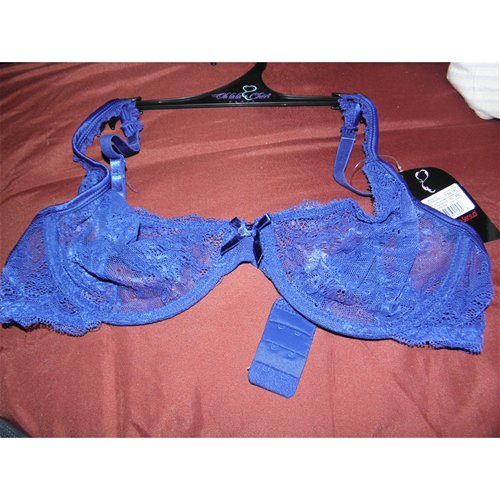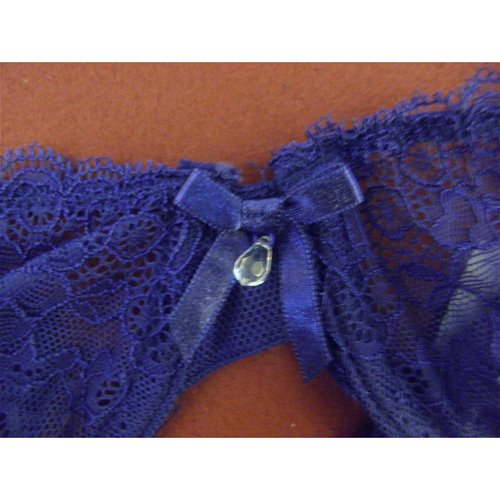 There is one ruffle along each of the straps, but it only covers about half of the strap. This detail does not itch, I found it to be comfortable and not bothersome in any way.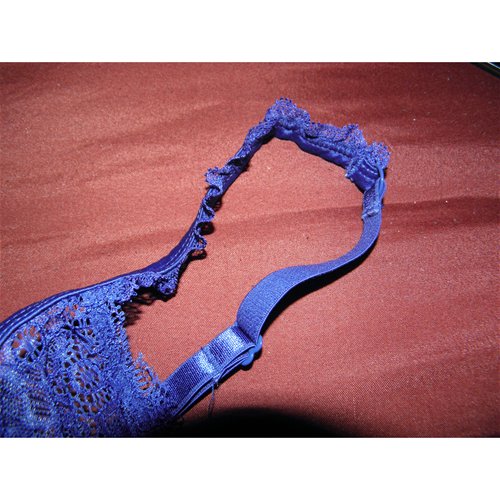 There is a care tag inside of the bra, pretty much to be expected. Hand wash, cold water, no bleach, hang to dry.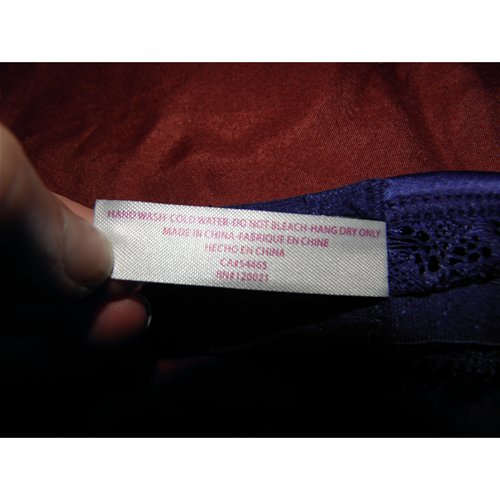 This bra has a standard hook and eye closure.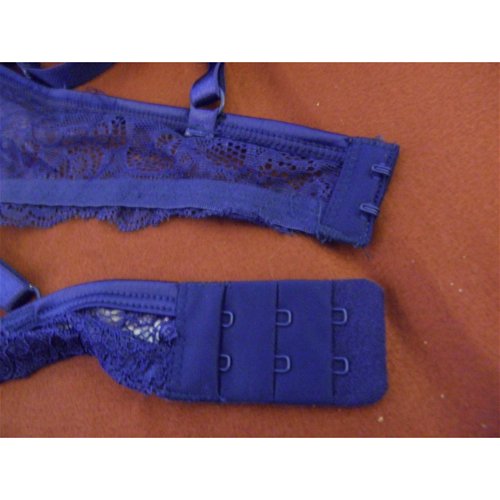 The bra itself is not quite as bright as it is in the product pictures; it is a bit deeper, but still a very pretty vibrant color.
I would say this is pretty true to size, since it's not uncomfortable to wear. I am a 38 C/D, and I ordered the 38C, and it fits pretty well, except I don't love the cups, which is my only real problem with this bra. But cups are a pretty big problem to have with a bra! My problem with this is pretty much the cups. I don't like the way they look on me, they don't make my breasts look rounded, they just look almost saggy and pointed, which they aren't. If I'm wearing a bra, I expect it to give me some sort of shape. With this, it looks pretty, but if I were to wear it under clothes it would be like going without a bra at all. So, in that respect, I would consider this more lingerie you would wear to show off, rather than something to be worn under clothing (though, I am very used to wearing push-up bras).
Also, there are some loose threads shown in the image below: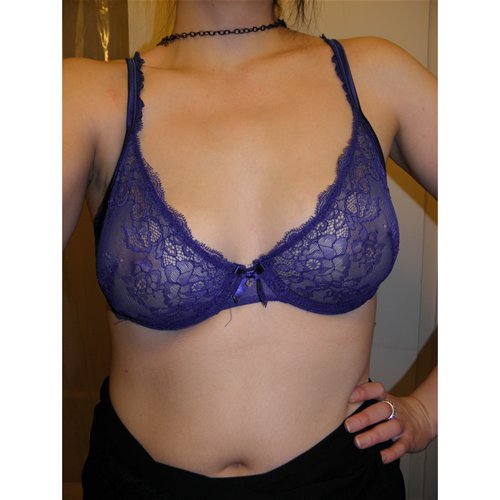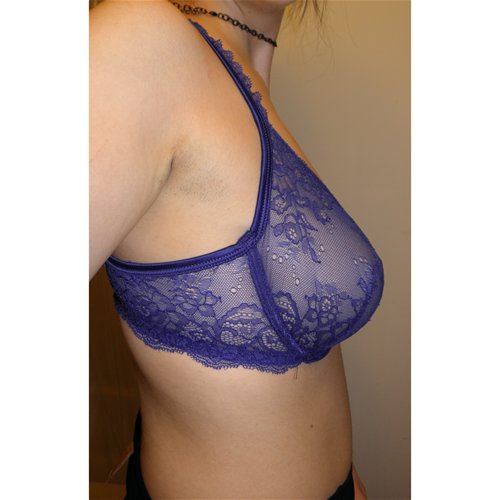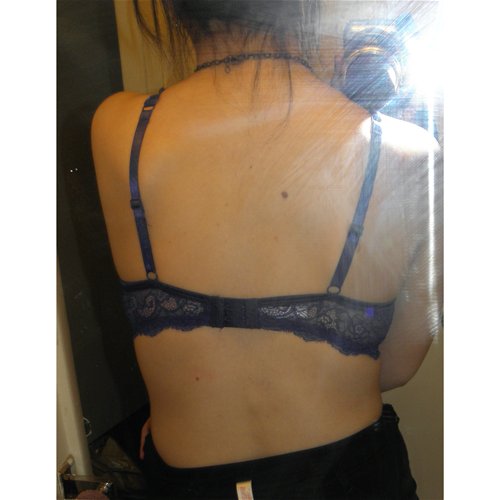 The cups are a thin layer of lace, but it is sturdy fabric that doesn't feel like it would just rip. The lace did not itch or irritate, it wasn't scratchy like some lace can be. If you are like me, and generally are between sizes, or wear a different size depending on the bra, go with the lesser cup size with this bra. It would be wrong to say that this bra has no support at all, since it does have an underwire, which I didn't find uncomfortable when I had it on. However, the cups themselves seem to be the issue for me. I'm not sure what could really be done to fix that. Something about them makes this look like it gives no support. If I put on a shirt over this bra, and jumped around, it would look like I wasn't wearing a bra; I guess that summarized my problem with this pretty well and simply.
One good thing about this is that it comes in a range of sizes, not the non-specific S-L like some bras on EF. This bra is available in 32 B through 38 DD.
Experience
I really wish that this bra worked for me! As I said, if it had, I would have ordered it in black also. But for me, this just does not look flattering as I would like it to. It doesn't have any real practical use, since as I had said, wearing this under clothing would basically be like going braless, for me.
I thought that this might be similar to the cups of
my Star Gazer chemise
, which actually changed the way I see bras and lingerie without padding. That chemise has surprisingly good support in the cups, and makes everything look tight and rounded and nice, with only an underwire and a thin layer of fabric. Though, this bra did not give me that. I am disappointed, and I'm going to be returning it as soon as I can. I have it hanging in my closet right now, until I get a chance to return it. It's sad to see it hanging there, since it's SO pretty to look it, just not very practical for me to wear. Based on the reviews I read before ordering it, it seems to work pretty well for others who have tried it, it just doesn't seem to meet my needs. If the cups were a little bit different, or if there was some way that I could tweak it so that I would be able to wear it happily, I would love it. I hate to give this bra the rating that I am, but it's just not a useful product for me. Very pretty, but as I said, doesn't give the effect I expect of a bra.
Follow-up commentary
22 days after original review
As I said, I was going to return this. I sent it back to Eden, I just did not appreciate the way it turned out. It looked very pretty on it's own, but wasn't very useful to me.
This content is the opinion of the submitting contributor and is not endorsed by EdenFantasys.com

Thank you for viewing
Beauty Boutique blue bra
review page!