Mediocre dress that shows all the right body parts
This form-fitting, curve-hugging dress is comfortable, but not so much looks-wise as it hugs my body more than I'd like. It's a dress for a day when I feel like something more high maintenance. If it weren't for the unique back portion, I'd be irate with my purchase. All in all, you could find much nicer, higher quality and far more flattering dresses for less than half this price. I can't wrap my head around the prices of these almost uselessly cheap dresses.
Published:
Pros:
Comfortable material.
Sexy back.
Cons:
Knot.
Mediocre, not $40 quality.
Design/Style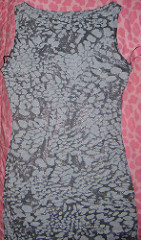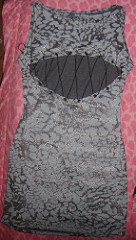 The Grey Spotted dress is a simple, pretty bland dress until you see the back. The strappy, criss-cross strings over an open upper back cut-out is the only thing that makes this dress special, unique or cute. As you can see, the neck line is a basic, straight across cut, as is the upper back/neck, which is cut high on the neck. The tank-style straps with roomy arm holes make this comfortable to wear for long periods.
Let me discuss the cut-out back since that's probably going to be the main reason this dress stands out to anybody.
The 12" across, foot-ball shaped cut out is located on the upper back, beginning 5 1/2" down the fabric. As I said, the cut out is shaped like a foot-ball, so it's wider in the middle and narrows at the sides, meaning the middle upper back will be what shows the most of, a body part I find quite lovely in fact. The exact measurements of the cut out are as follows:
The cut out is 12" across.
Widest part (middle), which is shows 5 3/4" long of center of upper back.
The narrow sides of the cut out are 1 1/2", which means it reveals 1 1/2" of the sides of your upper back.
To keep the "lacing" running up and down, there are those metal holes, I've no idea what they're called, so see my photo for best understanding. There are 14 of these. The "lacing" runs up and down and through these holes, creating what appears as 7 "X's" of various lengths across the upper back, a very beautiful idea, but a more fashionable manufacturer would've pulled this off far better. It's actually just plain, stretchy crafting string in black -- just elastic wrapped in black threading similar to a super thin pony-tail holder or the stretchy string used to make children's bracelets. One particular spot that annoyed me, and revealed just how cheap this dress is was the knot tied at the left side, where the string begins (shown above). You can't hide this knot and it looks pretty unfinished like that. It could be sewed down with a stitch on the inner part of the dress, but that's a lot of trouble for this overpriced hunk of fabric.
The fabric is a dark gray or charcoal color with lighter gray spotting all over. There's silver detailing all over. It looks embedded into the fabric and isn't actual glitter, so no worries about it falling off. It basically just creates a shiny look to the otherwise even duller fabric. Still pretty bland in my opinion.
Another thing I wasn't particularly fond of is how the strings don't lie flat against my back, but bulge and just hang if I'm not standing perfectly straight.
Material & Care
94% Rayon, 6% Elastane. Handwash, no bleach or iron. Doesn't say how to dry it, so air drying is assumed.
The material is one of the only things I liked about this. While there's nothing worth $40 about this dress, the material is more comfortable than most of my fitted t-shirts! The inside is so nice and soft, I really like it. It feels similar to my fleece lined leggings, only this isn't as thick. The fabric is still much thicker than what these shoddy lingerie manufacturers (especially Espiral) usually produce. It's somewhat warm even. I've been looking forward to finally having a non-see through dress from these manufacturers and Espiral finally proved they can actually come up with one!
Made in Colombia
Dress' Measurements
Eden has this listed as 33" long from top to hem. That's a few inches off because this medium measures 28" long from top to hem in the front, and even shorter at 27" in the back! Why they made the back shorter beats me. It wasn't smart because it means no bending.
I said I favored the comfortability of the material and arm holes, remember? 1 3/8" wide tank straps reveal the majority of your shoulders and arms, much like a spaghetti strapped camisole does. The arms of most tops and dresses dig in or ride way close to my arm pit and is uncomfortable. I love the roomy 8" (measured up to down lying flat, and on one side) arm holes! It's comfortable and not snug, not at my pits anyways.
Measurements across
Chest: 12 1/2".
Torso/underbust area : 12 1/2".
Waist: 13 3/4".
Hip: 15".
From hip to hem: 16" across. My Measurements
Bust: Right: between a B and C cup. Left: 34B
Jean/shorts/size: Zero
Weight: 93lbs
Height: 5 2"
Waist: 26" Lower waist. Where I'm a bit wider, the love handle area: 29"
Experience
Packaging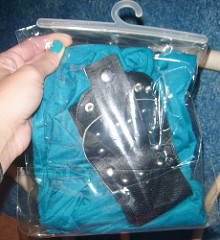 This comes in a plastic hanger cellophane bag, sealed shut with adhesive. Dress has hanger loops for hanging -- exactly like the one shown, only it contains a different Espiral item. There's an inner care tag and on the outside with photos of someone wearing it.
I don't advise ordering medium if you're any larger than my measurements. The clingy nature of this means it's snug on me, but doesn't glue to me. Any smaller and I'd be uncomfortable about it. It does have some stretch, so if you want a really tight look, you could probably manage if you're just a little larger than my measurements. Otherwise, I recommend going up a size than what you're used to. I personally don't feel that flattered in this.
This isn't lengthy, but fairly revealing length-wise. It rides up like t-shirts made of similarly thick material. This is a problem because it's already short, so bending over is not an option, and I'm pulling it down every few minutes of walking or standing. I'm short too! On taller girls, this could easily be uncomfortably short, if not downright booty-exposing! The bad thing is, it really wouldn't work as a shirt if it is too short. It's just at that length where it'd be too long for wearing as a top, but too short for wearing as a dress, for taller girls. I'd suggest pairing black bike shorts underneath if you really want this, but are uncomfortable with the length.
Fit
This is a very form-fitting, curve hugging and leg revealing dress. The price was shocking considering it's mediocre, and there's nothing special about it that would justify pricing it higher than your average Wal-Mart dress. However, my favorite body parts happen to be my back and my legs, and I kept coming back to see it, so I broke down and bought it. I'm not necessarily angry since I've learned to expect basically, crap quality from these brands, but I'm disappointed and feel it's a rip off. I mean, there's that knot, which I've decided to remove that string and replace it with a lovely, classy looking ribbon instead. The back is sexy, but it's made from elastic string, which after a look, any novice sewer can construct this exact design on either a t-shirt (or a super large tee-shirt taken in at the waist, but left long for a dress) or a dress you already own and want to sexy up.
[img|
I have a several $5-10 dresses I've purchased from a favorite retail store and they're truly $40 quality. This is not even close. I've a photo of one of the $5 dresses, looking at it, you see there was much more effort put into the fit, style and cut. So it's hard not to be disappointed when your $40 dress is less than half your $5 dress' quality.
Follow-up commentary
1 day after original review
...Continued...

According to the size chart, this should fit a 36/27/26. I normally wear small even in all but one Espiral item. I chose medium because the last Espiral dress was tight on me, which is actually something I never experience. Usuaully medium is way too large for me, but this is snug and fitting. The small -- which is said to fit a 34/25/24 would've been too tight for my comfort.

I like the dress, but that's about all. With new ribbon threading the back, it'll look a lot prettier. I still doubt it'll be a dress I'm in the mood for on many occasions.


This content is the opinion of the submitting contributor and is not endorsed by EdenFantasys.com

Thank you for viewing
Grey spotted dress
– mini dress review page!