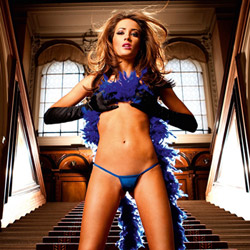 Micro mini low rise v-string
Sexy panty by Baci
Micro Mini Pain
They're beautiful and come in a variety of colors. However, they're sized wrong, and only come in two sizes: one size fits most and extra large.
Published:
Pros:
These panties come in a variety of colors.
Cons:
These panties only come in sizes one size fits most and extra large. Uncomfortable. Sized wrong.
The Micro Mini low rise v string is more like a micro mini pain. This is perfect for the girl that wants her labia showing because without constant adjusting that is just what will happen. It scoops ridiculously low in the front and this is from someone that loves low scoop panties and hip hugger jeans. I had to keep pulling at the front so the stuff below would not show. At the back that one piece of material connected to the strings really, really chafes and basically rubs your tail-bone raw. This thing is only, and I repeat, only good for bedroom use. Because wearing this for over 5 minutes would result in extreme tail bone chaffing (or ladies, hate to break it to you) a possible yeast infection, since this thing is sized horribly WRONG.

I wear a size 5 and those panties could be bigger. These things would only fit right if you weighed 90 pounds like the girl modeling them. These panties only come in one size fits most and extra-large as always with Baci. They are made of 90 percent polyester and 10 percent spandex. Be sure to wash them on the cold setting in your washer, with like colors, or they will shrink up even smaller than they already are or dye your other clothing. Quality wise it is pretty high in that department. They are a good quality made pair of panties, just sized entirely wrong. They don't fit at all like the model (because she looks like she's starving), so the panties sit just right on her pelvic bones. I would not even recommend these to a woman that wears a small or a medium because they wouldn't fit on a small woman.

The packaging the actual panties came in, of course, is Baci style; not so discreet, but who keeps the packaging hanging around anyway? I like wearing thongs and v-strings because there is no panty line. I wear them under jeans and shorts. If you're a girl like me, who wants some cute panties to wear that don't show a panty line, don't get these because while they don't show a panty line, they are uncomfortable. As I said, only good for use right before the dirty deed because no woman could handle wearing these all day for the sake of no panty line. These panties also come in a variety of colors and the blue pair I received are very vivid. They are beautiful, and they do make your butt look voluptuous, but they're just so darn uncomfortable. Being a straight shooter, they're perfect and sexy for short time bedroom use but not for daytime all-day use.
Follow-up commentary
3 months after original review
I still hold the same opinion of these extremely uncomfortable panties: they're horrid. I have not put them on since the first time I tried them on.
This product was provided free of charge to the reviewer. This review is in compliance with the FTC guidelines.

Thank you for viewing
Micro mini low rise v-string
– sexy panty review page!