Scantily clad in black (SM)
If you're smaller chested, and looking for something simplistic then this piece could be for you. There's nothing very sexy about this piece at all. All it has is a few straps and that is it. I have several teddies that are sexier than this piece and don't wear it very often. The craftsmanship is nice on this product so I don't see you having any issues with it, but I just don't like it as a teddy.
Published:
Pros:
Stretchy
Cons:
Not much to it
What it is
There's nothing much to this strappy microfiber halter teddy by Rene Rofe. It reminds me more of a skimpy swimsuit than a lingerie piece. However, it's see through so I wouldn't be wearing it out in public. It has two 20 1/2" straps that are attached to a silver metal band that tie halter style around your neck. The bra area is similar in style to a bandeau swimsuit top. It is also sewn onto the metal ring into two distinct sections. The bottom of the outfit is sewn onto the ring as well. It starts off as three straps that tie into the bottom of the underwear. With all of these straps, it's no wonder Rene Rofe calls this a strappy microfiber halter teddy.
Sizes Eden Carries
Eden currently carries this in sizes SM and ML. I have the SM and my review will be based on this.
Rene Rofe Size Chart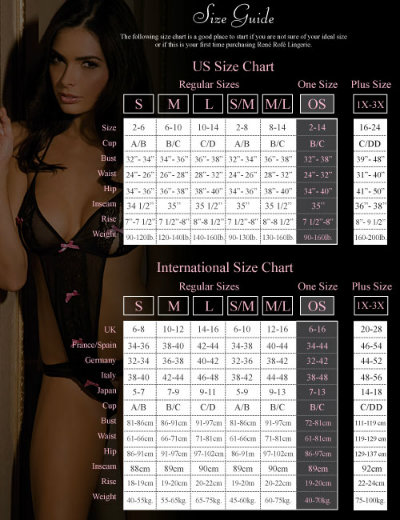 My current Sizes
Size 4-6
AA Cup
32" bust
27" waist
32" hips
121 pounds
Given the following information, this should fit those that are sizes 2-8, with an A-B cup, bust of 32"-34", waist of 24"-26" and hips of 34"-36". Based on this, I should be able to fit into this with no problem. The only area that could potentially cause issues would be the bust area being too small. However, that is just not the case at all. There is not much material at the bra area at all, and I honestly don't know where larger chested ladies would put their chest. It is very similar to a bandeau swimsuit top and should not be for larger chested ladies unless you love cleavage spilling out. I do not have any issues with the piece on any parts of my body. The material is very stretchy and I'm able to fit into it with no problems.
The easiest way for me to wear this is to put the bra area on first by slipping it over my body, and to hold the straps out for the panty area and slip into it that way. Once I'm in the panty area, I adjust the straps into their proper places and then I tie the halter straps around my neck.
Measurements taken laid flat
If you need any more measurements, feel free to contact me.
Laying flat the non-padded, no underwire, no support band measure 13" wide and is sewn on the silver metal band creating two distinct areas for your breasts. They are 4" long. The metal circle band is about 2" and has a space of about an inch.
Excluding the halter tie straps, the piece measures 19" long starting at the bust area and ending at the bikini. The back is thong style and laying flat the back's waist band is 12" across and the thong starts at 2 1/4" wide, is wider in the middle at 3 1/4", but gradually decrease to 1 1/2" wide at the end. From the top of the thong to the end is 9" long. It does not have any additional panty liner in the outfit.
It has three bands at the torso one on each side and one down the middle. They each measure 8" long and they are attached at the bottom of the metal ring and stop at the waistband and sewn into the waistband. The top string is 12" wide and the bottom string is 5" wide.
Front of the piece laid flat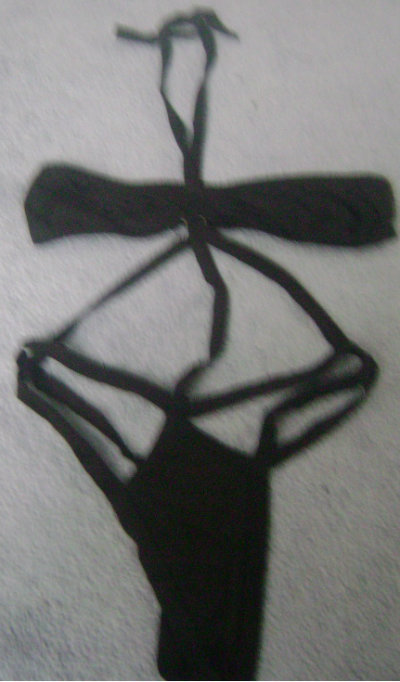 Back of the piece laid flat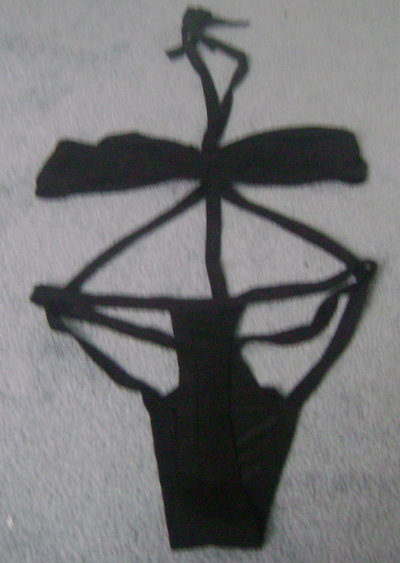 Material and Care
This piece is made of 10% spandex and 90% polyester. According to Wikipedia, polyester fabrics can provide specific advantages over natural fabrics, such as improved wrinkle resistance, durability and high color retention. Spandex is a synthetic fiber known for its exceptional elasticity. The name "spandex" is an anagram of the word "expands". It is considered to be resistant to body oils, perspiration, lotions, and detergents. It is commonly used in clothing where stretchiness is important such as for sports.
To care for this, the tag suggests hand washing in cold water, do not bleach, do not iron, do not dry clean, and to line dry.
Craftsmanship
I know very little about sewing, but this seems to be very sturdy. There are no unfinished edges or loose strings anywhere. The stitching is sewn in a v pattern all the way down the outfit. It is see through and the more you stretch it the more you can see through it. I wouldn't suggest pulling onto this piece too roughly because with any item you could potentially break some of the stitching. I've had this for a year and have not had any issues with this, but I am always delicate with my lingerie pieces.
Experience
Front of the piece while worn.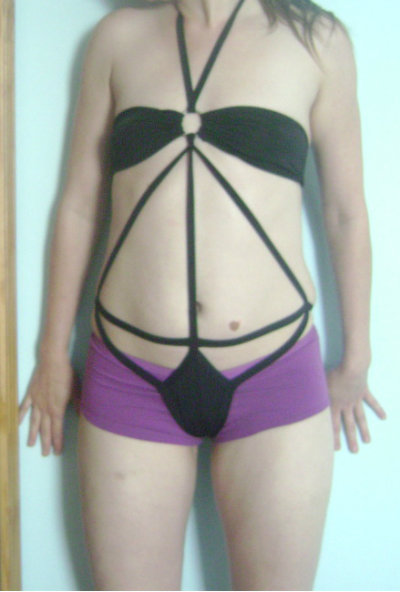 Back of the piece while worn.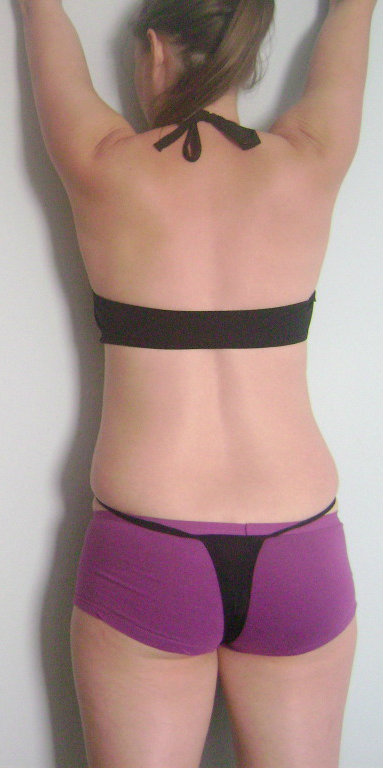 This is not my favorite piece of lingerie at all. I bought it a year ago when one of my lingerie companies that I order from was going out of business and I went on a major lingerie buying spree. I added massive amounts of lingerie to my collection, and this piece was one of them. It is a very simple and strechy piece, but it isn't really very sexy compared to some of the outfits that I own.
Follow-up commentary
43 months after original review
For something barely there you would think this would be one sassy piece, but it unfortunately is not. It's never been in my top favorite lingerie pieces. Someone once mentioned it was a cross between a swimsuit and lingerie and it missed on both accounts. That's a very good description of this lingerie piece. It won't fit many sizes at all because it's just a few strings here and there. No support for those who need it.
This content is the opinion of the submitting contributor and is not endorsed by EdenFantasys.com

Thank you for viewing
Strappy microfiber halter teddy
review page!