O So Sassy!
I give this teddy 4 out of 5 due to the fact that I wish the halter straps were a little bit longer. I feel those with bigger breast, with the straps being short it will cause strain on their necks. Other then that this is a very soft and sexy piece. With this piece being stretchy I think it will fit up to XL. I do recommend that everyone give this one a try it will be one of the softest teddies you have and a very sexy one too.
Published:
Pros:
Sexy design, Soft, Open back, Alternate uses, Sexy color.
Cons:
S/M & M/L only,No Plus size, Halter straps too short
Use
- The Strappy Microfiber Halter Teddy by Rene Rofe is designed to wear as lingerie. This can be worn before, during, and after sex. Can be worn under clothing and if your really daring a sexy one piece bathing-suit.
Material/Texture
- This teddy is made from 90% Polyester & 10% Spandex. Texture for this teddy is the soft silky microfiber feeling the teddy has. It feels so smooth against both hubby and my skin.
Design/Shape/Size
- The Strappy Microfiber Halter Teddy in Black has a sexy unique design. The middle of the teddy the is a sliver medal O ring in which everything is connected to it. The halter straps at the top, the bandeau style top on each side, and three straps(connected as one at very top) on the bottom of the O ring.
The halter straps are 1/2" by 19" unstretched and stretch to 27". The bandeau top is one solid piece with the O ring as the only opening and it's only a hole. Also where the bandeau top is sewn on each side of the O ring they added a cute scrunching effect. Also on the bandeau, the top and the bottom is outlined 1/4" elastic bands to help keep the it in place. Next is the three straps, which are connected as one, at the very top while they are connected to the bottom of the O ring, but split off as they go down. One goes straight down your stomach while the other to break off towards your sides. They make two triangles and at the bottom of the triangles where they stop is actually the start of the panty. Each of these straps are 1/4" by 8" unstretched and can stretch up to 12 1/2". The straps that the triangles connect to is the beginning of the panty which is 33" all the way around. Now also connected to these straps and the panty are two 1/4" by 6" straps on both sides. When you look they are sided ways triangles that are suppose to rest on your pelvic area. After all this then start the actual panty which is a normal thong instead of the usual g-srting. The panty from front to back if 3" by 17" and doesn't come with a pantyliner. That is it to the front and the back the is no design, all that is there is the halter straps, the back of the bandeau top, and the band from the thong. This is a very form-fitting teddy so it is going to shape your body, other than that it doesn't have a real shape to it. This teddy comes in two sizes S/M & M/L and one color Black, I have the M/L:
Rene Rofe Sizing: I got this off her site and did my best so bare with me:
S/M
Bust Waist Hips
34B-36C 27"-29" 37"-39"
M/L
Bust Waist Hips
36C-38B 29"-31" 39"-41"
My Sizing: Weight 148 Lbs Clothing shirts M(7-9) jeans (7-9)
Bust Waist Hips
34C 27" 35"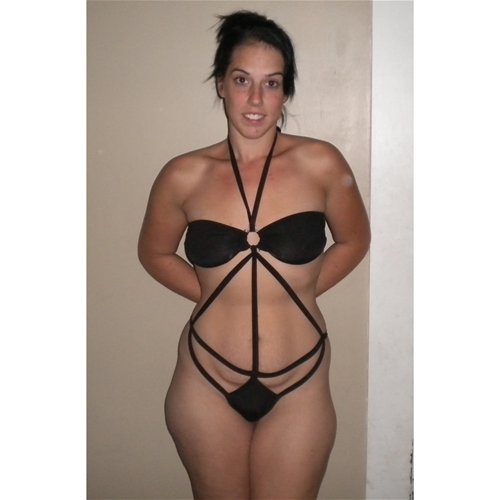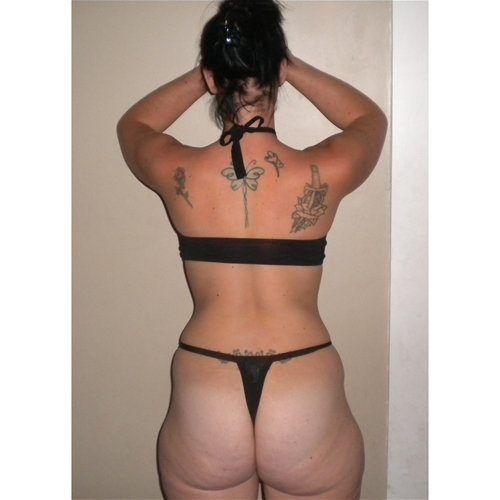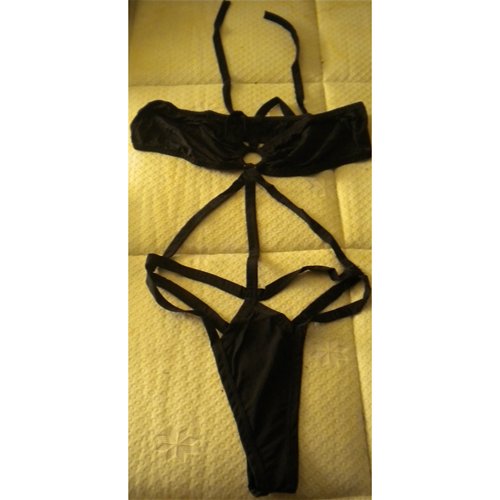 39"long(straps-end)
21 1/2"long (o ring-end)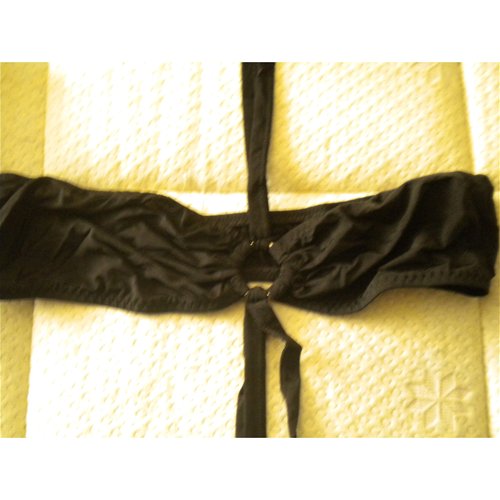 Front 14"by 4" unstretched 18" by 8" stretched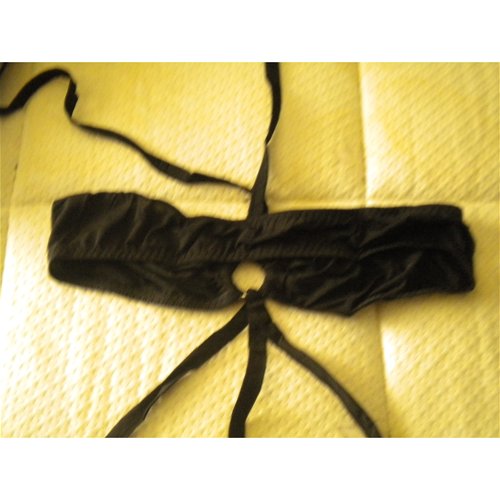 Back 14" by 2" unstretched 14" by $" stretched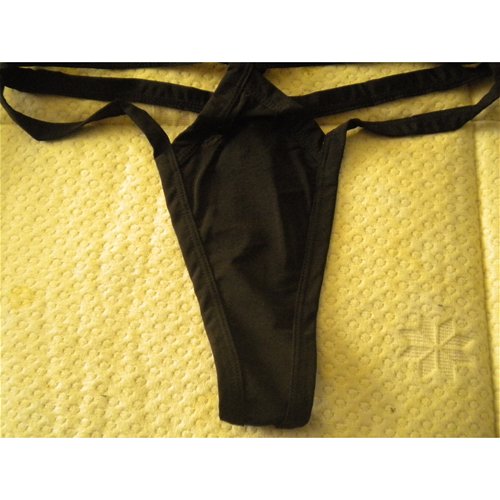 Front 14"(side-side) unstretched 20" stretched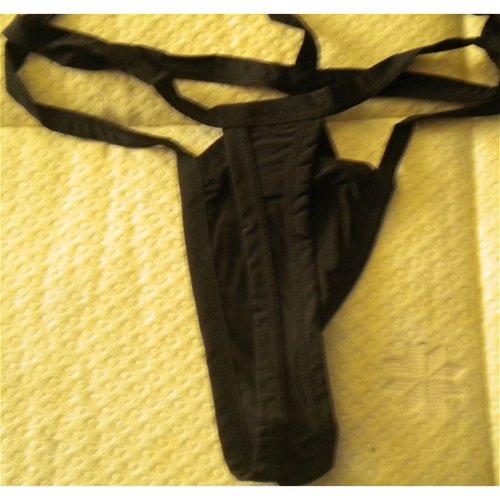 Back
Functions/Performance
- Functions for this is the halter straps that tie around you neck, they're a suitable length but a few more inches would be better. Performance for this piece is good, it is very stretchy and durable. There was no loose threads, bad stitching, and it went back to it original shape.
Care/Maintenance
- This teddy needs to be hand was, lined dry, no bleach, and no dry cleaning. Also this can be a little complicating if you get it tangled in any way, as I did before putting on. Some how I managed to get the bottom messed up and had to push it threw the O ring before I could put it on. So when I'm done wearing and wash, I'll be hanging this on a hanger the right way, so it always looks it's best!
Packaging
- The Strappy Microfiber Halter Teddy comes in the usual plastic sealed bag inside a cardboard box. On front it shows the model wearing the front view of the piece, with company name, product name, size and on the back it shows the model wearing the back view, and some of the same things as the front details (company name,product name,and size) with a few extras like washing instructions, materials, where the company is located, and where the product is actually made. This package is suitable for shipping, storage and also recycling. The product came with out any weird smells.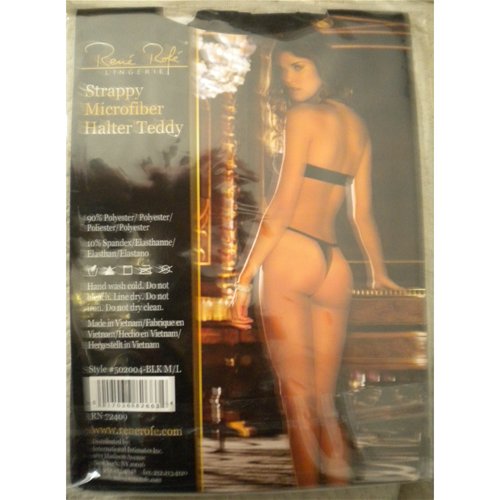 Experience
I got this teddy for my free assignment and I must say I'm super happy with my choice as always. This is my second teddy. When I got it and took it out of the package I couldn't believe how soft it was, plus it's very sexy The hubby agrees as well, he said he was a little hesitant at first, he thought the bandeau top was going to smoosh my boobs. I promised him that it wouldn't. This is also my first piece by Rene Rofe. I'll say this is a quality piece for a inexpensive price and you can't go wrong with that. I really like the straps on the front and the open back. Also I like that all the pieces connect to the O ring but they are connected separately. This pieces is very unique and what drew my too it. Plus it easy to wear under clothing, which was what I did, I wore it under a black halter top dress with a little cardigan over and after date nite untie my dress let it drop to the floor and there was the sexy black stappy teddy. He was thrilled to see that the girls weren't smooshed. I also think those who are super brave could wear this as a super sexy one-piece bathing suit.
Follow-up commentary
14 months after original review
This is still a very sexy teddy that those who love teddies should have. I am definitely starting to really enjoy teddies, after my initial view on them. It's one of my top favorites to wear in the bedroom, and it's easy to throw on under my clothes for a nice surprise.
This product was provided free of charge to the reviewer. This review is in compliance with the FTC guidelines.

Thank you for viewing
Strappy microfiber halter teddy
review page!