Black lace top fishnet thigh high
Thigh highs by DreamGirl
More like knee-highs!
Honestly, I wouldn't suggest bothering with these at all unless you've got perfectly round thighs that are a uniform width all the way up. I was so disappointed with this purchase that I stuffed them into the back of a drawer and left them there because they weren't worth trying to wear.
They'd probably be more useful for bondage/ties than for an article of clothing.
Published:
Pros:
Stretchy, soft fishnet part, cheap
Cons:
lace is scratchy, don't stay up very well on widening thighs, one is stretched in packaging
Honestly, I was really disappointed by these thigh highs. While the material (nylon) of the fishnet bits was soft and stretchy, the lace of the band was so flimsy that it immediately folded over and rolled itself back down to my knee as soon as I stopped holding it in place.
I was so excited when the package containing the thigh highs first arrived, thinking that it'd be a super-sexy surprise for my partner on our upcoming vacation. I ripped open the package and removed the hosiery within. My first thought upon unfurling them was "Oh my god, are these even going to get past my calves?!?" Before they're stretched around a human leg, they're only about 18 inches from the tip of the toe to the top of the thigh band, and only about 3 or 4 inches wide (when flattened).
One thing I noticed (that I didn't like) about the packaging was that one piece was neatly folded by itself, unstretched, while the other one was stretched around a piece of heavy white cardstock- probably to show the fishnet detail.
Feeling optimistic, I pulled them on anyway. The fishnet parts stretched a surprising amount as I pulled them up the length of my leg... But as I was pulling them up, I noticed that the material was snagging and getting little frays, just because my feet and knees were a little dry/rough! After getting the first one up all the way (which was not as high as I thought it would/should be), I let go to pull on the other one. Immediately, the first one rolled down to my knee. UGH!
Now, I got the queen/plus size because (according to the size chart) it should've fit me. But it would seem that the shapes of my thighs are incompatible with that particular style of thigh high. I heard one contributor describe the shape of her thighs (similar to mine) as "ice cream cone". Even with the garters attached, the silly things rolled up on either side of the clip, creating an uncomfortable and unattractive bulge.
I was so disappointed with them that I wadded them up and stuffed them into the back of a drawer. My partner doesn't even know I have them because I don't think they're worth showing him. Ever. Thankfully, they were pretty cheap, so I'm not horribly upset about the failed purchase.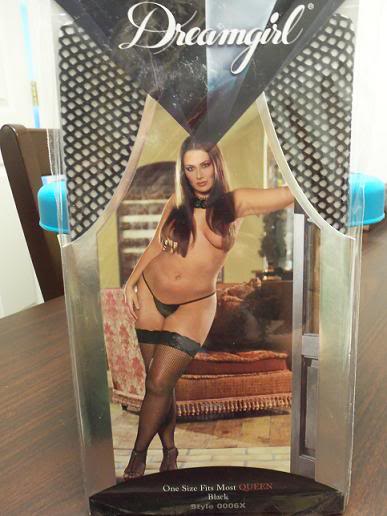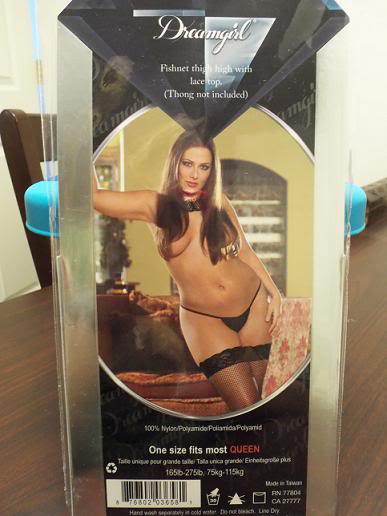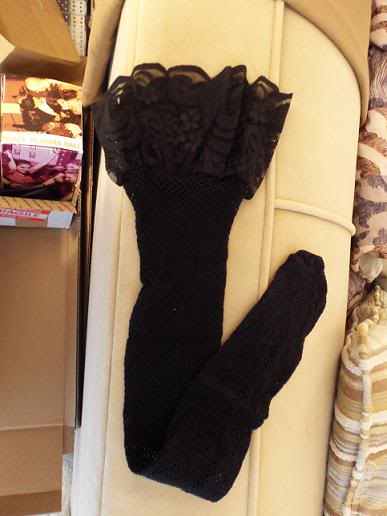 Experience
I had never owned (or even tried-on) a pair of thigh-highs before I started shopping on EF. I ordered a piece of black lingerie, and decided to order a pair of thigh-highs while I was at it. I ordered the queen/plus size because that's always fit me just fine.
These were a total bust, and so were the other ones I ordered (
Fishnet stockings with corset lace top plus size
), so I ended up buying a pair from hipsandcurves.com that I was MUCH happier with. They were called Sheer Stay-Up Stockings, which they offer in sheer AND in fishnet.
Follow-up commentary
16 days after original review
I was hoping that these thigh-highs would be a wonderful, sexy surprise for my partner... Sadly, they just didn't work for me. I wanted so badly to like these, but it's just impossible since they're not at all compatible with my body shape.
This product was provided at a discounted price in exchange for an unbiased review. This review is in compliance with the FTC guidelines.

Thank you for viewing
Black lace top fishnet thigh high
– hosiery review page!