My favorite fishnets!
These really make me feel sexy when I have them on. As soon as I took them out of the package and pulled them up onto my legs, I knew that I had a winner. It's very hard for us shorter people to find thigh highs that don't go up to the crease of our leg near the crotch. That's almost always a problem that I encounter. I'm extremely happy to say that I finally found some that work for me! Now I just need to find them in different colors.
Published:
Pros:
* Great Fit
* Soft Lace
* Non irritating nylon
Cons:
* For shorter people under 5'3"
These Black lace top fishnet thigh highs in plus size from DreamGirl arrived in a cardboard package with a clear package wrapping on top, there is a photo of a model wearing these that isn't discreet. Once I opened them up, one was folded neatly around a piece of white cardboard and the other was wrapped in it. These were pretty small looking until I opened them up and stretched them out some. The fishnet diamonds on these are smaller than some of my other pairs.
These are made of 100% nylon.
When I read some of the reviews that talked about these being so short, I had to find out for myself. These are very sexy and they go with so many of my lingerie pieces. I will be the first to admit that I am a sucker for thigh highs, panties, lingerie and other types of stockings. These have skyrocketed to the top of my list and these tie with my industrial net thigh highs.
Below, I have the lace top thigh highs on the left and the Industrial net thigh highs on the right. The diamond pattern on the Industrial net thigh highs is larger.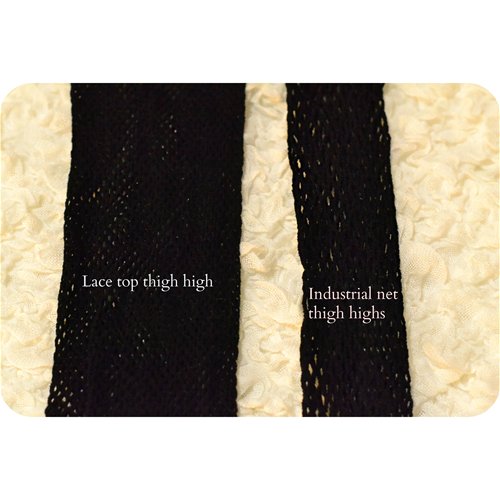 I could have had these on with nothing else and they would have been hot all by themselves! The lace tops are the sexiest part on these thigh highs. When wearing these with garters, they look super sexy. I have added a photo of the fishnets on.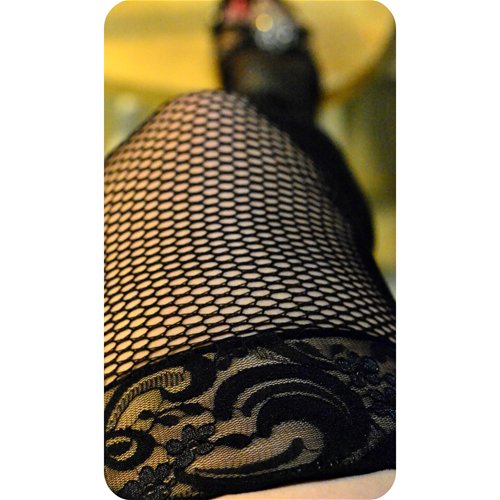 I am 5'2" and these fit me well. The fishnets come up to mid thigh on me. These will work best for females under 5'4", in my opinion. If you are taller, these may come to your knee area. For you shorter ladies or gents who have been looking for some to fit shorter legs, this may just be perfect for you! I have thicker thighs and these fit well. I think these actually work better for thicker thighs. They fit mine perfectly.
My legs sort of resemble the models legs on the packaging and in the stock photo. There are no rhinestones, seams or bows on the backs of these thigh highs.
My thigh band at mid length is measured at 21 3/4"
Below is the sizing chart for DreamGirl:
Dream Girl
Size Cup Bust (in) Waist (in) Hip (in) Inseam (in) Weight (lb)
Small 2 - 6 A - B 32 - 34 24 - 26 34 - 36 34½ 90 - 120
Medium 6 - 10 B - C 34 - 36 26 - 28 36 - 38 35 120 - 140
Large 10 - 14 C - D 36 - 38 28 - 32 38 - 40 35½ 140 - 150
Sm/Med 2 - 8 A - B 32 - 34 24 - 26 34 - 36 35 90 - 130
Med/Lg 8 - 14 B - C 36 - 38 28 - 32 38 - 40 35½ 130 - 160
1X/2X 16 - 18 D - DD 40 - 48 36 - 40 42 - 48 36½ 165 - 225
3X/4X 18 - 20 DD 48 - 54 40 - 44 50 - 56 37 225 - 275
O/S 2 - 14 B - C 32 - 38 24 - 32 34 - 40 35 60 - 160
Q- O/S 16 - 20 D - DD 40 - 54 36 - 44 42 - 56 36½ 165 - 275
Here are my sizes:
Breast/Bra Size- 38F
Waist- 37.5"
Hips- 42"
Height- 5'2"
Torso length from collar bone to top of pubic bone- 25"
Pants size 13/14 or 15 juniors- depends on sizing.
Measurements
Total length of thigh high unstretched: 22"
Total length of thigh high stretched: 25"
Lace band: 3 1/2"
The lace on these thigh highs is more of a better quality lace. The lace doesn't itch or scratch my legs and it stays where I want it. I have only used these with garters just because of the look that it gives and the fact that these don't stay up on their own very well. The lace doesn't have any silicone backing or anything and it's just one layer of lace. The edge on the lace is a scalloped edge. The pattern on the lace has small flowers and what seems to be swirls. The lace is sewn into the fishnet material with a nice seam.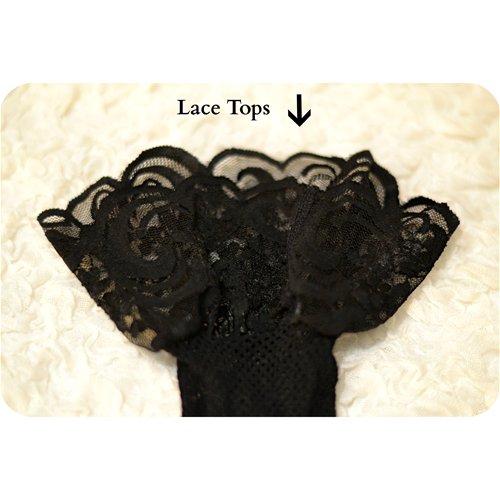 It has held up to my many wears without ripping or coming apart. The actual fishnet material is not a thin one. It's a medium thickness when compared to other styles of fishnets. I actually like this type of fishnet better in the winter. They feel warmer on my skin and I like the softness. These are not itchy in any way.
Experience
My toes didn't come through the seam on the toe area, but it was very close when I wore my open toed heels. It's not a reinforced seam but the toe part held up well without ripping while wearing these. I've tried my best to keep from snagging these because my nails are long and I have ruined stockings before because of my nails.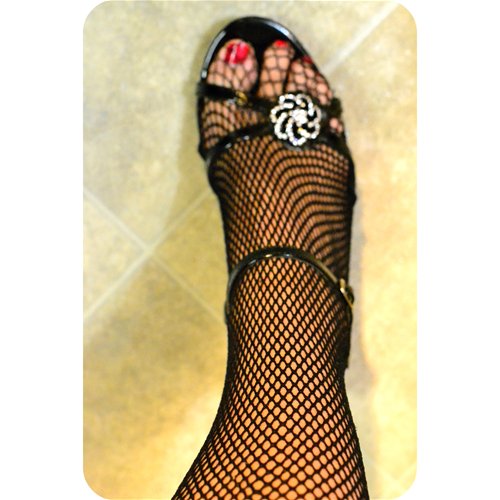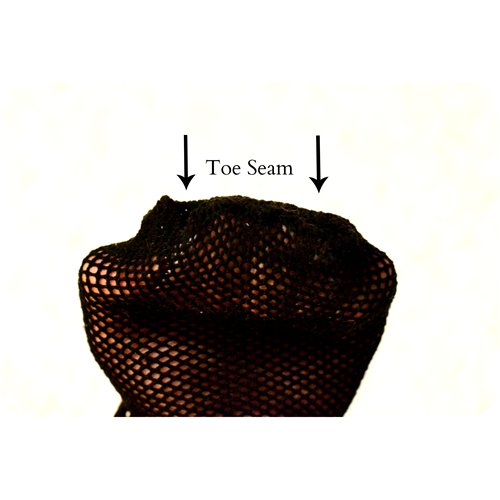 I'm hoping these will last me a while. I will update on my follow up review about how they held up in the next two months.
Having these fishnets in my arsenal of lingerie makes things spicier in the bedroom. I've used mine for Halloween costumes, under skirts on a night out with the girls and in the bedroom for show and play.
They are very versatile and can spice up almost anything. I like the material on these a lot because some fishnet material can be really itchy. These are comfy and they don't show as much skin as some other brands. I like it better this way.
I have noticed that these do pick up lint and hair really easily, so if you have animals such as dogs or cats, be sure to keep these up and away if you are wanting to wear these out to a nightclub or party. Nothing is more unattractive then someone taking off a thigh high and seeing lint or animal hair all over them. If it does happen, use a lint brush or take some scotch tape to lift off the hair before wear.
To care for these, I simply washed in cool water in a lingerie wash. Don't use bleach on these as it will turn them brown, white, tan or some other crazy color. When getting the water out of these, don't twist or pull on these. I simply squeezed them lightly and I hung these to dry on a plastic hanger in my shower, on the shower rod. These dried quickly. Don't stick them in a dryer because they will shrink and get ruined.
Eden sells these in OSFM and Plus size. I am reviewing the Plus size.
I hope they get in some different colors because I will be buying a few more pairs to have in case something happens to these.
I'm here to say that I finally bought some fishnets that fit me great! These do fit a shorter person better! I am 5'2" and these are a perfect fit.
I'm giving these Black lace top fishnet thigh highs 5 stars because it's so hard to find something that fits me perfectly and these do.
*Update
I tested them out to see if they would stretch out of shape and they did. They stretched out but not enough that I couldn't wear them. They don't hold the shape as good as the industrial net thigh highs.
Follow-up commentary
1 month after original review
These are still my go to fishnets. They are sexy and fun! I especially love lace and the color black on my legs. I will be buying more!
This product was provided at a discounted price in exchange for an unbiased review. This review is in compliance with the FTC guidelines.

Thank you for viewing
Black lace top fishnet thigh high
– thigh highs review page!