My Cup Runneth Over!
I love everything about this bustier except for the most important part: the breast area. Although the fabric is beautiful and it cinched in my waist, the much-too-small cups left my boobs looking super awkward.
Published:
Pros:
Beautiful fabric, Adjustable straps, Adjustable waist sizing, Cinches in your waist.
Cons:
Cups much too small for me, Gave me freaky boobs pointing in opposite directions.
This red and black satin and lace bustier by Coquette is one of the first items that I really fell in love with from EF, so it was the major purchase of my first order. I loved the idea of a piece that would make my boobs look fabulous while pulling my waist in an inch or two, and from the photos, it looked like a piece that I could wear both in and out of the bedroom espeically if I bought a cute jacket or shrug to wear over it when going out. (The ballet sweaters that tie below your chest come to mind.)
After a bit of debate, I ordered the XL. According to the Coquette size chart, it should fit size 14-16, D cup, 42-44 inch bust, 34-36 inch waist, and 44-46 inch hips. I'm sad Coquette's size chart doesn't include pounds like some of the others since that often helps me pick a size.
I always have trouble picking a size because it is rare that more than a couple of my measurements fall into the same size group on a size chart. I'm 5'11, size 14, and 38 D. So basically, I have big boobs, a long torso, large bone structure, and a bit of a belly. It took me a while to decide between the Large and XL (Large is size 12-14, XL is 14-16), but I ended up going with XL due to the cup size. I am a little sad that XL is the largest size this piece comes in because I think larger women would look beautiful in it as well!
The bustier did not arrive in any kind of packaging; it was just stuck in the box with the rest of my order. I wish it had at least been wrapped in a plastic bag or something since my order also included lube, and I couldn't help thinking that if that had leaked in transit, it would have sucked to clean off of the bustier!
The part that laces up the back measures 11" from top to bottom. The boning that runs down the center of the bustier in the front (between the breasts down to the navel) measures 12" long. Each cup measures 5 inches including the lace on top or 4 inches counting just the cup part. (I measured one of my regular bras for comparison, and the cups on it were 8" tall, and it is was not even full-coverage but more of a demi cup.)If you measure across the top of the underwires (from each point of the U-shape), the distance is 6 inches, but they stretch out to 8" if you flex them.
The extended review format wasn't available for this item, so I had to cut out a few hundred words to make this fit. I posted the info that I cut (mostly a detailed description of the bustier and some measurements) on my
blog
, so please visit to read the parts that I had to leave out!
I would suggest getting some help lacing this up the first time if possible, but I went it alone. I was
having a lot of trouble getting it to fit at first, so I flipped the lacing around so that it tied at the bottom instead of the top which helped a LOT. When putting this on for the first time, I would suggest loosening the strings, zipping it up, and then adjusting from there.
The built-in zipper is a huge plus. It is nicely hidden; I totally overlooked it when I first tried to find it. It saves a lot of adjusting since you can just unzip the bustier to get out of it. I did find that if I zipped myself in, adjusted the laces, removed the bustier, and then tried to put it back on, I wasn't able to zip it up without loosening the laces a little bit though, so you may need to do some adjusting each time you put this on. (I expected that once I got the laces adjusted to a great fit, I could just zip it on and off each time.)
The fit in the bra area is where I really encountered trouble. If I actually place my breasts above the underwire where they should be, my entire nipple and areola stick out above the top of the bustier. If I push them down a bit so that I'm a little more covered, my boobs look incredibly awkward and poke out at weird angles while being unflatteringly squished. Neither option gave me any cleavage, it actually pushed my boobs apart and out to the sides - not a flattering look! I find myself posting a super awkward boob photo to the internet.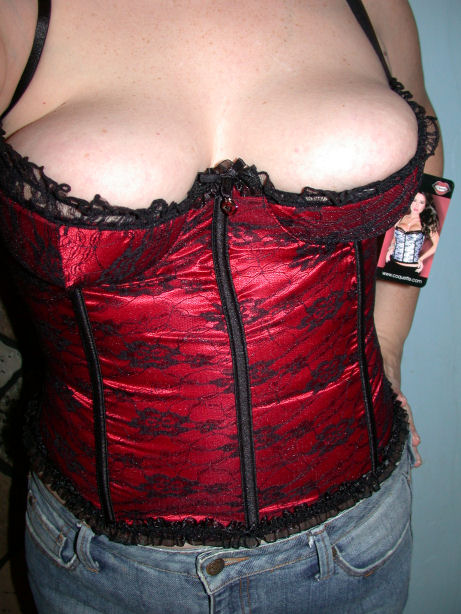 .)
Experience
In a last desperate attempt to make it wearable, I decided to try putting a black bra on underneath. I figured an inch or so would peek out over the top, but that wasn't the case - almost the entire cups stuck out!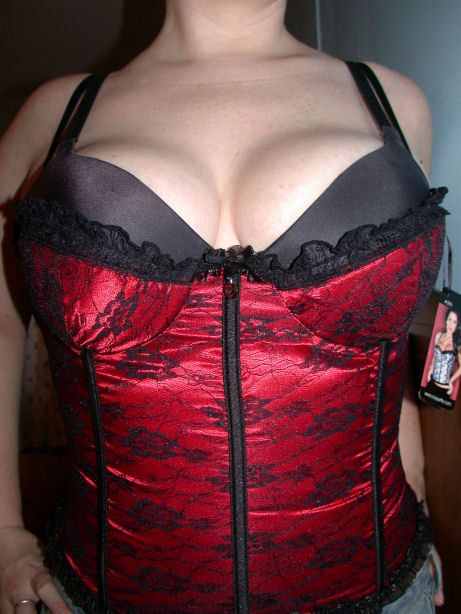 In terms of actual fit, I would guess the cups would work for a medium to large C at best. A D-cup might work if they're fake like the model since they would be less likely to get squished into odd shapes.
Here's the odd thing, though - I read
Beautiful Dreamer's review
and although she has the same cup size as I do, this worked out great for her. I'm guessing maybe the difference in general body type (she's 5'3", I'm 5'11") may have made the difference?
Looking at Coquette's size chart, I noticed that the 1X, 2x and 3x also list D as their cup size, so even if this came in a larger size than XL (it doesn't), it still wouldn't work for my body. If it came one size larger, I would totally trade it for that because I would love to have one that actually fits!
On the plus side, while I was snapping pics for the review, I took a few extras for my guy and e-mailed them over (we're in different states right now), and he went crazy over them. I'm sure he would love the chance to enjoy this, but I would much rather exchange it for something I am comfortable in. I purchased it with plans to use it partly in the bedroom but mostly for wearing out to concerts. With the awkward, over-exposed boobs, I would never be able to wear it out, so I would rather return it for either something that can pull double duty or something that I will get plenty of use out of in the bedroom since I doubt I would wear this more than once or twice.
To be honest, if this was a $20 piece, I would probably just keep it, but at almost $60, my expectations are higher.
Despite my difficulties, I am still rating this 4 stars because I think it would be awesome on a different body type. It is a shame that the only part of this that you really
can't
customize (the shape/height of the cups) is the part that didn't fit. Almost every other part can be adjusted a lot in either direction. If the cups were made of somewhat more solid material to give the breasts a nice round shape and came up at least an inch or so higher, I think this piece would be close to perfect.
If anyone has a suggestion for a similar product that you think will fit me better, please let me know!
Follow-up commentary
21 days after original review
I've put off returning this in part due to so many days of snow since I got it, but really because I kept magically hoping that if I just waited a while and tried it on again, it would work. Sadly, that wasn't the case. I don't have words for how much I wish this was available with a larger cup size so I could wear it!

When I tried it on once more before packing it up to send back, I did try to do some last minute fact collecting. I measured my waist when I first put it on, and then again after tightening it a bit (not to the point of being really uncomfortable, but taking in quite a bit of the laces), and found that it reduced my waist by two inches. This obviously isn't going to take you from a size 14 to a size 4, but I was pleased to see that it really can suck you in a bit.

I still recommend this to anyone who is at least a bit smaller than I am. If you're over 5'10", you may find it a little too short. I'm 5'11" and found it just barely long enough, I would prefer it an inch or two longer. Again, overall body size has a lot of leeway since you can expand or contract this so much with the laces. But if you're larger than a small to medium D-Cup, you're likely to encounter the same problems I did.
This content is the opinion of the submitting contributor and is not endorsed by EdenFantasys.com

Thank you for viewing
Red satin and lace bustier
review page!