My LAST Order from Seven Til Midnight
Well, this piece put the last nail in Seven Til Midnight's coffin. Never buying from this company again, I am so disappointed with sizing quality. Do they even check to make sure it matches the tag size? Girls who are medium to large, short, and have A to B cups would like this chemise. All else, stay away.
Published:
Pros:
Stretchy g-string
Cons:
A-cups, way too short for me, messed up garters
Presentation
When I saw this on the site, I immediately added it to my wishlist. It looked so sexy and nice, and I was delighted when a friend sent it to me for Christmas.
Due to some shipping mishaps, I ended up getting my next order (the
Solitaire Bustier
) before I ended up getting this gifted item.
The messed up sizing on the bustier made me nervous about getting this item, but I was hopeful that maybe it was a mistake, a fluke.
This showed up in a plastic sealed bag, folded with a g-string attached. There is a cardboard tag on the item as well.
Materials and Craftsmanship
This set is made of 90% Nylon and 10% Spandex. It is not the softest material I have felt, but it is definitely not the worst (not scratchy, at least).
The chemise (camisole, really) is all black with a hot pink bow in the center of the chest (not light pink as the product photos show). The front of the chemise is all lacy looking, the back is simple sheer mesh (with a keyhole design). There are two rows of ruffles along the front under the bust, they do not continue along the back. The bottom hem has ruffles as well- three rows all around.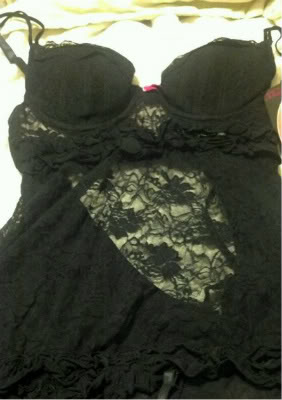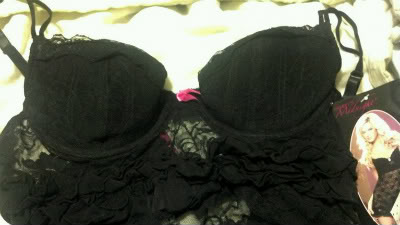 Craftsmanship is... okay. Until you look at smaller details. There are 4 detachable garters. They look okay, but when removing the backs of the garters (cheap flimsy plastic), I was confronted with an annoying problem. The ribbons used to "conceal" the garters... Yeah, they are sewn ONTO the back of the garter. THROUGH the garter loop. That means, when you pull the back of the garter out, you are pulling the front ribbon through the garter closure.
It would take me ages to get thigh highs into these. I'd probably spontaneously combust from frustration.
Not to mention, none of these threads are sewn evenly in the center. They're rather botched.
The bra straps are unable to be removed. They are double-stranded in the front, and they are adjustable.
There is an under wire, and lining of the cups are split down the middle to allow for push-up bra pads to be removed easily.
The g-string is pretty simple, a blessing in and of itself. It is sheer black mesh with a small cotton liner. The g-string is really soft and pleasant, but you will want to remove the long-ass pink tag from the front.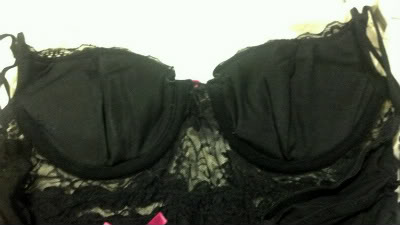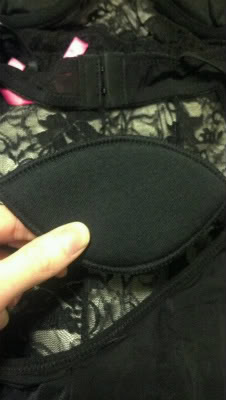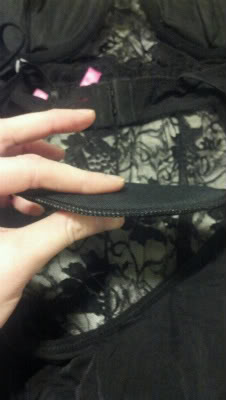 Experience
Care
Care for this garment is clearly spelled out. "Machine wash cold. Do not bleach. Line dry." If you removed the garters AND push-up pads, I would feel comfortable washing this in the washing machine in a lingerie bag or with other delicates.
The product is made in China.
Sizing
After my extreme frustration and annoyance with the Solitaire Bustier, I pulled this chemise out of the box with hesitation. I wasn't expecting much out of it.
Well, when I held it up by the straps, I let out a chuckle. It isn't a chemise. It is definitely bustier or camisole sized. I have shirts this long.
Then I stared at it. For a while.
Seven Til Midnight has a sizing chart-
found here
.
The Large is supposed to fit sizes 8-12, a bust of 36-38", C-cups, waist 28-30", and hips 38-40".
With my last purchase, I noted that their size chart is a wee bit small compared to other companies. However, with my last purchase, I also discovered disaster when it came to 15"-too-small hip sections.
I wear a 36C, my under bust is 32" and my bust is 39", my waist is 30", and my hips are 39".
From looks alone, I thought that this wouldn't fit me. However, it is thin and stretchy fabric, so I tried it on anyway.
Folks, I was laughing at myself in the mirror. This is so off in the OPPOSITE way of the Solitaire Bustier. The cups? They cover nearly NONE of my boob. And, again, it must be made for a child's height.
The cups are hilarious. They just are. And take a look at the product photo again. The model is actually holding the chemise down for the picture. The cups in her photo look bigger than mine.
Measurements
Under the bust, unstretched, 28"
The waist area, unstretched, 32"
The bottom above the ruffles, hip area, unstretched, 36"
Bottom hem- 40"
Length, from center of cups to bottom of hem- 17"
From top of straps, to bottom of hem- around 24".
The straps are adjustable and really stretchy, which helped me out greatly.
The cups, around the widest/fullest part is 6"
From wire around, it is more like 7 3/4"
The center cup height is 4"
What tiny little cups! The waist area is baggy on me.
The g-string is great. It's a little big. I love that, because it is stretchy and comfortable. It measures 30", and I could pull it to 52" rather easily.
Overall, other than the g-string, this piece is a total fail. I don't recommend.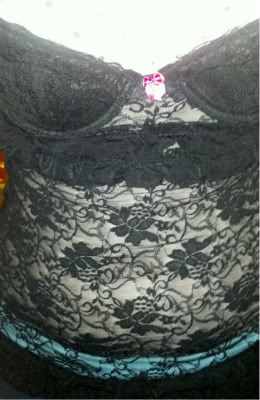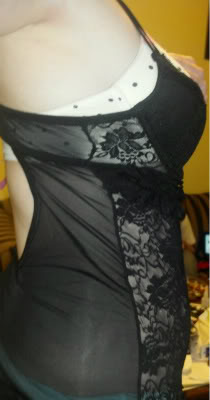 This content is the opinion of the submitting contributor and is not endorsed by EdenFantasys.com

Thank you for viewing
Black temptation chemise
review page!