My Little Secret Under My Skirt
These pantyhose are a great deal for only $3.99. At that rate so far, these are only $1 per time I've worn them! They are classy sheer black, and look great under a professional attire skirt. They are fun because no one would ever be able to know my little secret!
Published:
Pros:
Inexpensive
Secretly Sexy
Practical
Cons:
Thin, Won't Last Forever
I wear pantyhose often times to work, and sometimes in my everyday life. They have never been sexy to me. Mostly granny-like and stinky. Until I found EdenFantasys and their HUGE selection of crotchless pantyhose. I knew getting these would make me feel sexier, and no one would ever tell why!

Packaging:
The Crotchless pantyhose by Leg Avenue came folded up nicely in a plastic bag with a cardboard insert. This package is just a bit bigger than how you would find nylons or panyhose packaged in a department or drug store. On the package there was information about the pantyhose and the company as well as a picture of the model wearing the pantyhose.

Inside contents: Pantyhose
Made In China

Design/Shape/Size:
The pantyhose come in 4 different color options: black, nude, white, red
The pantyhose come in one size option: one size fits most

The pantyhose are similar to your everyday pantyhose with one exception - the big hole in the crotch! I ordered the black in the one size fits most. I am about 125lbs, 5'4" and have a hip size of 36-38". The one size fit me well. I would say they fit up to about 150, and height of 5'7".

They are easy to slip on, one leg at a time. It just takes a moment or two - just make sure your nails don't rip them as they slip on!

The color black is more like a sheer. It is very translucent, not a thick black color. I am pleased with this, because I hate when you order pantyhose and get something more along the lines of tights. The toe is only single reinforced. You cannot tell that these are crotchless when you wear something on top of them, like a skirt.

The crotch opening is about the size of my hand. It is reinforced with stitching. The hole opening is big enough that my husband and I could play around after work or before work, while wearing these. They are great for an unexpected quickie!

Care/ Maintenance:
Just like anything delicate, it is best to hand wash. I wash these each time I wear them because the foot portion tend to get stinky fast. I am not sure why that is with pantyhose, but it happens to me. I line dry these after I wash them. I use only a mild soap. I make sure to use very little soap, and never use a scouring powder. Also, I make sure to get the entire pantyhose wet, so it dries evenly, and doesn't leave spots.

I keep the pantyhose in a dedicated pantyhose drawer in my dresser.

Material/Texture:
Material: Nylon
Nylon fabric represents a family of synthetic polymers, a thermoplastic material. Nylons are generally strong, tough, and resilient polymers which offer good barrier and high fatigue properties. They are hypo-allergenic and offer good resistance to oils, greases and solvents. They have good resistance to a wide range of chemicals and a high abrasion and weathering resistance.

The nylon fabric is very soft and delicate. It is light weight and feels like it could tear easily. It is extremely stretchy and comfortable when worn.

Personal Experience :
I really like these pantyhose and have worn them three times. They have no rips or tears yet. I do think that that won't last forever though. I can feel a rip coming on soon! The nylon is just very thin and could snag on anything. Even if (when) they do, it will be no problem, I will feel satisfied I got my $$ worth. After all, they are only $3.99 a pair. I could by 10 at a time at that rate!

Conclusion: ★★★★★
Experience
Packaging: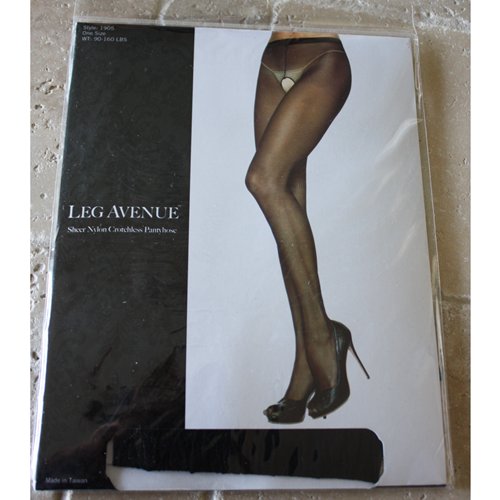 Crotchless Opening: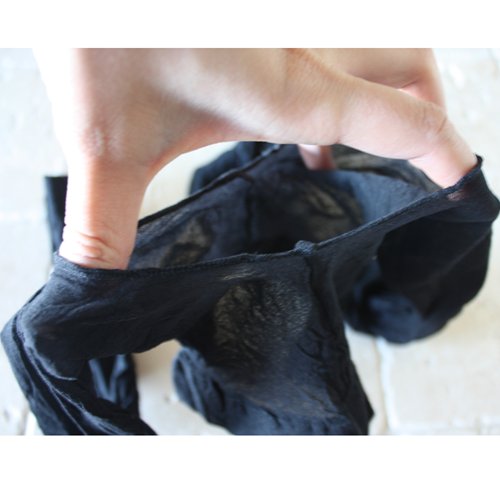 Putting On: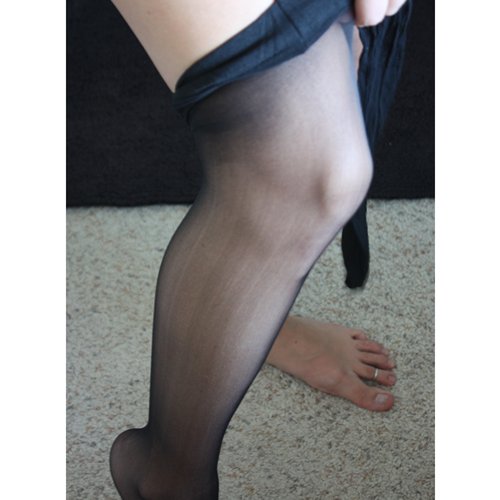 Front View: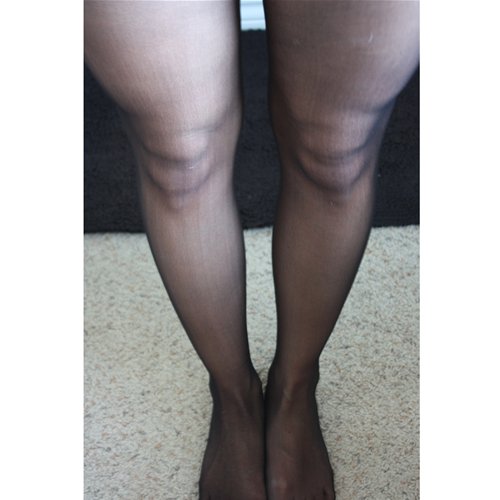 Back View: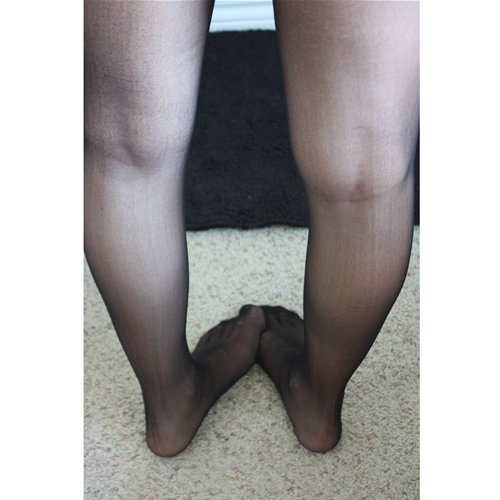 Follow-up commentary
10 months after original review
These inexpensive nylons went far beyond their time! In my opinion, they were worth double their price! Mind you, I do take good care of items, but still, these lasted for months! I wear nylons to work frequently, and these didn't get a run until months of use. They did stretch out a lot, but would re-form after washing. Great deal for $3.99!
This content is the opinion of the submitting contributor and is not endorsed by EdenFantasys.com

Thank you for viewing
Crotchless pantyhose
review page!