My Lust was a Bust
This is a beautiful corset that probably works better in smaller sizes, but was done poorly for plus sizes. The ribbons will eventually need to be replaced, and be careful when you unsnap the halter! I am really disappointed with the outcome of my purchase, but sincerely hope that there are plus sized women out there that fit better in it.
Published:
Pros:
- Sexy Look
Cons:
- Massive Cups
- Cheap Ribbon
- Breakable Snaps
- Too Short
This is a review on Coquette's Darque Corset in 1x/2x. I love the look of corsets and have a darker style, so I had to have this. I've never owned a corset before but have tried some on with poor results. I was hoping this would be one I could finally wear. Although I may find a way to wear it anyways, it seems unlikely.
PACKAGING
This item arrives in a cheap plastic bag with just a factory sticker attached on the outside. For those of you who love getting your lingerie on EF's plastic hangers, you will be disappointed to find this one does not come with one. This isn't a problem for me because I don't use the cheap hangers with my lingerie and it saved on trash. The garment sales tag for this is attached by a safety pin to the garment itself. Usually Coquette puts these in places where it's not a problem, but this one is poked through the plastic-like material and caused a hole under the armpit. Although it's not going to be noticed, it annoyed me.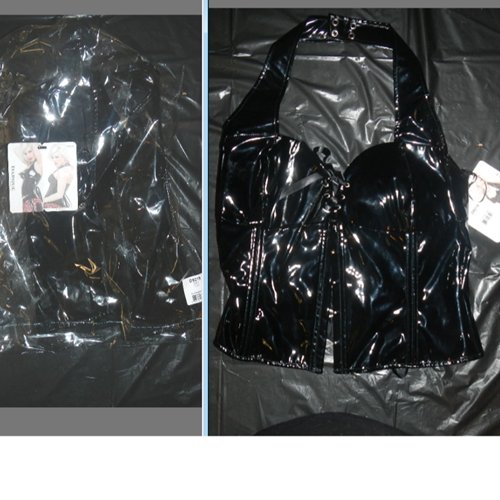 GARMENT DETAILS
When I first took the corset out of the bag I immediately noticed how stiff it was. I had figured as much as I've owned other vinyl-like items, but I still worried about comfort. The material is very black, shiny and smooth. It also retains a cool temperature on the outside. The inner material excluding the cups is smooth like satin, but more like satin over canvas. The cups are much more appealing and softer like cotton. They are slightly padded and squishy.
The lacing on the back is cheap ribbon. It comes completely tight and tied. Trying to loosen the ribbons without fraying, twisting, and putting seams in them was pretty rough work. Even with my slow and careful work they are still messed up. They do give you enough ribbon, however, to get this to probably fit someone who normally wears a 3x.
The grommets are a silver metal and pretty sturdy. They aren't the easiest thing to put on and take off, but they do the job. There is more ribbon at the bust for accent that can be tied or left loose. The halter strap is JUST PVC with no padding. There are two options for sizing with two metal snap buttons to hold it up. The boning is plastic but seem sturdy enough. I wouldn't bend too much in this for fear of snapping the boning, but it's not like it's easy to move around once you're properly strapped in anyways.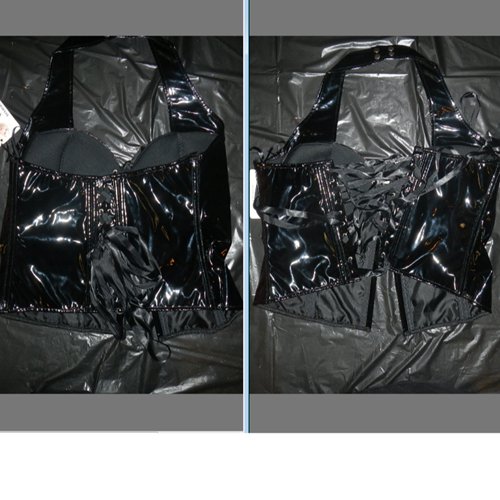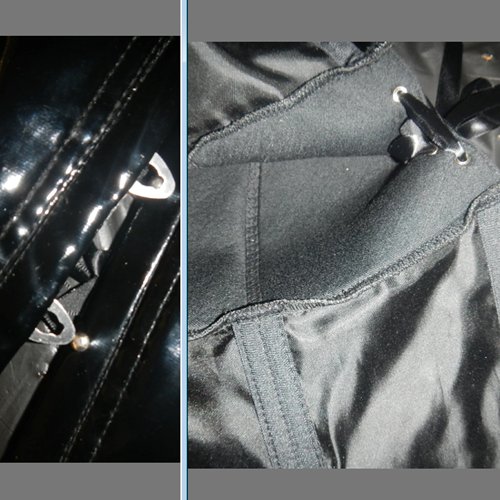 Sizing
Coquette's Size Chart for 1x/2x:
200-230lbs
44-48" C/D Bust
36-40" Waist
46-50" Waist
18-20 Dress Size
Length from Top of Breast to Bottom: 14"
Length from Bottom of Strap to Longest Snap: 12"
Total Width of Corset with Ribbons Tight: 34"
Total width of Corset with Ribbons Loosened: 46"
Material
100% Polyurethane
Experience
My Size:
42C Bust
40" Waist
50" Hips
Although I'm at the far end of Coquette's sizing on this, I was able to get in snuggly and have room to breathe. You will definitely need a friend's help the first time to tighten it where it shapes you the best. Once this was set up, I was able to get it on and off easily enough myself.
The first thing to ruin this corset for me was the halter piece. When I first tried to unsnap it to put it on, one of the buttons stuck to the other, tearing it right off the other piece. Now I only have one snap to use and because of the way the 2x2 is set, I can't use the longest closure. This made things even worse as now it's too tight on the back of the neck when I put this on.
The second factor to ruin this is the bust. Coquette's size chart says C/D but you need at LEAST a DD to fill the bust... if even then. I tried putting air pockets under my breasts that are from an old bra but it didn't help at all. I ended up having my bff tighten the back ribbons on the top, which gave me fat flaps in back, in order to make the bust look somewhat normal. This still didn't do the job so I went ahead and put a bra on to keep my breasts supported. There isn't even any boning under the bust to help.
The corset is also very short and took a lot of rearranging to get it so my belly button wasn't showing. If you're a woman with a smooth waistline and hips, this probably isn't a problem. But women with rolls like me won't be too happy with this. There is also no modesty panel in the front or back to keep your skin covered. I planned on using a sweater with this if I wore it out anyways, but some women might not like pieces of flesh visible in the front beneath the grommets.
Because this is PVC, it doesn't have any give. Bending and even breathing may become difficult. It also got pretty warm inside after wearing it for a few minutes. If you wear it during the winter it may not be a problem, but you should definitely keep it in mind.
Overall, this is a great item...for smaller women. I just don't think Coquette had a vision of plus sized women in this. If I were to lose a good 40lbs and found a way to fix the shoulder strap, I may get lots of wear out of this IF I also wore a bra. If you have a thicker middle and average breasts like me, I'd stay away from this one. If you have a more hourglass figure and very large breasts, it could work.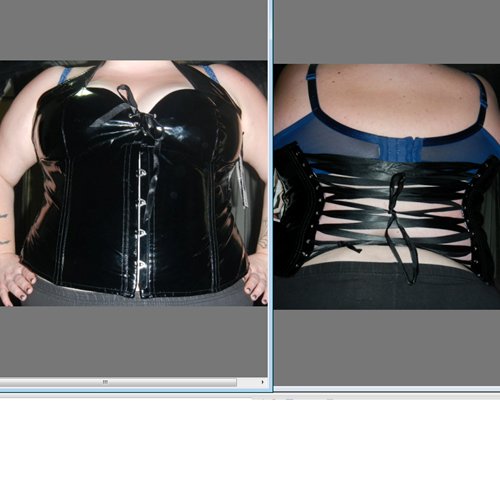 Follow-up commentary
2 months after original review
I tried sewing the snap back on the strap but the material is just too thick to do it right. This is SO disappointing because even though there are other problems other than the straps, at least I could have found a use for it in the bedroom if I could get the halter to sit more comfortably on my neck. That's just too bad... I hope other plus sized girls have better luck with this.
This product was provided at a discounted price in exchange for an unbiased review. This review is in compliance with the FTC guidelines.

Thank you for viewing
Darque corset
review page!