My My My,What Big, umm Eyes You Have...
This is an adorable and adaptable costume, great fitting and flattering and will help catch the eye of any Big Bad Wolf... Its a must have for any story book loving girl.
Published:
Pros:
Great Price
Fast Delivery
Adaptable from family/work to adult/bar parties
Good stitching
Cons:
Confusing washing instructions: package and tag differ in instructions.
I just purchased Seven til Midnight's Red Riding Hood costume for Halloween. I just adore it...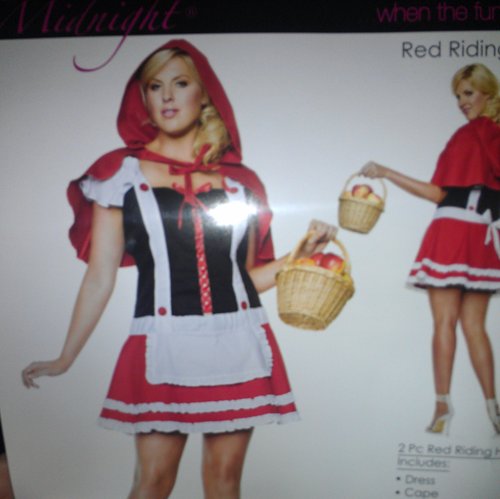 It comes in sizes 1x-4x. I personally purchased the 1x, which fits size 16-18 (I'm a 16), cup size D-DD (I'm a DD), bust size 40-46 (I'm actually a 38, but it's not too loose on me, which personally I like, and XL is always just way too tight across my chest and uncomfortable. You can always tie the laces tighter if you need to, to feel more secure, if you're smaller than a 40), waist size 36-38, hip size 42-48. I just love the way it fits. It's very flattering and it shows off my chest, while at the same time can be toned down to wear to a more conservative party. Unfortunately, I have been going up and down in weight and my sizes keep changing. However, based on what I normally wear in everyday/work/night clothes, I'd say this is a perfect fit for the average size 16. Also, I can tell you based on when I received this and when I actually wore it out, I had gained a little weight and my work pants (all size 16 or XL) were tight. This costume still fit perfect. It still made me look slim and it in no way felt tight as did my everyday pants.
The hood also has this same double effect--while you can wear it as sexy and sassy, you can be cool and conservative as well.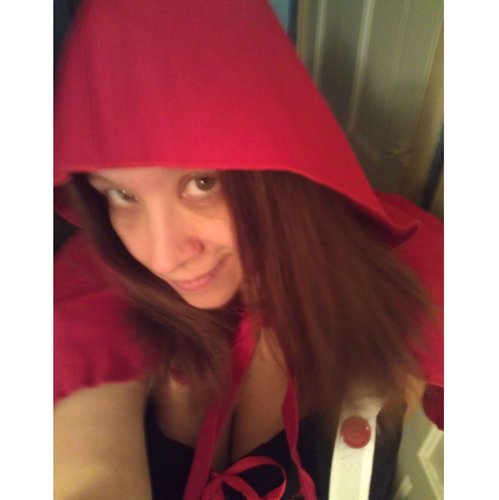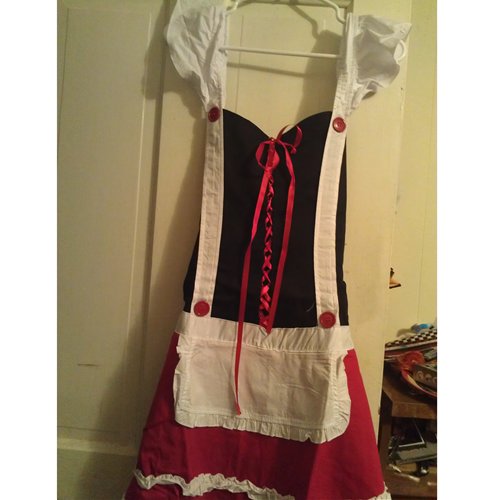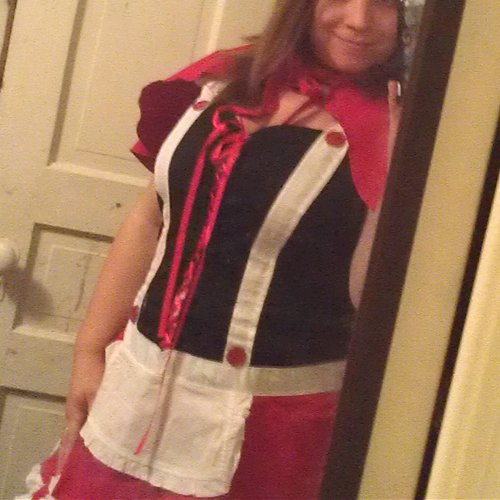 Product details:
The set includes:
Dress with front ribbon lacing
attached apron
buttons
and ruffle detail
cropped capelet with attached
hood and tie
The lingerie closure is lace up in the front: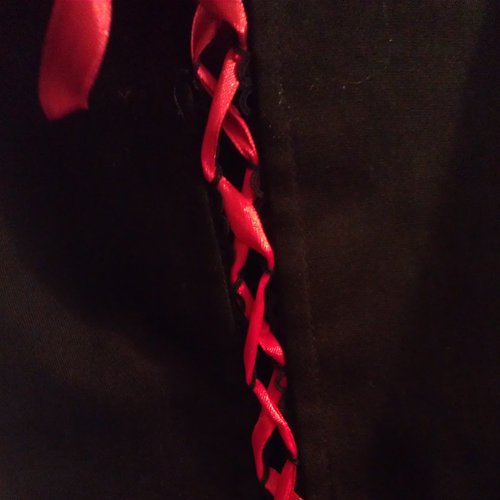 And zippers in the back: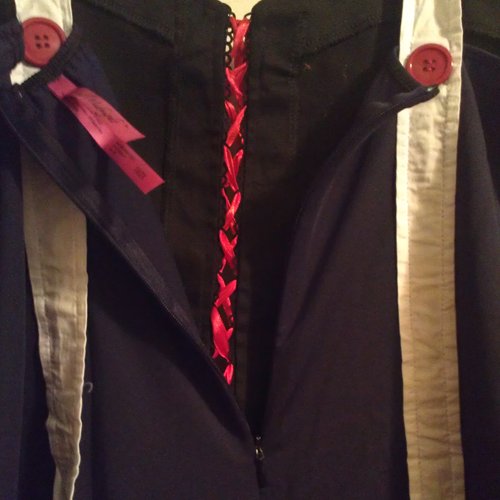 The pattern is solid in the colors red, white and black. It has short sleeves with ruffles around your shoulders, which can be worn on or off the shoulder giving a cute effect either way. It zips up the back. An attached white apron and several red buttons adorn the front and back of the white straps that come up the middle of the dress. It laces up the front with red ribbon and is made of 98.5% cotton and 1.5% spandex. It weighs 0.2 lbs.
The feel of the cotton is very nice and comfy. The colors are bright and everything was stitched very well. The bust of the dress, being spandex, is very soft and stretches to your bust. Again, to make it more secure, just tighten the ribbon lace and it will give you a very sexy yet very flattering look. It is made of very sturdy material and the top half is stretchy making it fit to your personal chest size. It is also something that if you plan on wearing out, I recommend that you wear some shorts or something under it. If you bend over, your butt WILL stick out. However, while it's super short, it does cover your butt well in a standing, sitting or dancing position. I got the chance to wear this out and I can tell you that it is very comfortable. It moved freely and did not constrict during a night of dancing and hanging with friends. It did not snag or rip. The laces stayed put and the zipper stayed zipped, but as with all costumes, one should always be careful and keep away from snagging hazards. But, I do not foresee this costume snagging without some help from you. Underneath I wore the black lace petticoat as well as booty shorts. I was careful on the way I bent to pick anything up and I had no issues.
Now, washing it is tricky. If you follow the tag directions it says you can machine wash cold, do not bleach and line dry. However the packaging says to hand wash cold and do not bleach. Personally, I hand wash anything that's suggestible. If you have to ask "Should I hand wash that?", I say take the safe road and just hand watch it.
Delivery was very prompt, and there was no worry of it not being here in time for Halloween parties.
This same costume was in the Halloween costume stores at a much higher price than even the non-sale Eden's price. The size of this costume was another plus. For someone with my build it's not easy to walk into a costume store and find a flattering size and that makes finding Halloween costumes a big pain in the arse... Eden had my size and it fit the first try, no worries of having to run out and find a back up costume.
Experience
I love this costume. It was the perfect choice for me as a Halloween costume. I can wear it out trick-or-treating with my children: just add some black leggings or tights, a black T-shirt, and the cape draped over your shoulders and it's the perfect costume to trick or treat in.
Now take away the leggings and shirt, add some sexy thigh highs and heels and tighten up the lacing and drape the cape just right over your shoulders and you now have the perfect sassy and sexy adult party costume.
I also added the [ https://www.edenfantasys.com/sexy-lingerie/gloves-and-accessories/black-lace-petticoat]Black Lace Petticoat by Coquette]: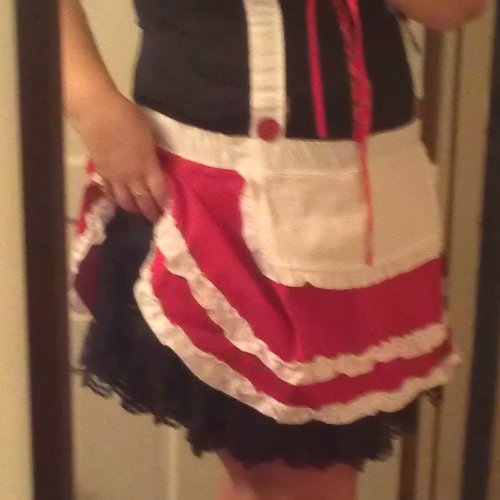 This not only adds to the look it also poufs out the skirt and gives it a fuller look.
I definitely recommend this costume. If you're looking for a cute, sassy and sexy piece that you can also wear to a family or work party, this is the way to go. It allows you to be conservative or sexy, your choice, depending on the accessories you choose.
This content is the opinion of the submitting contributor and is not endorsed by EdenFantasys.com

Thank you for viewing
Red riding hood
– sexy costume review page!