My Rock Star Sleeves
The Wet Look Sleeves by Coquette make me feel extra bad ass when paired with my other wet look pieces. I also love that I can wear them in or out of the bedroom. The sleeves have a unisex look to them so both my partner and I can get use out of them. The sleeves are a bit loose on me but they still look great. I hope that more sizes become available so that those with smaller arms can enjoy the sleeves as much as my partner and I do!
Published:
Pros
Inexpensive, quality, comfortable, stretchy, sexy, can be worn in or out of the bedroom.
Cons
currently only offered in size XL.
The Wet Look Sleeves by Coquette are currently only offered in size XL. I wear a size XL in clothing so I figured that the sleeves would probably fit me. They arrived in a clear plastic bag with a barcode sticker on it. There was a cardboard tag attached to the sleeves. The tag states the company name, company website, product name, size, colour, and care instructions. The baggy was good for keeping the sleeves clean while shipped but not ideal for storage. I keep the sleeves in a drawer with my other outfit accessories.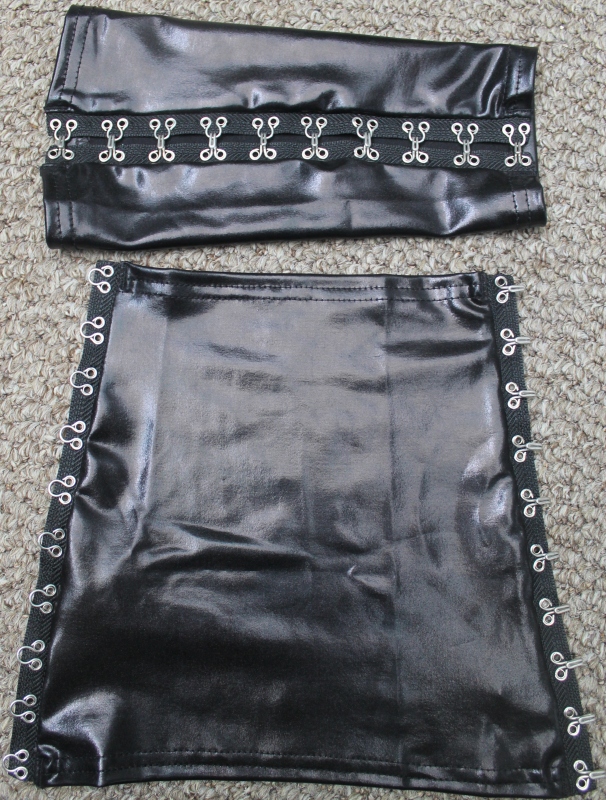 The sleeves are black in colour with silver coloured metal hook and eye closures. There are ten hook and eye closures down each sleeve. The sleeves are 80% nylon and 20% spandex. The material is quite stretchy and will stretch to provide extra width if the wearer needs it. I've taken a few measurements of the sleeves laying flat, with the hook and eye closures done up. If you need additional measurements, let me know and I will get them for you.
Wrist width: 4 inches
Top of sleeve (forearm) width: 5 ¾ inches
Length of sleeve: 9 ¼ inches
Length between each hook and eye: ¾ of an inch
The measurements above are of the sleeve unstretched. Like I had said, the material can be stretched if you need more width. There are 2 rows of stitching around the top of the sleeve and also at the bottom. There are no seam lines running down the length of the sleeve. The quality of the sleeves is excellent.
The sleeves seemed quite baggy to me so when I put them on, I didn't have to undo the hook and eye closures- I just slipped them on. I did undo the hook and eye closures just to see how easily/well they clasped and unclasped. They are very easy to use.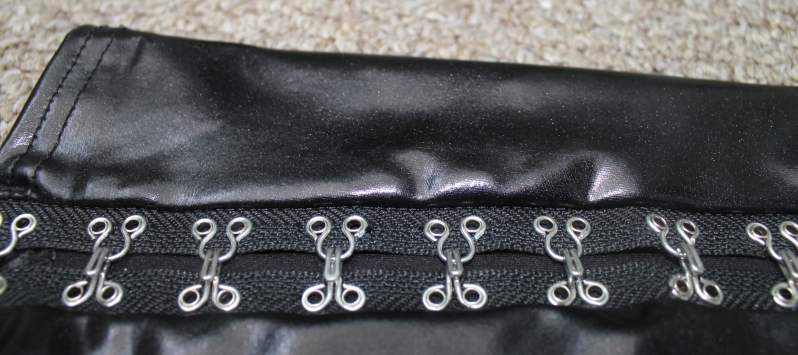 Both my partner (male) and I (female) tried on the sleeves. I wanted him to try them on after I did because I noticed they were a bit baggy on me and his arm measurements are a bit bigger than mine. My wrist circumference is 6 inches and the top of my forearm is approximately 10 ½ inches in circumference. The wrist area of the sleeve has a bit of bagginess to it when I'm wearing it but overall, it fits nicely. Though because they are a tad bit loose on me, the risk of the slipping down my arm while wearing them is fairly high. When I pull the sleeve just a bit above my elbow, the sleeve is more secure on my arm. Below is a photo of the sleeve on my arm.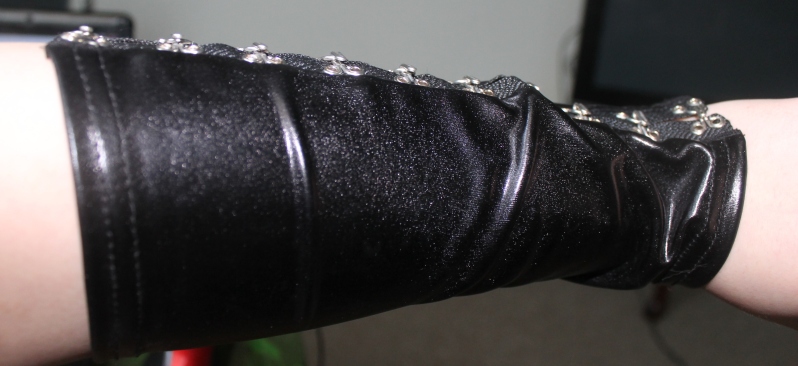 My partner's wrist circumference is 7 ¼ inches and his forearm circumference (below his elbow) is 11 ½ inches. The sleeve fit him well and he also didn't need to undo the clasps to put the sleeve on because the material stretches. I like the way they look on my partner better than how they look on me because there are no baggy creases when he wears them. On him, the material is pulled (stretched) a bit so the wet-look looks really sexy on him- almost like it's been painted on his arm. I asked him how they felt and he said they were really comfortable (and that he wanted a full body suit like the sleeves but that's another story). Below is a photo of the sleeve on my partner.

I also felt the sleeves were comfortable even though they were a bit loose on me. Both my partner and I agree that we could wear the sleeves for a long period of time without any discomfort. The care tag states that the sleeves should be hand washed only and I assume hung to dry.
It would be nice to see the sleeves offered in other sizes to accommodate those with smaller arms. If the sleeves were offered in a one-size-fits-most, I'd probably purchase them for myself so that the sleeve was tighter on me. Even though they are a bit baggy, I still love them and will wear them often. I don't know what it is about this type of clothing/accessory but I feel really bad ass- like a rock star or something. I'm very happy with my purchase!
Follow-up commentary
4 months after original review
I still like the Wet Look Sleeves but I wish they were available in a smaller size. I had recently worn the sleeves out in public with my Halloween costume this year. I found the sleeves kept slipping down my forearms. This bothered me because I had to keep pulling them up. It would be nice to see the sleeves offered in a OSFM so that others, as well as myself, could wear them without having to worry about them slipping downwards.
This content is the opinion of the submitting contributor and is not endorsed by EdenFantasys.com
Thank you for viewing
Wetlook sleeves
– gloves review page!