Neat Nippies!
I'm very happy to have finally gotten these pasties, and very pleased with the fact that the A/B size actually does fit my C/D breasts. These are a great purchase, and a neat product!
Published:
Pros:
Cheap, cute, nude tone, fits sizes above A and B cups
Cons:
Erect nipples still can be seen, apply slowly or it warps, to be worn once
I was hesitant to order these, since they were only available in the A/B cup size - I am a c or D cup, depending on the bra. I had wanted to get these for quite a while, but they were never restocked in the C/D size, and are likely going to be discontinued. However, I ended up reading a review that stated that the large A/B pasties are actually the same size as the C/D pasties! I was happy to find that out, and immediately ordered myself a pair.
As it says on the package, "Experience the freedom. Wear what you want without showing more than you want." These are meant to be worn under clothing to hide nipples, without having to wear a bra or have straps showing. Though, these could also be worn on their own, or shown off with a cupless bra, since they are pasties.
The packaging is not discreet, there is a woman wearing these shown on one side, and the pasties can be seen through the clear plastic on the other side. It is obvious that this is a package of pasties, and that they are meant to be worn on nipples. When you flip the top fold to open them, there is a warning about using these on sensitive or damaged skin.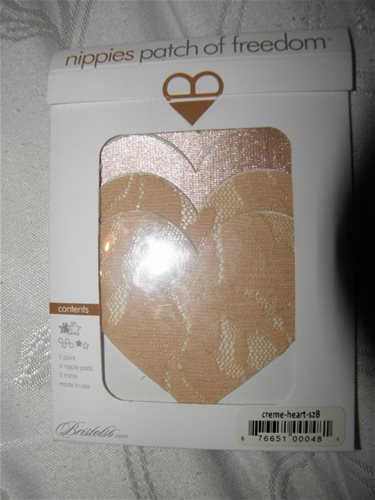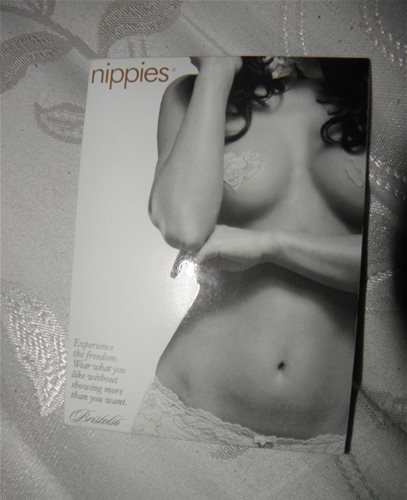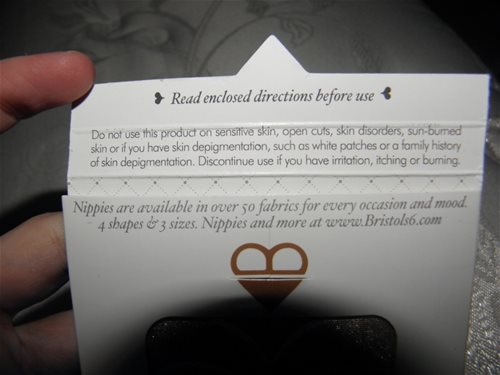 My package of Nippies included:
- one pair of nude satiny pasties (large)
- one pair of nude lace pasties (large)
- one satiny silver star pasty (mini)
- one silver sequined-look pasty (mini)
- 4 nipple pads
- a separate sheet of directions, including the directions in many different languages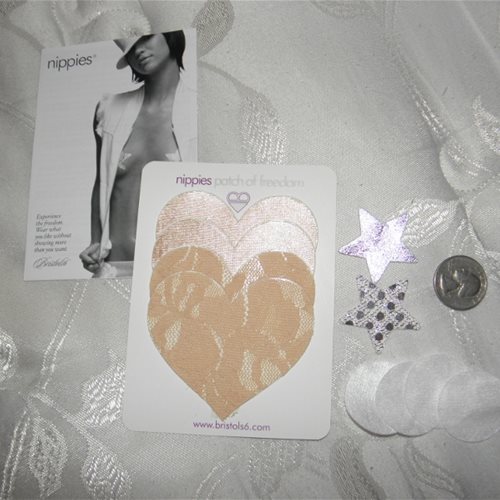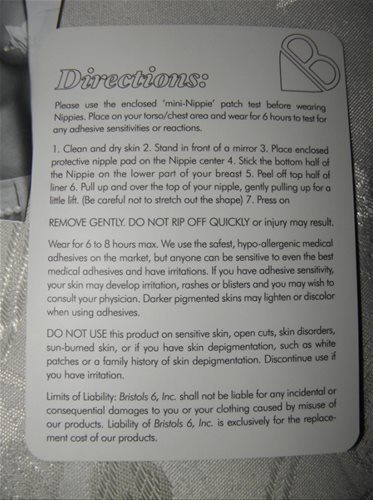 It's strange to me that the mini pasties don't match the large heart pasties at all - they aren't hearts, they aren't even nude toned. Not to mention, they don't even match each other! I figured everything would...make sense together? I just kind of stared at them when I took everything out of the package, and wondered what I could even do with them. For one thing, they would certainly be too small for me to wear on my nipples if I wanted them to actually cover anything. I wasn't sure what to do with these since they are impractically small pasties, but after reading the directions, I discovered that these mini-Nippies are actually meant to be used to test the adhesive and to see if you have any reaction to it, before wearing the large ones on your nipples.
Now, let me explain the nipple pads - I wasn't sure what they were at first, but then I caught on. They are mentioned in the directions as well, on the back of the sheet that the Nippies come on. There are 4 nipple pads included in the package, and they are perfectly round and just a little bit larger than a quarter. They are meant to go in the center of the pasties. I assume that the main function of these pads is to make it so that the pasties don't get totally stuck to the nipples, since that could be painful to take off. The nipple pads are very thin, and basically remind me of the white fabric backing a bandage; very thin, kind of gauzey, and smooth. These don't really get in the way of anything, and they aren't noticeable or visible when you wear the pasties.
According to the directions, these pasties are meant to be applied in such a way that they give some sort of lift - rather than just cover the nipples; sort of like an adhesive strapless bra. I don't really think that could be pulled off with all cup sizes, and I really only intended to wear these as something to cover my nipples; I wasn't expecting or looking for any sort of lift. Though I will say, these do give a surprising amount of lift. I was able to apply these as the directions said (skeptical as I was that this method would work) and to my surprise, my breast looked perky and very round compared to the breast that I had not yet put a Nippie on. The pasties are very thin, and feel about as sticky as a bandage. I found the adhesive to be non-irritating, even with my super sensitive skin. The lace pasties are actually transparent underneath, so the skin can be seen in all of the little spaces between the lace, though there are the nipple pads to put underneath to keep the nipple itself from showing through.
Experience
(continued)
These aren't really able to be re-used. Pretty much if you wear them once, they won't be all that sticky if you take them off and try to wear them again. This isn't really a letdown for me though, since I really only planned on wearing them once. Plus, they are cheap enough that I wouldn't mind ordering more packs of them to have on hand if I did decided I wanted to wear them again.

My biggest concern with these was if they would actually cover my entire nipple. I have sort of vertical oval-shaped nipples, and I've worn pasties in the past and would have a little bit of areola peeking out around the top or bottom. With heart shaped pasties, that usually ends up being that case right in the dip of the heart at the top, but I don't find it all that bothersome; I was just thinking that it would be nice to have pasties that actually covered my entire nipple. To my surprise, these actually do. Although, you need to apply them mindfully and slowly, since they can get a little bit misshapen if you apply them willynilly. The large pasties are about 2 1/2" tall, and 2 3/4" wide - plus they do stretch a little bit in either direction if you need them to. I think the tone of these is very light and nice, and I have very pale skin; the tone of these almost matches my nipples. Erect nipples are still fairly apparent under these, even with the nipple pads, so that could be a bit troublesome. Otherwise, I think these are impressive - you get two pairs of pasties for a reasonable price, and they give a good lift.
This content is the opinion of the submitting contributor and is not endorsed by EdenFantasys.com

Thank you for viewing
Crème heart pasties
review page!