Never Doing Doggy Style Again: Kitty Style Convert!
On the Prowl is a sexy change from the typical role play outfits you see. This leopard print mini dress with open back is sure to put your partner on the prowl, and his target will be set on you!
Published:
Pros:
Comfortable, multiple pieces, sexy
Cons:
Tail isn't removable, thong small, collar may be too wide for some
The idea of dressing up in a cat costume for couples play never really appealed. Then I saw On the Prowl by DreamGirl. I showed it to my boyfriend before I purchased it and he was wild about it too!
Dress Overview:
Made of 90% polyester and 10% spandex that is some-what sheer. I wish it came in other colors/patterns but the leopard print is of good quality. I have seen a lot of leopard print pieces that look kind of fuzzy. When I took it out of the package I was surprised that it felt so soft and cool, which made it very comfortable to wear during intercourse. It was also nice and stretchy so the range of sizes it'll fit is decent. There is no under-wire for the support of bigger busts. Women who are of average height or taller and 160 lbs or less won't have a problem with this fitting. For those of you that are shorter like me just know that the it would fit us up to roughly 150 lbs. The size chart for DreamGirl can be found
here
. I am in the process of losing weight so my measurements are a little bigger than the chart recommends. I was too small for the queen size so I went with the smaller to deal with a little temporary snug-ness. The sleeves are supposed to be 3/4 but since I am 5'1 they stop just short of my wrists. The open back is what ultimately made me decide to get it. It has black ribbon that allows you to adjust the opening to best fit your body. At 28.5 inches from top back to hem it is shorter than the product page states. Also very short on my frame which I suspect is partly because I have a rather large backside! The tail is made of marabou (think feather boa) and it dangles freely. I find it nicer than other tails that are more stiff because if you plan to wear it while being on your back at all it's not going to push into your back. The only thing I don't like about the dress is the fact that the tail doesn't detach. This makes cleaning a bit of a problem, so I suggest hand washing quickly with just slightly warm water and a mild soap made for hand washing. Keep the tail off to the side and out of the water as much as possible to prevent it from having that "wet cat" look. Then put it on a hanger to air dry in an open non-humid area.
My Measurements:
Bust: 36C
Waist: 33"
Hips: 45"
Dress Measurements:
Bust: 15.5" Across (31" total)
Waist:13" Across (26" total)
Waist Stretched: 18" Across (36" total)
Length: 28.5" from top back to bottom hem
Back Tie Ribbons (Not stretchy) 19.5" each
Tail: 15"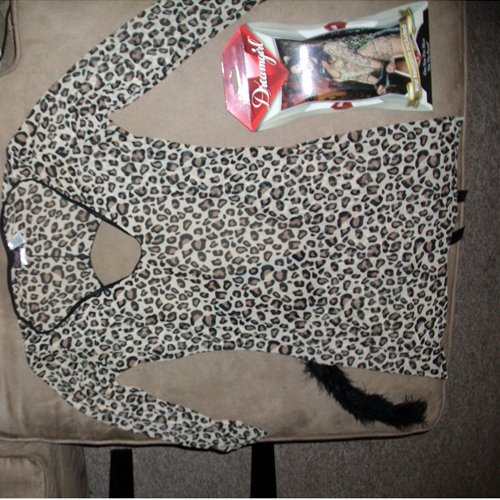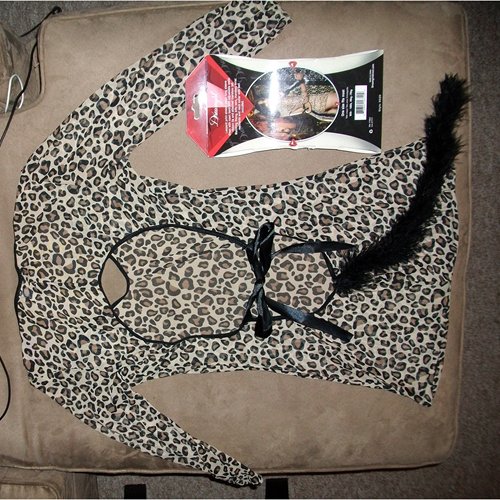 Thong Overview:
As I mentioned earlier I have wide hips. The thong was too small for me to wear comfortably. This is not DreamGirl's fault since I did order a tad smaller. They are made of 100% polyester and have the same leopard print. The waistband is 13 inches unstretched and 17 inches stretched. I like that they feel just like the dress and also has a little panty liner. If these don't end up fitting you it would be easy enough to wear any black or brown thong.
My Hips: 45"
Thong Unstretched: 13" Across
Stretched: 17" Across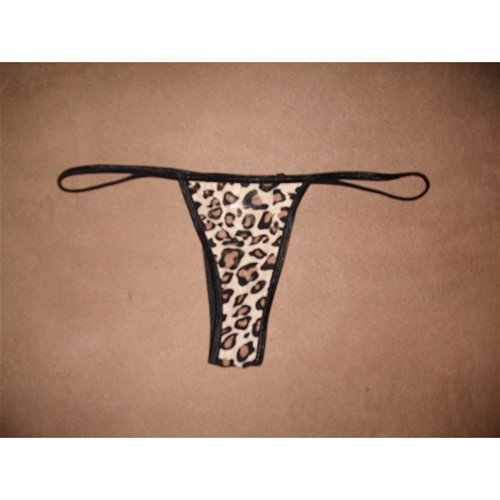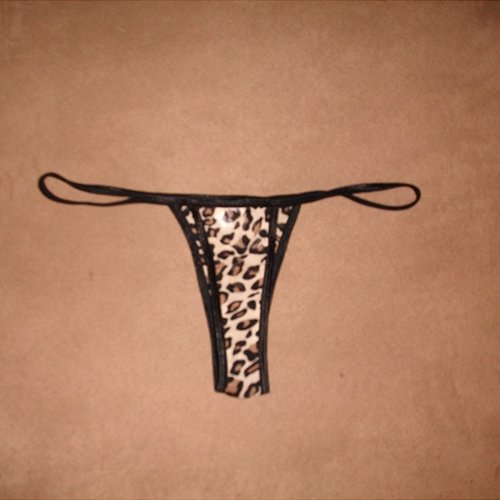 Ears Overview
The ears are two flexible leopard print triangles sewn onto a black ribbon that matches the one on the dress. The ribbon is fairly long and doesn't stretch. It should fit most everybody. It has the tendency to slide around a little, easily fixed by securing it in place with a couple bobby pins. Over all they are cute and I like that a ribbon was used instead of a hard headband.
Total Length of Ears: 38.5"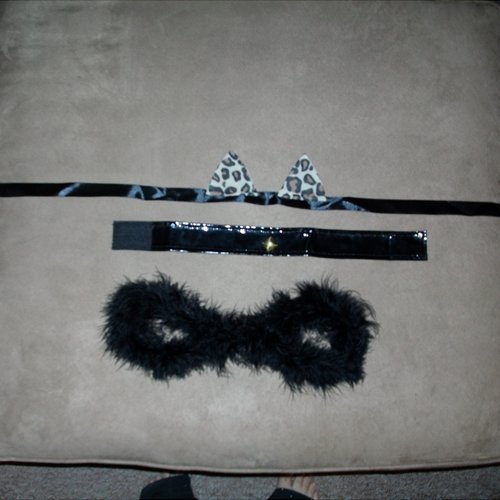 Collar Overview:
My second favorite piece is the collar. It is shiny and looks a bit like patent leather. The bell actually sounds like a bell and isn't just there for show. The only problem I have is that it is a little wide for me at 1.5 inches. Apparently I have a short neck.
Total Collar Length: 16.25"
Wrist Restraints Overview:
The restraints are made of feathers and are purely for aesthetic purposes. There isn't any velcro or ties, they just slide over your wrists. They really don't do any restraining but it's a nice visual for your partner. They feel soft on my wrists so no issues with comfort.
Wrist Restraint end to end measurement: 13"
Circumference inside one cuff: About 10"
Experience
Overall I was pleasantly surprised at the quality of the dress. I also liked that it looked the same in person as it does in the product pictures. My boyfriend enjoyed doing doggy style in this, which we now refer to as kitty style. All of the pieces do exactly what they are meant to so despite my minor complaints On the Prowl has earned a spot in my lingerie drawer.
This picture was taken with my phone so that's why the quality is different from the others. I also tried to blur out the background as much as possible.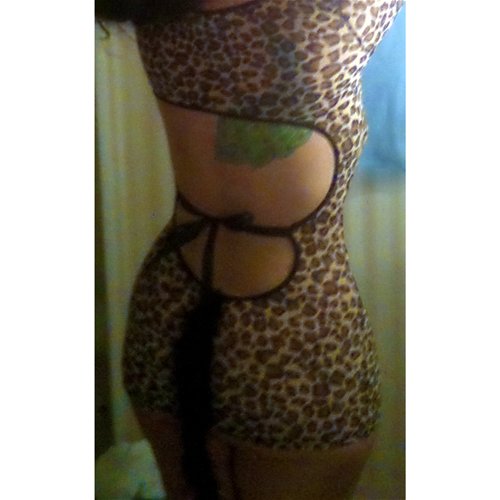 Follow-up commentary
1 month after original review
I still love my sexy kitty costume. The quality is great, and after using this a lot more, it's holding up wonderfully. The dress hasn't developed any tears and it still always goes back to normal shape after being stretched for long periods of time. I still recommend this!
This content is the opinion of the submitting contributor and is not endorsed by EdenFantasys.com

Thank you for viewing
On the prowl
– costume review page!