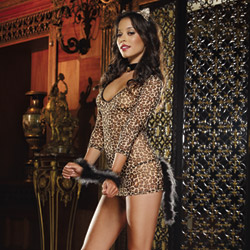 On the prowl
Costume
by DreamGirl
Prowl On
I really do like this dress. It is cute and sexy and has many pieces. The material is not scratchy or uncomfortable in any way, and the attached tail gives you just the right amount of "cute". I love the ears that come with this, and have even worn them out of the house. While the entire outfit is sheer and not something you could really wear outside the house, I am sure that if you're a fan of looking like a kitty in the bed room that you'll love this piece.
Published:
Pros:
Stretchy, Cute, Has Many Pieces
Cons:
A Bit Loose For A One Size, Marabou Is Tricky To Clean
Since I can't resist kitty-esque outfits, the On The Prowl mini dress made it into my excited little paws as soon as I saw it. The set is really very nicely made, and comes with several pieces: a collar, thong, ears, some fuzzy handcuffs, and the dress itself.

FUZZY HANDCUFFS:

These cuffs are basically for decorative or photoshoot purposes only. They are basically just marabou feathers which have been tied together to make a set of cuffs. They do not adjust. They will fit up to about 8" wrists (in circumference). If you are looking for something to use as a prop, but not for sturdy bondage, you may like these. They will not hold you in place at all though. They are definitely for looks.

EARS:

The ears are really very cute, and I like the way they did them. They tie onto your head using a ribbon. The ribbon is a total of 37" long, so this should fit most people just fine. The ears themselves are nearly 3" in height, and 2.5" in width. I have worn the ears outside of the house, and I've received lots of compliments on them. The only problem they have is that the ribbon is a little slippery. I have not had these come off of my head, but sometimes they slide sideways and my ears look a bit off-kilter.

THONG: The thong did not fit me, which was a bit of a bummer. I usually find that either the dress or the thong of any given set will fit though, not both. With this set, you can easily substitute a plain black or a brown or tan colored thong, and no one is the wiser. In order to fit the thong, you'll need to have hips which are within the 22" to 30" range. My hips are 40 inches, so it wasn't going to happen for me.

COLLAR: The collar will fit a 12-15" neck, and is 1.5" in width. It has a little bell right in the middle and is comfortable to wear. The bell moves slightly, and does jingle when you move. It is very cute, but makes it hard to sneak up on your partner (or a mouse)! If you need to wash the collar, just use a damp washcloth and mild soap. You cannot put the collar in the washer or dryer as it is made from PVC.

DRESS: The dress is my favorite part. I purchased a "One Size", (it only comes in "One Size" or "Plus Size"), and found it to run a little bit big. This is great though, because more people should fit it just fine. The garment is 22" long (from the center of the bust to the base of the hem). I'm short at 5'2", and I found that the dress came up mid-thigh on me. The sleeves of the dress are 17" long, and are meant to be 3/4 sleeves. The bust of the dress stretches easily from 30" to 38". Underbust isn't important because the dress doesn't support your bust at all, you'll need to wear a bra underneath this if you want the girls to be supported.

The waist of the dress stretches comfortably from 24" to 38", and the hip of the dress stretches from 28-42". I did think that the overall fit of the dress was a smidgeon too loose, but it's not noticable enough on me to really make a difference. I just happen to prefer skin-tight clothes and lingerie.

The dress has an open back and it ties back there with a ribbon. I think that the ribbon looks cute, but it also ensures a comfortable fit. Sometimes with open back dresses, I find them to be too tight because they don't adjust. The ribbon makes this dress very adjustable and comfortable.
Experience
(CONT)

The dress also has a tail attached to the back. It is made from the same marabou as the "hand cuffs", and you'll want to be careful when cleaning it. I wound up putting the entire set (which is a polyester/spandex blend) in the wash (sans collar, which you can't put in a washer as stated above), and it came through fine. The only problem is that once marabou gets wet, you'll need to "refluff" it by hand before you wear it, and it still just never gets quite as fluffy as before you got it wet. If you wanted, you could hand wash the garment in the sink and just be careful not to get the tail wet. I didn't mind it not being quite so fluffy though. If you do choose to put this garment in the washing machine, be sure to either put it in a pillow case with a knot tied in the open end, or a lingerie bag (as I did). The tag says it is best to handwash only.
This product was provided free of charge to the reviewer. This review is in compliance with the FTC guidelines.
Thank you for viewing
On the prowl
– sexy costume review page!