Not as expected
These panties have me torn. On one hand they are super high quality and amazingly comfortable. They are sexy and the cut it super flattering, and the lace and silky material look lovely. I can say all these nice things about these panties, but the point is that the crotch-slit is about useless. It's way too hard to push aside and it's too far back to really let anyone have access to the important bits. These get a four star review from me, but I may end up just sewing the slit closed.
Published:
Pros:
Pretty, comfortable, great color, very stretchy, high quality, flattering cut, silky material
Cons:
Non-functional crotch-slit, one size fits most
I got these panties because I could get another pair of panties free, and we all know that I need more panties in my lingerie drawer. Despite already having too many sexy underthings, I don't have any of the crotchless variety and figured that I may as well snatch them up on sale.

Packaging

This panty by Coquette comes in a transparent plastic bag. The bag has no real markings on it, but inside of it are those silica gel packs that are intended to keep moisture out of it. If you're planning on gifting these it might be best to remove them from the plastic bag and wrap them in tissue paper.

The tag on these panties is attached with a small, white safety pin. The safety pin is then looped through a white ribbon, which is then attached to the cardboard tag. While it's just a little touch, it does help to let these feminine panties to feel like they're higher quality than any of the ones I pick up at the mall.

The tag is pretty basic, and it has a picture of the front and back of the panty. The images on the product page are the same as the images on the tag. It would be fine to leave the tag on if you're giving these as a sexy gift.

Fit

This panty comes in two sizes, one size fits most and plus size. This is very limited because a lot of people will find certain parts uncomfortable, and if you are particularly big or particularly small this isn't going to be your best bet.

I am personally 5' 2" and wear a size 6 in jeans. At the widest part of my hips I am about 40", which is pretty large compared to the rest of my proportions. Wearing these panties, they didn't press into my skin at all and were super comfortable. I feel like these could comfortably fit up to a size 10 girl, but after that you may want to jump up to the plus size variety.

The size charts are as follows:
One Size
Dress size: 4 - 14
Waist size: 26 - 32
Hip size: 36 - 42

Oueen One Size
Dress size: 18 - 26
Waist size: 38 - 46
Hip size: 48 - 56

One issue I have with these is the slit is in a bit of the wrong 'place' for vaginal penetration. The slit starts about halfway down my labia, past my clit and such, and it ends a fair way into my butt area. I feel like this may be a better design if you're into anal play or you like doggy-style sex, but for foreplay and such it's a bit awkward.

I also found that these really don't slip aside very easily. I could wear these all day and since the slit is so easily held together I wouldn't have lady bits hanging out or anything. My boyfriend didn't really like them because he said that even pushed aside it looked like all my labia were squished together.

This really didn't ride up my butt at all until I was laying down during foreplay. This stays securely in place, and I didn't notice the sides ride up at all which is a huge plus for me. If you are over the higher range of the size measurements you may have a bit of rolling on the sides, but I think that as long as you're within the range it should stay in place fairly well.

Material and Care

These panties are made out of polyester and spandex. The body is very soft and silky, and the lace itself is comfortable and doesn't chafe or irritate my skin. These feel super nice against my skin, and they don't irritate my newly shaved hair follicles like mesh panties do.

In order to keep these in the best condition, it's easiest to toss them into a delicates bag and then hang them dry. If you toss them into the dryer the main material will be fine, but over time it will degrade the plastics in the lace and make them lose their stretch.

There are no loose threads or areas where these are starting to come apart. They feel like they are very high quality, but for the price I hope that they would. I feel like these are for sure one of the best quality pairs of panties I have, and they're certainly superior to the few Victorias Secret undies I've procured through promotions.

Overall section below
Experience
Overall
Overall, these are super cute and comfortable panties... Except that they're crotchless. Being crotchless they aren't ideal for every day wear (they have no cotton liner) but the slit is in the wrong area and too small for it to be much use in the bedroom.
My boyfriend feels similar; he would like them more if they either had a crotch or were much more open, but this awkward inbetweenness doesn't get him all hot and bothered. I may end up just sewing the crotch closed on these and just using them as adorable panties.
One thing that I really like about these is that they have a full back, but they aren't boyshorts or 'granny panties.' Because it's such a silky material and it has black lace it doesn't look too 'young,' and the color and style go great with a lot of my other pieces of lingerie.
All in all, these get a 4 star rating. They're superior in quality, super comfortable, and they look sexy. I couldn't decide weather or not to take one or two stars off for not having a working crotch-slit, but they're way too nice to get just 3 stars.
Here is a picture of the front: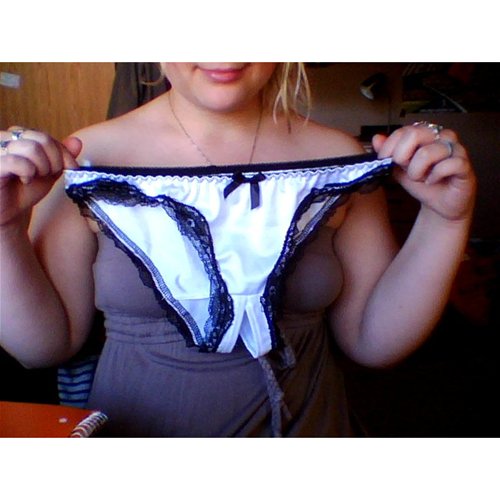 And the back: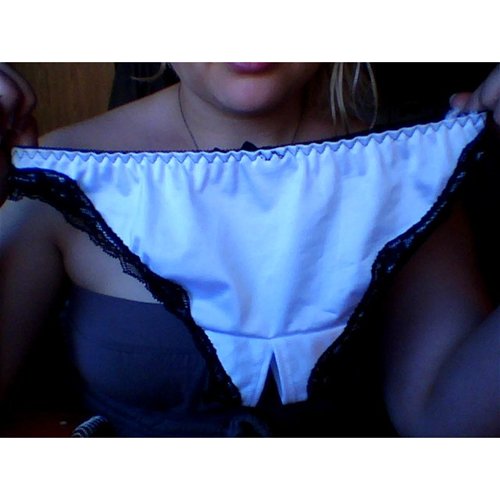 Here I am showing how stretchy they are: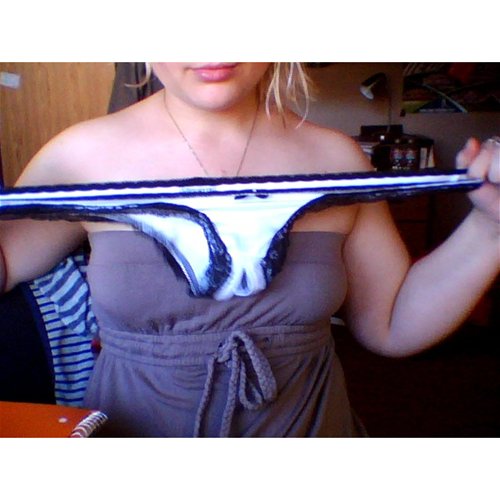 Here is a picture of the crotch slit:
And here is a picture of the tag!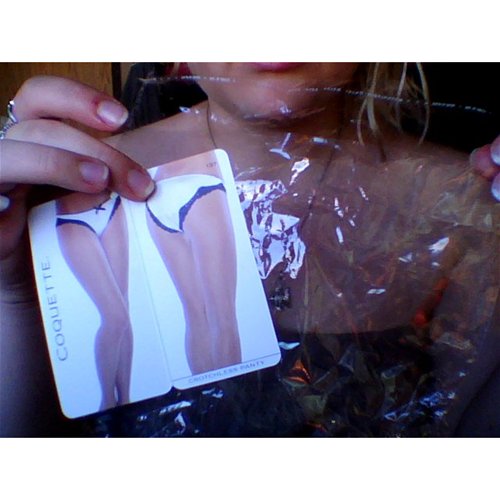 This content is the opinion of the submitting contributor and is not endorsed by EdenFantasys.com

Thank you for viewing
Lycra crotchless panty
review page!