Not perfect, not a pleasure, not a chemise.
I was so excited to get this piece, and couldn't wait to try it on. Once I finally got a chance to see this on my body, I was disappointed. Does not fit like the product pictures at all, and I am returning this ASAP. Not one word of the name of this item is true.
Published:
Pros:
Umm...The color in the product pictures is nice (even though that's not the real color)?
Cons:
Ill-fitting, more of a babydoll than a chemise, not flattering & no bust support
Okay...where to begin with this "chemise"...
This came packaged in a plastic sleeve, like so: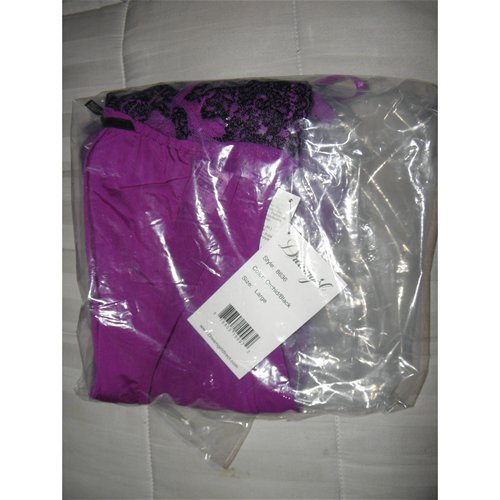 The garters are detachable, which is okay. Having something like this with garters on it can be awkward looking if you don't want to wear thigh highs with it, then there are just garters dangling around. This isn't something that I think would even make sense visually if attached to any sort of hosiery, it would look awkward.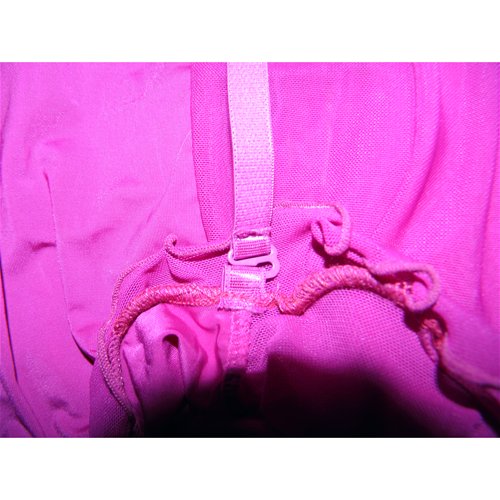 The color of this is not true to the product pictures at all. In those images, it looks like a vibrant pretty purple. In real life, it is more of a vibrant pink with a purplish tint. It is completely magenta.
The fabric is sheer, and meshy. The product images show a darker, or thicker panel down the middle of the front of this piece, that almost looks satiny the way they show it; it's not quite like that. Yes, that middle panel in the front is not as sheer, but it doesn't quite look like that. It is more of a silky, but thin fabric that, at a quick glance, looks the same as the sheer fabric that this is mostly made up of.
The cups are very thin, there is no real support. I am a C/D cup, and this makes me look flat chested and saggy, I am not at all. There is no underwire, no padding, just thin lace. If you are looking for support, you won't find it here.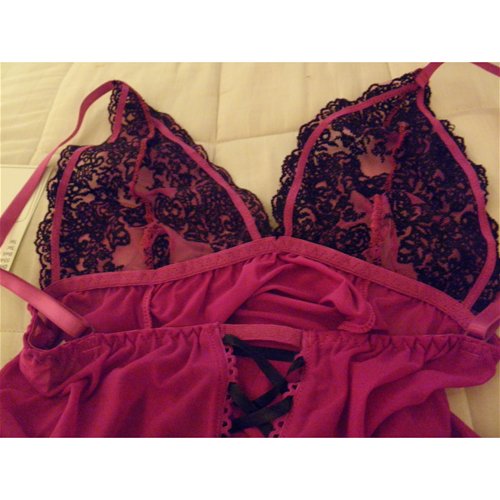 This is not snug, and the fabric has a lot of stretch to it, so this will not be a tight fit. I generally wear a large in everything, and this seems like it fits a size too big or something, but I think that's just the way it's made. I feel like even if I ordered a size down it wouldn't matter, because of the style of this piece. It's like it's supposed to fit that way, because when I put it on I was very upset to see that it does not fit me like a chemise at all...it fits like a babydoll! I don't really ever buy babydolls, and I don't find them to be flattering. I especially don't see how a babydoll with lacing up the back could be flattering! The lacing is very close together, so it doesn't even look like it has that nice corset-ish effect. It just looks ill-fitted and cheap, and that adds to it. Plus, given the way this fits, I feel like loosening up the lacing wouldn't help anything about the fit of this; it would only make it look looser and baggier, and wouldn't even show of the lacing very well. Again, I feel like even if I ordered a size down, that wouldn't make this look anything like it does on the model. The garment looks more snug and like an actual chemise in those images. Again, this fabric has a lot of give to it, not that it's snug at all in the first place if you go according to what size you would wear. I don't see how this could fit like anything but a babydoll sort of thing. Calling this a "chemise" is a misnomer.
According to the size chart, I should be able to wear a large without a problem, it should fit perfectly. My measurements are 38-30-38, so a large is precisely what should fit me according to Dreamgirl's size chart. This is ill-fitting. This fits like it is a size bigger than it is, and like a babydoll, not a chemise.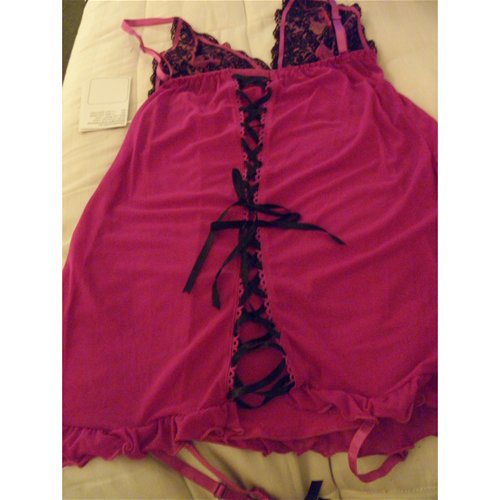 I'm not interested in thongs, but this one is a little weird. I mean, it looks cheap. It does have a liner panel in it, and the fabric seems okay, but the waistband is the weird part. The elasticy waistband that this has looks unfinished and cheap. Also, for looking like an elastic waistband you would expect more stretch from it. I was able to get it on, but it felt a little snug going over my thighs. I have 38" hips, if you have wide hips this thong will not do.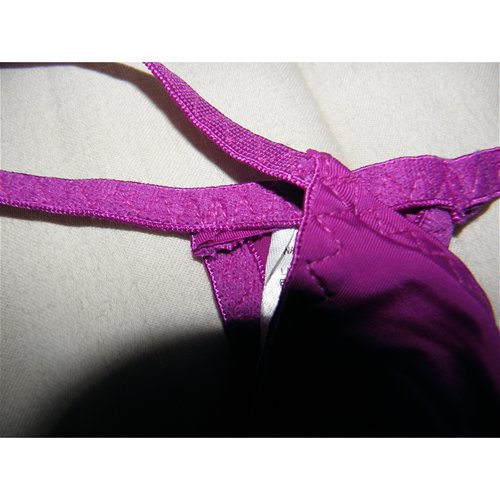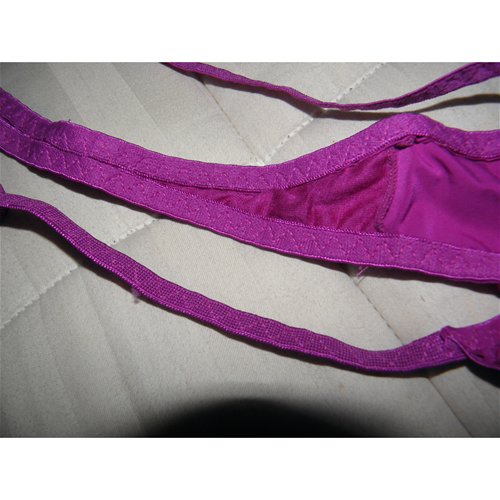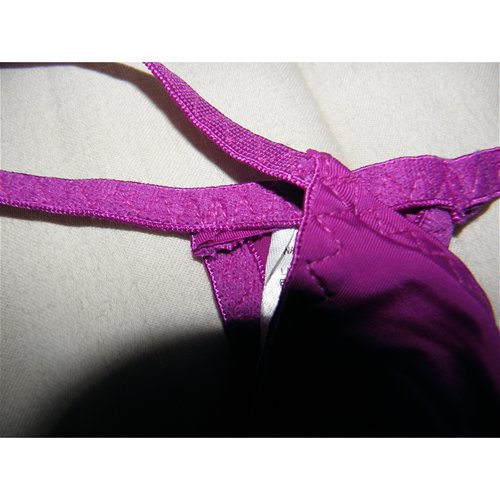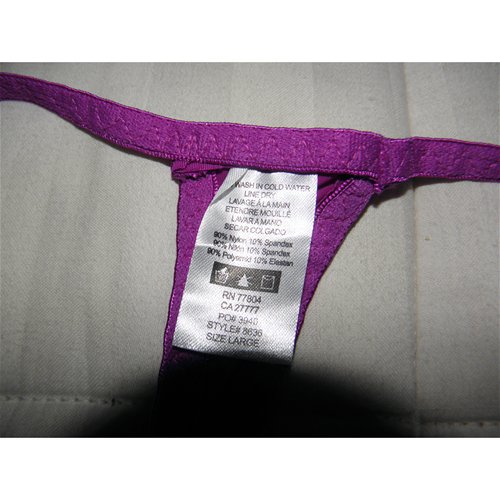 Experience
I was so excited to get this piece, but I felt let down as soon as I put it on. I'm not comfortable posting pictures of me wearing this because it shows off too much, not to mention it looks awful on me.
Follow-up commentary
25 days after original review
As I said in my review, this was getting returned. I saw no point in keeping this around at all, so I returned it. Not worth it for me, didn't like the fit or the color.
This product was provided at a discounted price in exchange for an unbiased review. This review is in compliance with the FTC guidelines.

Thank you for viewing
Perfect pleasure chemise
review page!