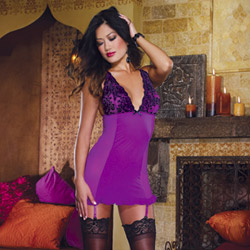 Perfect pleasure chemise
Chemise
by DreamGirl
Sexy, simple and stretchy
Overall I would give the Perfect Pleasure Chemise 5 stars. It's a really flattering piece, it's comfortable and I feel really attractive in it. It seems like it would flatter most body types and is a simple but very sexy piece. I couldn't really find any cons except maybe that it only comes in purple, though it's a really lovely purple!
Published:
Pros
Stretchy
Flattering
Easy to put on
Removable garters
Comfortable
Cons
Lack of color options
The Perfect Pleasure Chemise by Dreamgirl is a really cute and fun piece that is simple and will be flattering for most body types. It comes with a matching thong and removable garters to complete the 'look'.

The chemise:
The chemise has a lace top, adjustable straps, removable garters and has a lace-up back, a la corset style. There are no hooks or clasps on it. You simply slip it on and go. The corset back can be tied tighter or looser to fit or style though. The back of the chemise has too see through panels on either side of the corset style lacing, but the front is opaque.

The bra portion of the chemise has a lace applique design and is somewhat see through. There is no padding or underwire of any kind, think bralette top, so you won't find support in this piece. There isn't any additional material to keep the applique off your skin, but the applique isn't really all that uncomfortable or scratchy. It's not as soft as the rest of the chemise, but I didn't find it uncomfortable to wear for extended periods of time. It created a subtle peek-a-boo effect without necessarily putting the goods completely on display.

The thong:
The matching thong from this set is styled in standard g-string fashion. It's made of the same material as the front panels on the chemise and is opaque. I had no interest in the thong whatsoever, but for avid thong wearers it probably won't be uncomfortable or anything out of the norm. It is not adjustable, but it is stretchy and would most likely accommodate several sizes. I did do a stretch test on the thong to see if it retained its shape. After stretching it over my head, stretching it over my dog's butt and then seeing how far it would stretch before the seams started to 'buckle', it did. It promptly snapped back into shape and didn't seem worse for the wear. It does have a very small cotton crotch, though it's micro sized and seems better suited for doll sized genitals than human ones.

Materials and washing instructions:
Both the thong and chemise are made of 90% Nylon and 10% Spandex. The washing directions on both tags say, "Hand wash in cold water, line dry." A good scrub in the bathtub or sink with a touch of laundry detergent and then hanging to dry on the shower rod would most likely be suitable to keep this chemise clean and in good condition. The thong could probably withstand being washed in a washing machine and dried on a low heat setting.
Experience
I thought this piece was very flattering and comfortable and could see it being flattering on lots of body types. It was soft and stretched to my body without binding or pinching anywhere. It could probably be used as a slip under some dresses or skirts to help smooth out visible undergarment lines. Just don't purchase this piece in hopes it will be a good structural garment because it isn't designed to support, flatten, lift or shape. It's purpose is better suited to a sexy nightie or something to be strutted around in and then taken off after the fun is had.

Note: I just realized my puppy can be seen in my video review. He was very interested in this piece and the dangling bits of satin ribbon on the back. He tried to snatch the garters too before I started my video review, lol. When I rubbed the edge of the chemise on his face he rubbed back so I'm assuming he thought it was soft as well.
Follow-up commentary
30 days after original review
I got this chemise in medium and was ~140lbs when I wrote the original review. I'm now hovering at 160lbs (and quickly gaining as I got into my third trimester) and it still fits wonderfully and has plenty of room to stretch.

My boobs were ~38Cs in the original review; they're now hovering at 38Ds and I'm pleasantly surprised at how well this chemise still accommodates my body. :D There's no pinching, chaffing, binding, rubbing or pulling anywhere. I've hand washed this chemise twice and let it hang to dry over my shower curtain rod and it doesn't seem any worse for the wear. All the lace and hems are still in tact and holding up very well (there aren't any of those hairy, stringy things you get on stretchy lace sometimes during the wash.)

I ended up tossing the thong without even bothering to try it on because it simply looked uncomfortable and unappealing. If this set had come with some lace boy shorts or even a bikini option, I'd have been so much more thrilled over those. As it is, the chemise was still worth it even though I really disliked the thong. I've been pairing the chemise with a black lace and cotton bikini panty from Victoria's Secret (not the ones I wore in the video review) and I think they look great together.

Overall this chemise makes me feel really sexy and I can't wait to see how I look in it after baby comes and my middle section is a bit less beach ball shaped. :D
This product was provided free of charge to the reviewer. This review is in compliance with the FTC guidelines.
Thank you for viewing
Perfect pleasure chemise
review page!