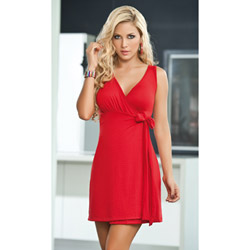 Red elegant dress
Mini dress
by Espiral
Not So Elegant
I wouldn't buy this again, but I won't get rid of it either. The Red Elegant Dress is more likely to find it's way into my wardrobe as a comfy lounge dress than something I'd ever wear in attempts to be "elegant."
Published:
Pros:
Super soft and comfortable, casual, lightweight, v-cut back
Cons:
Not very flattering, awkward bust pleating
I really wanted to love this dress. I've just started wearing dresses more often, and I thought this would be a great one to add to my collection. It's dressy, but casual enough to just wear around, too. Unfortunately, I don't see this one becoming a staple in my wardrobe.
The
Red Elegant Dress
is made by
Espiral
. I have a few other pieces by them that I really like, such as the
Black Cross Back Dress
. This dress is made in Colombia, and is good quality. I was glad that I couldn't find any flaws in the material, seams, or hems.
This dress came in minimal
packaging
, just a clear plastic bag with a cardboard insert with the product information. On the dress, there was a regular manufacturers tag with an image of the dress in black--not going to lie, I'm a little sad I didn't get the black one, but it's good to diversify my dress collection too. There's also a little white tag inside the dress under your right arm. I would suggest cutting that little tag out, as it can be seen through the fabric when the dress is on.
I am most pleased to say that this dress exceeded the quality of my other Espiral pieces in it's comfort. The
material
is close to one of the softest things I own. This might be an awkward comparison, but it literally reminds me of the soft texture of an old t-shirt my dad gave to me after he'd worn it out, for me to wear as a pajama shirt when I was little. Coming back from memory lane... It's 94% Rayon and 6% Elastan (spandex). Because the dress is so stretchy, it becomes sheer in areas where it is stretched tight over your body. What's nice, though, is that I found that it doesn't stretch THAT tight in many places. You'll definitely want a nude (or red) bra and panties, but because the dress isn't too form fitting, it's not much of a problem.
I've come to trust Espiral's
sizing
. For a size
small
, their chart claims:
Bust 34" Waist 25" Hips 34"
I wear a 32C bra, and my measurements are 32"/25"/35". Because this dress is so stretchy, you can definitely get away with being a bit bigger than their size chart calls for. I would estimate: Bust 32" - 34", Waist 25" - 27", Hips 34" - 36". Just remember that the more you stretch it, the more sheer it will become. I also stayed close to the bust size they suggested because the neckline really plunges on this one. No matter how I configure it, there's quite a bit of cleavage. From shoulder to hem, this dress is 32" long. The former Catholic school student in me is always curious how far above my knee a dress lands, and this one comes in at 3-4" above my knee. Definitely not acceptable by Catholic school standards, but something that's definitely more than acceptable when it comes to wearing it out and about during the day. Keep in mind, though, that I'm only 5' tall. If you're getting a small and you're much taller than me, you'll definitely have to take into consideration how short you intend this dress to be on you based on where/when you'll be wearing it.
Taking
care
of this dress is also pretty simple. The tag suggests hand washing, no bleach, no ironing, and no wringing it dry. With that said, I don't love this dress enough to be upset if it gets ruined, so I tossed it in the washer and dryer with a bunch of cotton and polyester clothes. It came out just fine, so that's what I'll be doing in the future as well. I can't make any guarantees for other people, but I had no problems with the washer and dryer.
Experience
Here are some pictures to help you see how the dress fits.
Front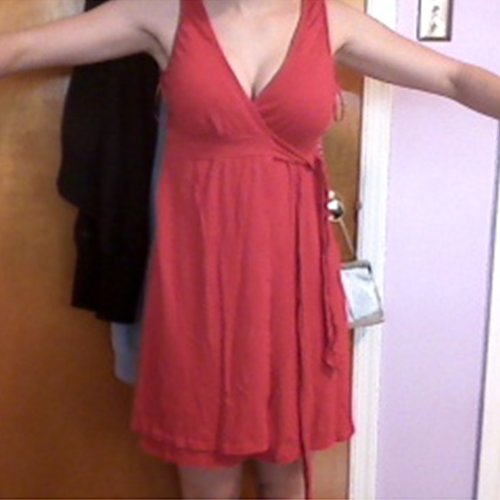 From this image, you can see how the dress is rather loose fitting in most areas aside from the bust.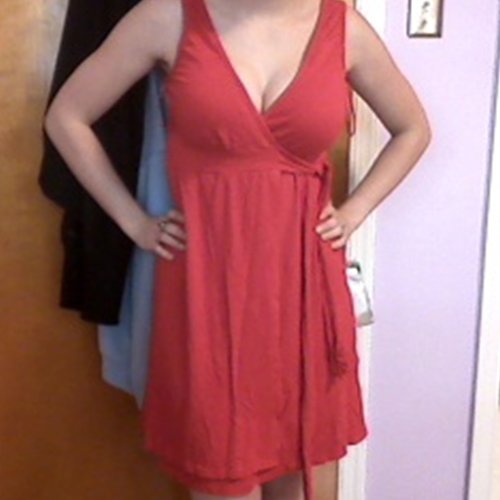 With my arms down, it obviously looks better, but it's still not very flattering of my figure. This photo also shows one of the things that bothers me the most about this dress. The pleating/darting under the "cups" so to speak... it doesn't actually fit properly. If I were to wear the dress without a bra, my breasts would fill out the cup differently and it would likely be fine, but because the dress is thin and offers no support, I won't be doing that. Consequently, I'm left with awkward pleats that look a bit baggy below my breasts.
Back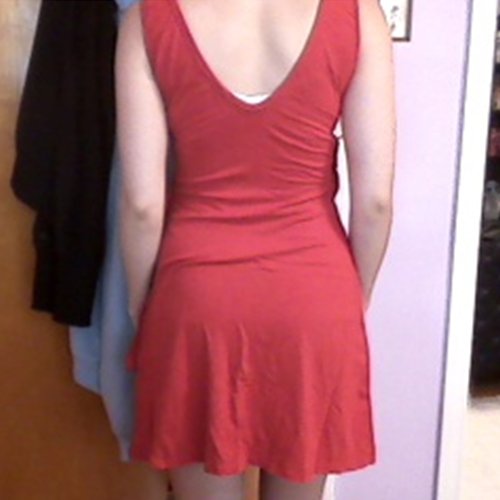 The back is my favorite thing about this dress. I love the low V, and from the back, the dress actually seems to hug my hips and be more form fitting! If I could have the back of this dress without the awkwardness of the front, I'd be in heaven. As you can see, though, my bra is peeking out the top, so be sure to adjust properly to avoid that!
Side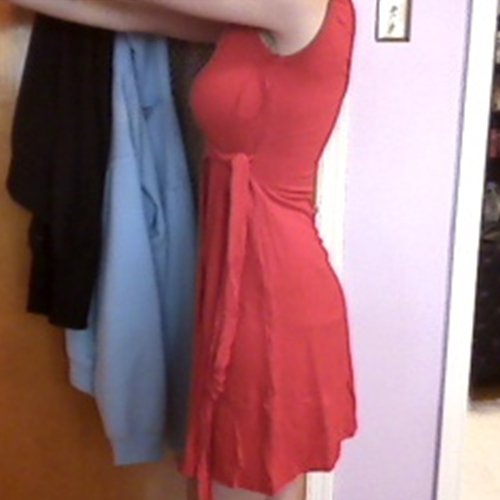 Just a simple view of the side of the dress to show how the faux wrap ties below the left breast.
Tie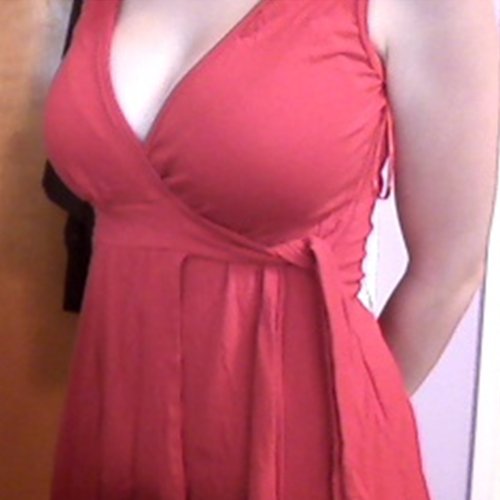 And here's a closer image of the tie. In the product image on the page, the model has the cutest little bow. Try as I might, I can't replicate that, so I just did a simple half knot and it stays in place just fine.
Follow-up commentary
17 months after original review
Sometimes I have to laugh when I wear this. It makes me feel a little naughty to wear a dress I bought on this site to work. I find I normally wear this more casually as my opinion stands that it's really not that elegant. I wore it more in the warm weather months of course, pairing it with flip flops and a light sweater. I've washed it in the washer and dryer many times now, and I'm happy with how well it's held up.
This product was provided free of charge to the reviewer. This review is in compliance with the FTC guidelines.

Thank you for viewing
Red elegant dress
– mini dress review page!