Score! Black Cross Back Wins My Vote
Amazingly sexy dress, super comfortable, and it doesn't break the bank. I wore this out one night with my boyfriend, had a great deal of fun on the dance floor, and then back in bed where I fell asleep wearing it. Sexy club wear, lingerie, and PJs all in one? Irresistible.
Published:
Pros:
Sexy, comfortable, open back, versatile/multipurpose, inexpensive.
Cons:
Might be too short for some, bottom shifts/beware of exposure!
I can't start this review any other way than saying that I love, love, LOVE this dress. Not only do I feel like I look super sexy in this dress, but I FEEL super sexy. Overall, it's one of my favorite clothing purchases from Eden.
The Black Cross Back Dress is made by
Espiral Lingerie
. For those that care, it's made in Colombia. It's part of Eden's newer selection of club wear, but it's not nearly as limited as some of the other pieces I've seen. I might be a bit of a prude, but some of the dresses I've seen are definitely not for the timid, and you have to be ready to bare all to everyone who sees you. This dress, though, is sexy and revealing in a way that still manages to keep most private things private.
The dress comes in minimal
packaging
, just a clear plastic bag inside a box with some tissue paper. On it, there's a regular manufacturer's tag as well as the little inside tag that tells you how to take care of it (which we'll get to in a minute).
My first impression of this dress is that it is SO SILKY. It's soft and feels great against your skin. Not surprisingly, the
material
is 93% polyester and 7% spandex (the company is French, and I had to look up what Elastano meant). Only 7% spandex seems low given how stretchy this dress is. It's also very thin, but don't make the mistake of thinking that means it isn't made well. I looked this baby over for any loose seams or stray threads, and I couldn't find any. It can be a little see-through where it gets stretched tight; for most women this would likely be around the hips and thighs but it's not unsightly. In most situations where you'd be wearing this dress (a dark club, a dim bar, anywhere private with your lover...) it would not be an issue at all. In case you're worried about your chest, there's a double layer of fabric that unfortunately doesn't give any support, but it does offer a bit of added protection considering that you likely won't be wearing a bra with this dress. Overall, seems like a solid construction to me.
Wearing the dress, I was a little nervous at first. Although the
sizing
from the
chart
is accurate (bust 34", waist 25", hips 34"), on a dress like this, length becomes an issue. I'm only 5' tall, and that creates a bit of an issue for me because of how low this open back dips. I personally have to fold it a few inches around my hips so I don't get an awkward bagginess around my stomach. With that said, the bottom of this dress is only 10" long, which could cause issues for taller women. If I had to estimate, I'd say this dress would work best for women whose height falls between 5'4" and 5'8", but if you're shorter than that like me, just beware that you'll have to do a bit of your own adjustments. Nothing about this dress is intended to be adjustable, so we have to work with what we're given.
In terms of other measurements, I wear a 32C bra, and my measurements are 32"/25"/35". Because this dress is so stretchy, you can definitely get away with being a bit bigger than their size chart calls for. I would estimate: Bust 32" - 34", Waist 25" - 27", Hips 34" - 36". I suggest staying closer to the bust size just because this dress really doesn't offer any breast support at all.
Now that you'll want to be wearing this dress every other night, you'll need to know how to
clean it
. The tag suggests hand washing, no bleach, no ironing, and no wringing it dry. With that said, I tossed it in the washer and dryer with a bunch of cotton and polyester clothes, and it came out just fine--looks brand new. I can't make any guarantees for other people, but I had no problems with the washer and dryer.
Overall, I love this dress. I had agonized over this purchase and the only regret I have now is that I didn't buy it sooner. Here are some photos so you can see how it looks on me. Just an added note: My photos don't really show it, but the dress does have a bit of a shine to it in certain lights. It isn't quite as pronounced as it is in the product photos here on Eden, but it isn't as matte as it looks in my photographs either.
The full front: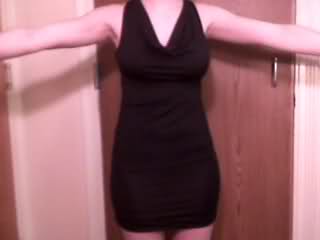 The cowl neck: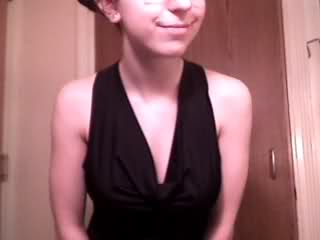 The side view:
The open back: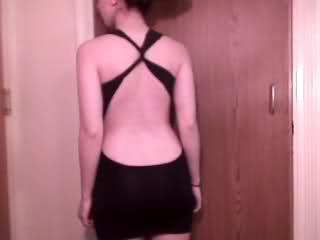 Experience
One night when I wore this dress out as a top! I was just going to a house party and knew I'd be walking there and home, so I wanted to look sexy but still be dressed reasonably considering it's winter. I put it on as a top with a pair of skinny jeans and sexy boots. I also wanted a little more support, so I wore a lacy bandeau bra, and the outfit turned out great! I got tons of compliments, and a few guys asked me to dance when my boyfriend's back was turned. I said no, of course, but the attention was definitely a confidence booster.
From the front, with jeans: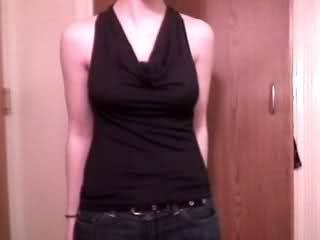 From the back: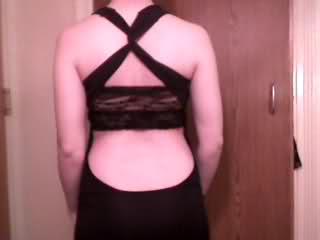 From the side: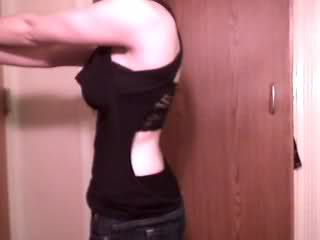 Follow-up commentary
5 months after original review
I don't get as much wear out of this one as I'd like to, but I'd say that's more a testament to my lifestyle than to the dress. You really need to be going out somewhere where you can be dressed up and sexy to get away with this one, and I'm more likely to be found at jeans and t-shirt establishments. :P I do still love it, though, and have no qualms keeping it in my closet till the time is right!
This content is the opinion of the submitting contributor and is not endorsed by EdenFantasys.com

Thank you for viewing
Black cross back dress
– mini dress review page!