Not so Smokin' Gun
The Gunmetal Corset could have been a real winner... if it actually fit. If in doubt, do size down. Also, you need to wear this just right or you may end up looking frumpy and/or cheap. There are better corsets out there.
Published:
Pros
Can work for some, affordable
Cons
Go a size down, material, feel cheap
Another corset, Mwar?
What can I say? I am a bit of a corset junkie (and it's been a while since I've done a lingerie/clothing review). Corsets are a great option for those who want to show their shape, be different, and not be restricted to a standard club dress. Wearing an awesomely fitted corset will make you stand out as much (if not more) than any other standard evening wear. Of course, being the chick wearing a corset out does let people perceive you differently (meaning you may be seen as cool and bad ass). Also, you don't have to worry about your dress riding up or visible panty lines since you'll be wearing jeans. The extra mobility is a big plus as well.
This one is called Gunmetal Tessa's Classic Corset. We could argue use of the word classic since classic corsets could be referred to corsets made for ladies hundreds of years ago (thank heavens we don't do fainting rooms anymore) and classic corsets generally don't have zippers, but we're not here to do that. This corset has plastic boning, so it won't be suited for those who want to do serious waist training or are looking for a corset that would last longer. Then again, you can replace your plastic boning with metal boning with a couple of tools and some sewing.
Okay, tell me more about it.
This corset is a lighter grey that has a shine to it. There are nine bones in total. The odd bone out is on the side which is opposite the zipper. The zipper makes it much more beginner friendly and may be seen as a turn off for more experienced corset wearers. There were not loose ends or tears. The corset seemed decently constructed. The back contains the laces.The laces are cylindrical, thin, and black. You can always replace the laces if you prefer wides laces or a different color. The laces are long enough that you can adjust the corset yourself if there is no one around to assist you (though if you can, get someone to tighten it for you. Usually the fit is more snug and better when you have someone else tighten it for you).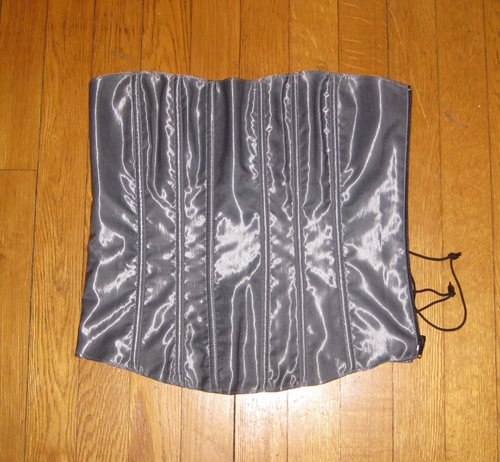 The material is not see-through, but does feel flimsy and thin. I would recommend other corsets that have more mass and a thicker fabric. I dare say that this material (unless pulled off perfectly right) can look cheap. Also, you might want to consider pasties so you don't have nipples show. The material feels like plastic and looks like it has a low melting point. You should never put corsets in the drier, and keep this one out of sources of heat. I suspect it would melt.
How did it fit?
Here was one of my biggest problems with the corset: the sizing. I tend to like corsets that go by bra band size. It is much more exact (usually) than companies who arbitrarily assign things as small, medium, large and so on. Being a 34 band size, I wend with the size 34 corset. Generally, corsets and lingerie can be a challenge for me because my boobs sometimes have trouble fitting. I expected the corset to be a bit snug in the bust, but that was okay. In my experience with other corsets, I've always loosened the fabric around the bust and then tightened it going down.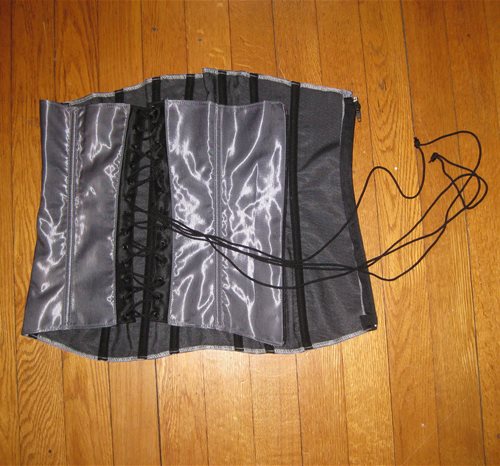 With this corset, I didn't have to worry about my boobs. The corset was too big. There was too much fabric on the corset. It was physically impossible for me to tighten it any further. I am able to tighten the laces to the point of the back flaps being flush (I could technically tighten them further, but then the laces would cause the back panels/flaps to buckle, and that doesn't really look nice) and then slip the corset on with the zipper. If you can do that with your corset, then you need a tighter one. So, yeah, these corsets run big. If in doubt, definitely size down. A corset is supposed to accentuate the shape. You should not have to deal with a corset that makes you look like a grey sack of potatoes.
This corset does not come with straps. Sometimes straps are useful to make you feel more secure in a corset. I can't really comment on feeling secure in this corset since it didn't fit me well. It made me look frumpy and cheap.
Experience
How do I care for this?

Hand washing with mild soap is your best bet. Also, when you decide to clean your corset, was all of it. If you only clean the trouble spots, then you'll see different degrees of wear and tear on your corset. Once it's been washed and rinsed, let it drip dry away from direct sunlight to prevent discoloration.

Is there anything else you'd like to say?

This corset was a dud. I really wanted to like it. I like having multiple corsets on hand when it's time to go out for the evening. I don't like to wear a standard club dress. A lot of them are very form fitting on the backside. My back side is Hispanic, so it makes it hard to find dresses that fit all parts of me well. Also, I don't like how often the dresses ride up. Because of this, I found an alternative: corsets. I have no problem going out wearing a corset, pair of nice jeans, and some badass boots. Perhaps I have a Napoleon complex, but this makes me feel badass and powerful. On the practical side, I like having sure footing and the ability to move fast. I like the way the set up makes me feel.
This content is the opinion of the submitting contributor and is not endorsed by EdenFantasys.com
Thank you for viewing
Gunmetal Tesa`s classic corset
review page!