So Close, Yet So Far
If this fit me properly, I'm sure I'd wear it frequently and recommend it to everyone. With that said, if you want a reasonably priced corset for fashion, rather than hardcore body-shaping, this is a great choice. The gunmetal color is both neutral and eye-catching--perfect to match with any type of bottoms for a night out (or in).
Published:
Pros:
Can be worn as a shirt, flexible boning, comfortable, zipper, price
Cons:
Cup size is one size fits most, hand wash only
When I went to the post office to pick up Tesa's Classic Corset, I was surprised by the
packaging
. It was a small square box. I suppose I expected a shirt box, or even a padded envelope. When I opened the box, the corset was nearly folded in half, with some tissue paper padding the extra space. I immediately worried the boning would retain that shaping, but it flattened right out when I took it out of the box. Whew.
My initial reaction: I LOVE the color. The gunmetal is what I would describe as a medium gray, more similar to dark silver. It also has a shine that is reminiscent of a dark silver. The product photograph does a good job displaying the color and material. The
material
is polyester, and feels satin-like on the outside and a little rougher, but not uncomfortable, on the inside. In order to
clean
this polyester corset, you should hand wash it and hang it to dry.
Of course after checking it out for a minute, looking it over and playing with the lace and zipper, I couldn't wait to put it on.
Disappointment set in almost immediately.
The
sizing
just wasn't right. I ordered a size
32
, based on the size chart recommendations. One of the things I loved about Tesa's Classic Corset was that the back was open, with just lacing. I like to show off my back and I knew I wouldn't be able to do that with this corset. I re-laced it so it was as tight as it could get and zipped it up again. Still, it didn't fit how I wanted it to. I wear a 32C bra, and my waist is 25". The corset fit okay in my hips and waist: it could have been a bit tighter, but I know I'm petite and I'm not usually too picky. My issue was in the bust. I would have needed to be at least one cup size larger in order to fill it out properly, and I certainly wouldn't get the nice push-up effect the model in the product image had. In terms of length, the corset measures as 15" long in the front (down the middle), 13" on the sides (zipper), and 12" in the back (lace).
Here are some images to help you get an idea of how it fits. I only have a webcam, but hopefully they help!
Here, you can see how the bust is baggy and doesn't really do anything in terms of showing off my figure.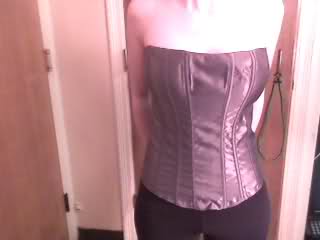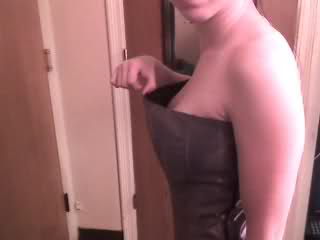 The following are some detailed shots showing you the boning, (from the outside and inside) zipper, and lace.
Boning from the outside--detailed to show the boning without being distracting. Accentuates the natural curves of the body: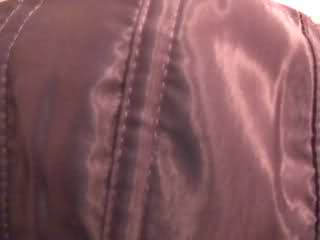 Boning from the inside--it's sewn into a soft, almost fuzzy material that feels nice against the skin: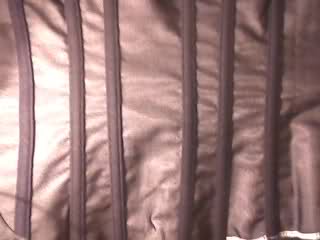 Zipper down the left side of the corset--great for easily getting it on and off once you get the lacing situated to fit you: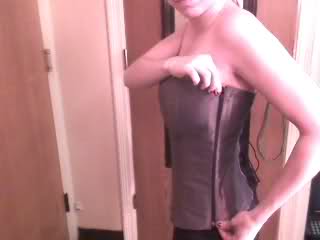 Back, showing lacing pulled tight: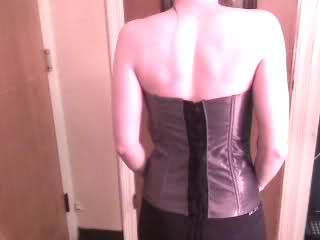 Lacing and bow, up close--it's more of a string than actual lace, but it stays tied nicely: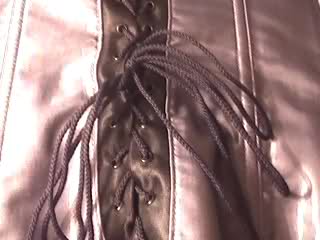 Experience
While my boyfriend was pretty upset this wouldn't be a standard piece of my wardrobe, I'm excited to have a friend who I think it might fit well, and I'll be passing it off to her. I'll update with her experience with it, in my follow-up review. :]
Follow-up commentary
1 month after original review
I'm putting that I still like it, even though I don't have it in my possession anymore. My friend Logan looks great in it. With a slightly padded strapless bra, it fits her perfectly. She still doesn't get the push-up effect that the model in the product picture has, but at this point, I'm attributing that to Photoshop.

It's definitely a classy piece, and she's even worn it to class under a cute black sweater. Overall, it is worth getting if you have the right measurements for it.
This product was provided free of charge to the reviewer. This review is in compliance with the FTC guidelines.

Thank you for viewing
Gunmetal Tesa`s classic corset
review page!