Not up to par
I had high hopes for these panties because the other Baci panties I have are wonderful, but these fell short. While they are cute and a good way to 'round out' an order, I feel like for $5 you could find better panties (even by the same brand) around. They are hard to get to fit right and the sides don't stay flat, neither of which help these flimsy panties be sexy or practical.
Published:
Pros:
Pretty, cheap, stretchy, washes well
Cons:
Sides roll up, thin, flimsy, is hard to get to cover what it needs to
This new line of Baci panties is a great way to round out an order, I've found, when you're almost at enough to get free shipping but you really can't afford to add another big ticket item to your cart. Because I have had such good luck with my prior Baci panties, I figured that these would be a safe bet.

Packaging

Much like the other Baci Lingerie I've gotten so far, these came in a cardboard sleeve. The images on the product page are the images printed on the front and back of the cardboard sleeve, so it isn't super classy or discreet. It doesn't give much in the way of care instructions sans some easy to follow symbols. It also lists the size you ordered, but that's about it.

Inside the sleeve is a plastic bag with a cardboard insert and the panties. Because this seems excessive for panties I would not store them in here and just toss the packaging. I also would rather fold them and re-wrap them if you're gifting them, but that's just me.

Fit

For now these panties only come in a medium and a large, and I got the mediums. Judging by the size chart below, in Baci's size range I could have gone either way. Since the other panties I got fit well and were mediums, that's what I went with.

Medium
Size 6 - 10
Hip- 36 - 38
Weight- 120 - 140

Large
Size- 10-14
Hip- 38-40
Weight- 140-160

My hips are about 40 inches, but since these don't really cover the wides part of my hips I figured that I could get away with the smaller choice. I feel like since they are a bit stretched on me, this causes the lace sides to bunch and roll a bit more than they would on someone a bit smaller than myself.

One qualm I have about these is that they seem a bit small measured from the band to the crotch liner. It takes a bit of adjusting on order to get these to cover all of the important bits, and that usually involves hiking up the back a bit. Maybe getting a larger size would have helped, but these seem a bit 'skimpy' to be practical (coming from someone who likes thongs).

Quality and Material

These panties are made of 90% Nylon and 10% Spandex. These are fine to wash in a delicates bag in the washer, but they should be hung or laid flat to dry in order to prolong the life. If you do end up drying these they won't shrink or fall apart, but the heat may degrade the material and make it less stretchy. Keep in mind that it's also completely transparent in the front.

I really don't like how flimsy the lace sides and band of these panties are, especially since the other thongs with lace sides from this brand stay flat and fit so well. The lace also isn't hemmed of finished, so I feel like it may fray with time and wear. After three washings and being hung dry, there are already a few threads coming loose from the lace.

As soon as I got these I decided to wear them, and I'm sure the women out there know what mother nature likes to pull the first day you wear your new, white panties to review. Even though these got a little bit stained, two soaks and washings with a stain remover they're good as new. This is great news, because I hate it when panties hold on to stains.

Overall
Overall, I like these but they aren't on par with the other Baci panties I have. The waist band is made of lace (like two of the other 3 pairs I have from them) but it is much thinner and easier to get bunched up. It seems to be more for looking at than wearing. I also am not big on how small the 'panty' part is, and it's a constant battle to have to pull it back to cover my lady bits. For $5 I would recommend you look at either the other Baci panties or find some nice ones at the mall.
Experience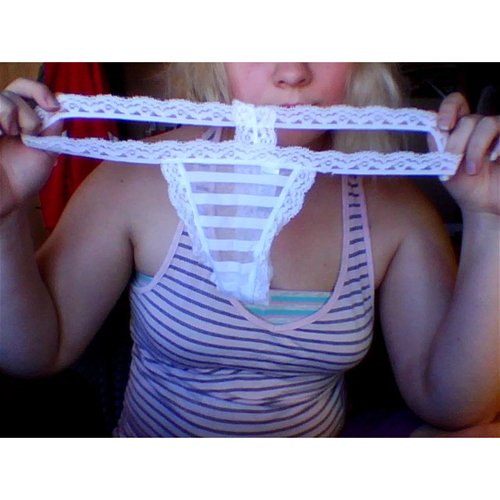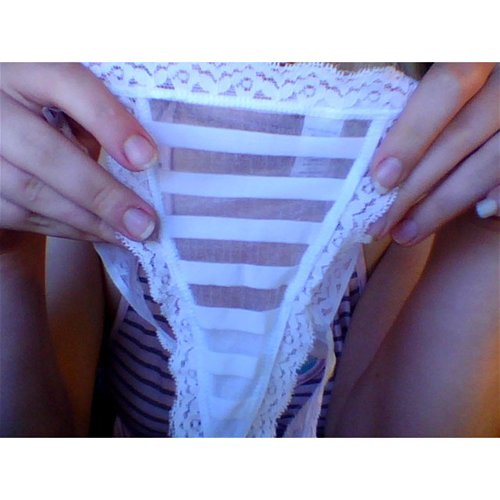 I don't keep lip balm in my panties, but here's so you can see how transparent the material is.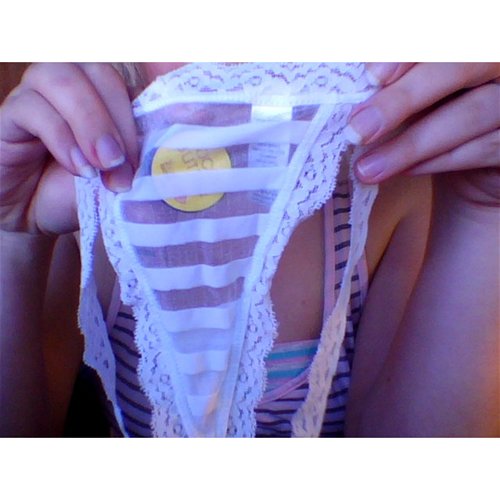 This content is the opinion of the submitting contributor and is not endorsed by EdenFantasys.com

Thank you for viewing
Microfiber thong with lace trim
– sexy panty review page!