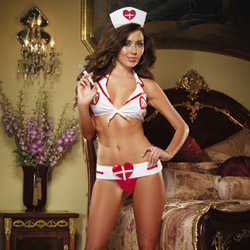 Nurse ivana lube
Costume
by DreamGirl
Nurse Heart Stopper
I would recommend this set for anyone who really loves the halter style top. I'm disappointed that the belt closes with velcro and doesn't have much stretch so I think that it would be difficult to wear for many. The rest of the set is okay but not amazing. However altogether you get an adorable look.
Published:
Pros:
It has a cute heart design, the top is very comfortable and you get 5 pieces.
Cons:
The belt is ill fitting (it would be too small for a large's hips and too big for a small's waist).
I guess I'm on a nurse kick at the moment. I recently reviewed the
Sexy nurse scrubs
set and now I own Nurse ivana lube as well. I was drawn to both the open nipples, large heart on the belt and general overall heart theme. For those of you who are worried about the silly name, don't be. Nurse ivana lube is not printed on any of the pieces. It is only listed on the packaging.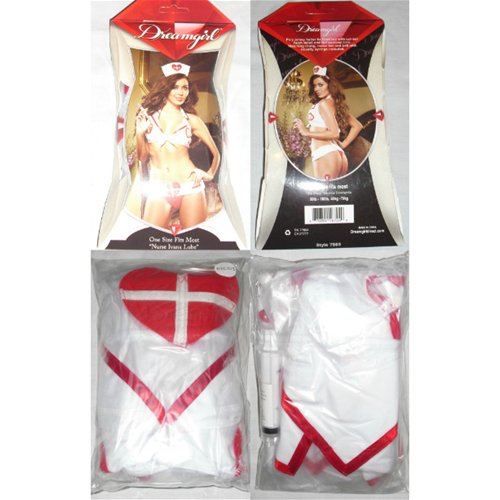 This set comes in the classic Dreamgirl jewel style packaging. The front and back of the box feature a model in the lingerie. When you open the packaging the set is wrapped in plastic.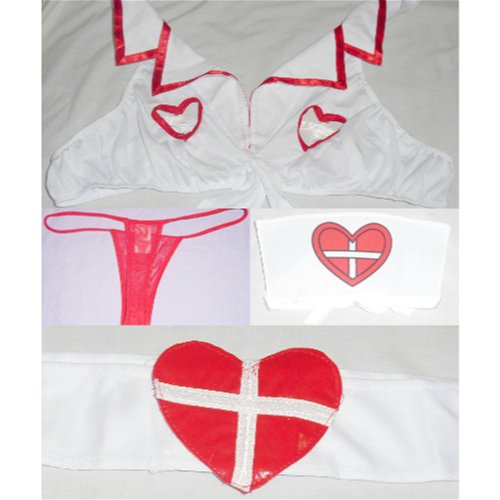 This five piece set includes a poly jersey open nipple halter tie top, a polyester spandex thong, a polyester hat (it's basically a piece of cardboard covered in fabric with ties), a polyester belt with vinyl heart detail belt and a fake plastic syringe (not pictured above, but shown later in this review). The top ties at both the neck and the back. The front is a nonfunctional tie that you just do for looks.
This set is labeled One size fits most. According to Dreamgirl it should fit someone from 90-160lbs who wears a size 2-14 with a B-C cup and the following measurements, 32-38" bust, 24-32" waist and 34-40" hips". The measurements that I took are as follows: top-5" long in the middle at the faux tie front with each of the four ties measuring about 13" each in length prior to stretching, belt 32" fully closed (closes in back with velcro) with minimal stretch, lined thong-waist 25" unstretched, 7" long (each side" and 1.5" at the crotch, hat-6" wide, 3.5" tall and a 4.5" tall syringe that is 1" wide.
I usually wear a size 10-12 or large in clothing with a 36C bust. I don't list my exact measurements due to a history of disordered eating. I love the fit of this top. I have to move my boobs around a bit once I get them in there to position the nipples but other than that it's great. I feel that it fits my average C chest perfectly. If you are larger than a C I would not go with this piece because I think you'd be spilling out of the bottom. It also doesn't offer any support (other than how you tie the neck and back halter ties) so if you need support I'd also opt for a different set.
The thong is your average mesh style g string. It fits okay. I covered me fairly well in the front, which isn't always the case even with large size lingerie sets. It's also lined in the crotch, which is nice.
The belt is super cute but too small for me. I can wear it on my hips if I velcro it shut at the very tips. I'm a bit disappointed about that. However I have more of an up and down frame without much of a waist so I can just velcro it all the way shut and wear it at my waist.
The hat isn't much of a hat. It's basically just a piece of cardboard that you are supposed to stand up on your head somehow. I can't get it to stay like that so I have to tie it around my head like a headband. It gets a bit sweaty when you are doing things but the design is very cute.
The syringe just looks like a child's toy and I basically forgot all about it while wearing this until I went to take the photos for this review.
At any rate I adore the top. I find it super comfy and flattering. I think that it's worth buying the set just for the top alone. (Don't look for any nipples. I'm wearing skin colored pasties underneath FYI.)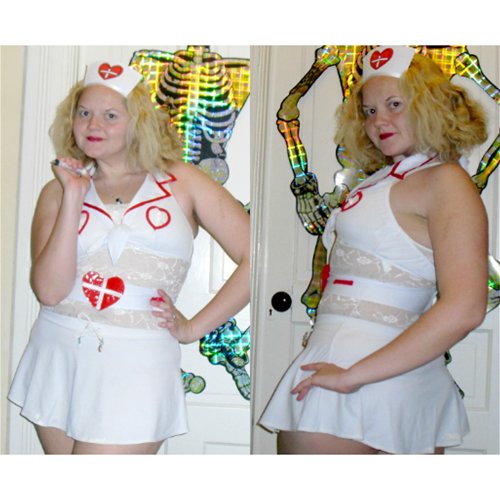 While wearing it a light bulb went off in my head and I remembered that I own a white cami and skirt. I've decided to wear this out for Halloween. I will wear it as pictured except that I'm also adding a pair of red fishnets and red boyshort panties that I own for more coverage. I know that not everyone might end up having extra clothing that they can add to this set to wear it out but I just had to mention this.
Care Instructions: All pieces (aside from the syringe) are listed as hand wash in cold water, line dry.
Experience
I wore this set for my fiance while we were playing EdenFantasys' Pleasure Chest game for the first time. After the first time I took the thong off it stayed off. However the top was so cute and comfy that I only kept pulling it up while leaving it on around the neck and then putting it back in place. I took the hat off pretty quickly when we started fooling around as it can get hot. However I did use it repeatedly as a makeshift blindfold because I couldn't locate any of the cheap Fetish Fantasy ones that I know are all over the place. I didn't bother to wear the belt.

He loved the top! His first word was "nipples!", followed shortly by "You aren't reviewing this online, are you?" to which I said "I'm covering the nipples".
Follow-up commentary
3 months after original review
I must admit that I rarely wear this outfit. I still think that it's fun and a great buy. I just tend to lean towards babydolls and chemises when I want to feel pretty and sexy. When I do wear the set I never pull out the syringe and I usually skip the belt. I also recommend wearing the red thong on its own when you just feel like sporting cute undies.

By the way, if you position the top you can get your nipples to pop out nicely on this one so if you have a breast man in your life he will probably appreciate the top.
This product was provided free of charge to the reviewer. This review is in compliance with the FTC guidelines.
Thank you for viewing
Nurse ivana lube
– costume review page!