One cop no one will mind having at home
Looking to spice up the bedroom, just branching into the world of BDSM or looking for a fun way to incorporate simple costumes in your love life. Try this cop outfit! It goes perfectly with any set of cuffs and its a fun way to set the mood for a night of adventures. In addition to being a fun additive to the bed room it can with minor accommodations be a fun Halloween costume. While the sizing is a bit whack, if you've got the confidence to pull it off I say go for it.
Published:
Pros:
Soft fabric, Long enough to wear out in public, Stretchy.
Cons:
One size fits SMALL, Cheap patches, No panty, Hand wash.
This fun, cop style, mini dress is a fun way to spice up any bedroom or costume party.
Use: While I believe it is designed for role playing in the bedroom, because it is on the sheer side, I will be putting on a pair of volleyball shorts on Halloween and wearing this baby out on the town.
Material/Sizing:
80% nylon 20% spandex blend. It is dark, "cop" blue with black piping, a stitched police badge and the word police. It has a sweetheart neckline with a black mesh portion in the front that creates a v-neck shape. The dress is held up with 2 adjustable satin straps. While it is sold as a one size fits all I completely disagree with that. This dress shows off every curve...including the ones you wish you could hide.
I wear a size 2/4 and am an XS in nearly EVERYTHING. This dress makes me look a little chunky in some of the photos, not exactly what you are looking for when you feel like being sexy in the bedroom. So while it does have some stretch, if you are above a size 8, I think you'd fall into plus sized categories with this dress. This is a disappointment because it says 4-14 for one size, and at a 2 - which is BELOW their size range, I felt it was too tight. While I can fit when something says one size fits most, and most women are larger than a size 8, you expect the dress to have more stretch in it and fit better, however this dress does not. Even my little size 2/4 wishes it was a tad bigger or stretchier. It is the true 30 inches top to bottom, so if you've got a long torso you may also want to stay away from this dress.
I have included 3 photos to help you understand the fit. This product unlike many does not include a panty, which is another disappointment as I feel I don't have anything that matches.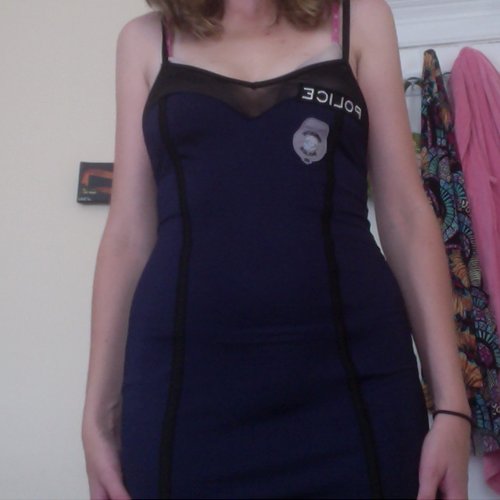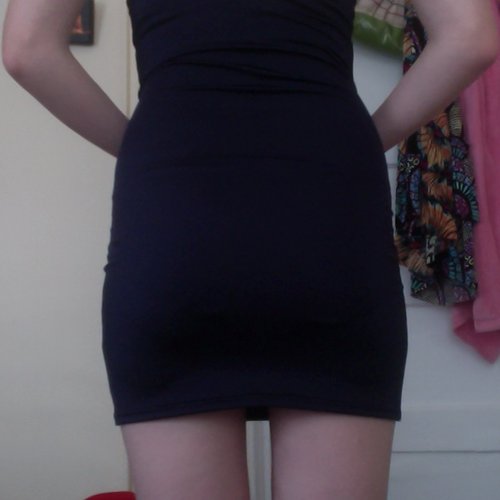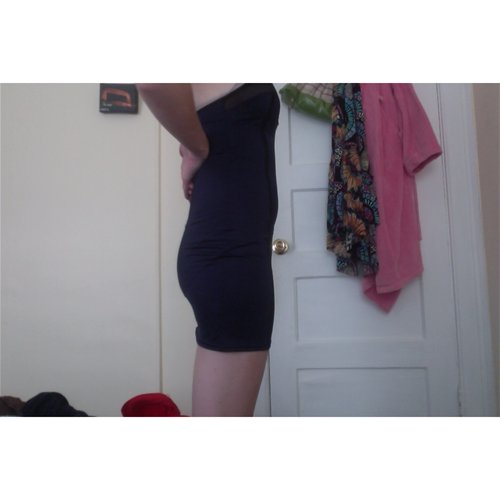 Coquette Size Chart
Cup Bust (in) Waist (in) Hip (in)
Small 4 - 6 B 34 - 36 26 - 28 36 - 38
Sm/Med 6 - 10 B 34 - 38 26 - 30 36 - 40
Medium 8 - 10 B 36 - 38 26 - 30 38 - 40
Med/Lg 10 - 12 C 36 - 40 28 - 32 38 - 42
Large 14 - 12 C 38 - 40 30 - 32 40 - 42
X Large 14 - 16 D 42 - 44 34 - 36 44 - 46
One Size4 - 14 B 34 - 40 26 - 32 36 - 42
1X/2X 18 - 22 D 46 - 50 38 - 42 46 - 52
3X/4X 24 - 28 D 52 - 56 44 - 48 54 - 58
Oueen 1 Size18 - 26D 46 - 54 38 - 46 48 - 56
Based on their sizing this brand doesn't sell anything small enough for me and this dress was tight.
Packaging:
The Cop Dress comes folded up in a cheap cardboard box with the picture from the product page on the front
and the picture of the back of the dress on the back of the packaging. There is no hiding what this product is.
Care Instructions:
Sadly, this dress is hand wash only. Not a huge surprise as most lingerie and costume products are, but a girl can dream. I tend to do all my lingerie at once. 5 gallon tub of luke warm water and a table spoon of washing detergent...NO BLEACH! Hang up to dry.
Experience
I met my boy toy at the door with this and a pair of handcuffs...While I am not traditionally dominant with men, he needs me to be and this costume gave me the courage to try. Adding in the restraints was a fun way for us to both enjoy some role playing. The only down side to using this was that when he removed my panties there was disappointment over the fact that they were not as sexy as the rest of the costume. Also as someone who has a lot of costumes and lingerie, out of everything I own, I feel the least sexy in this. So while it was fun to use it to get into a character, I do not think I will be taking it out very often as I have other items that I enjoy wearing more.
Follow-up commentary
3 months after original review
It's really great for in the bedroom, but since I got it as a halloween costume I just don't think it is going to work as that. Wore it last weekend to a costume party and I realized that unless you live in a warm climate there is no way to keep this sexy and make it warm enough for where I live. I tried tights I tried leggings, but since spanks are a necessity that got a little bulky. There is no way to in a sexy manner stay warm up top and it is difficult to find a strapless bra that works perfectly with it.

All that being said if I can work to change my mind set on how I want to use it I'm sure I can learn to like it again. While it was never a perfect 5 for me, if I can wrap my head around the fact that I cannot use it for halloween and just find play time uses for it I am sure that I can.
This product was provided free of charge to the reviewer. This review is in compliance with the FTC guidelines.

Forum
| Discussion | Posts | Last Update |
| --- | --- | --- |
| Sizing | 5 | |
Thank you for viewing
Cop dress
– costume review page!