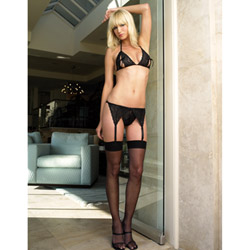 Peek a boo lace set
Peek a boo bra, panty and garter belt set
by Leg Avenue
One size fits most, but sadly not me
This set is cute and offers great possibilities for mixing and matching. The bra will probably look best if you have smaller breasts, mine tried to push out through the slit which made them look weird. The panties are cute on their own or with any black bra and if the garter belt fits you properly it would be an excellent addition to your wardrobe. The set is fairly inexpensive so it is worth trying, even if you end up just using some of the pieces.
Published:
Pros:
Fun, flirty, and can be used as a set or mixed with other pieces. The lace is pretty.
Cons:
The ties are thin and can dig in. Garter belt was too tight for me.
The size chart says 6-11 but it was tight on me. I usually wear a 10/12 depending on the brand and apparently for this I am at least a 12. I joined a gym recently so hopefully it will fit better in the future and I will write a follow up in that case. In spite of this I do like the pieces.
The bra is cute and provides a bit of support. Having the knot at the back of my neck didn't bother me and I didn't find it to be painful. I have large breasts and unfortunately they tended to try and push out of the slit. This may sound like a good thing but it looked rather weird so I had to readjust frequently. Your partner may not care but I found it distracting and didn't like how they looked when they were smushed like that. If you have smaller breasts, probably a large B or smaller, or artificially enhanced ones you probably won't have that problem. The lace stretches just enough and the ties can be tied so that the slit is as open or closed as you like. Personally, I always have trouble making a pretty looking bow, but even I managed with these ties. I recommend tying it before you put it on though, the cups would be very hard to tie otherwise. Unless you have an extra pair of hands to help... I also found it easiest to tie the shoulder straps and then slip it up over my head instead of tying it behind my neck. I could make it tighter this way and that made it much more supportive. The straps stretch a good amount so I had to pull them much tighter than anticipated, but this is nice since it will help it fit people of varying sizes. I definitely would not suggest wearing this bra out under your clothes, but in the bedroom it is fun.
The panties are nice and much more forgiving in terms of size. They look really cute and the stretchiness of the waistband means they stay up if you are smaller and will expand if you are larger. The slit is up kind of high to be useful for "activities" but that is ok. It looks good and is very enticing so I doubt your partner will care where it lies. The thong is also easily pushed aside so the position of the slit is unimportant. The lace is pretty and the little bow serves to draw the eye in even more without looking out-of-place or superfluous. Like with the bra, you can tie it as open or closed as you like and the lace offers a good amount of give so that it is comfortable even when it is a bit tight on you. A slight problem is that the waist band on the thong tends to get twisted and because it is so thin it is hard to untwist.
Sadly the garter belt did not fit me well at all. I was very excited about this part of the set and wanted to wear it with several different outfits, and so I was very disappointed. My stomach is not as flat as I would like but I feel like the tightness of the belt made it look much worse. If I wore it where it is shown in the picture it created rolls above and below it, definitely not the look I was going for. It fit comfortably if I wore it up higher but I didn't feel like that looked right either. If you are thinner you won't have this problem and it should look very nice on you.
I do like the way the garter belt is made. The lace is pretty and the parts that attach to the thigh high stockings (I don't know if there is a name for them) seem to be made well. They were easy to figure out and held tightly without damaging the lace detail at the top of my stockings. I have the
Black Lace Top Thigh Highs
and they worked nicely. I even tried just tugging on them to see what would happen and they didn't slip or damage the lace. The straps are adjustable and their length worked for me. I'm 5'9" but the strap length is adjustable so it should work for most people. This is the first garter belt I've owned, though, so I can't compare it to anything else.
This product was provided free of charge to the reviewer. This review is in compliance with the FTC guidelines.

Thank you for viewing
Peek a boo lace set
– peek a boo bra, panty and garter belt set review page!