Open Butt Panties
I am very in-between about these panties. The comfortable fit is great & they can be worn all day without being uncomfortable, but the fabric comes together and covers my crotch instead of leaving it exposed. I'm impressed with the way they fit to my body instead of being tight in some areas and saggy in others, which has been my experience with crotchless panties. The open crotch is open on my butt, but not my crotch.
Published:
Pros:
Comfortable materia, cut & fit.
Can wear for lengthy periods.
Not constricting.
Cons:
More buttless than crotchless.
Cheap material.
Fabric covers crotch instead of exposing it.
These leopard print panties have a very unenthusiastic look to them, but the open-crotch feature and full-back panty drew me to them. If you're used to the more fancy Coquette pieces such as their gorgeous bustiers, the cheap quality of their panties will come as a surprise to you.
These panties have the generic, cheap looking leopard print all over and besides the 1" wide lace detail that trims the entire panty, (including the crotch) the only other detail is the satiny black bow on the front. Thankfully, the lace is so thin and flimsy that I never feel it on my skin.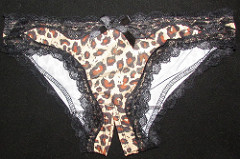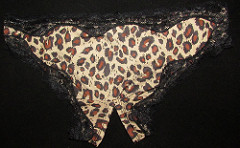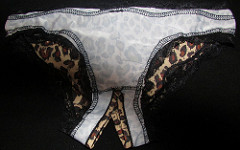 As far as design/cut goes, these are your basic full-back, brief cut panty, but the one thing that reminds you these are not your Wal-Mart undies is the open crotch. There's a seam that runs horizontally and lies about an inch above clitoris & below that seam is where the split crotch begins. This seam is also located in the back, about halfway down my butt crack. Most "crotchless" panties have this type of design, and it's not uncomfortable, but some will find the seams noticeable during long periods of wear.
The full-back style means these don't ride up my crack and they don't expose so much butt cheek that they feel thong-ish, which is how a lot of panties are these days, and that's uncomfortable for me.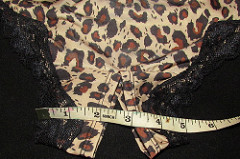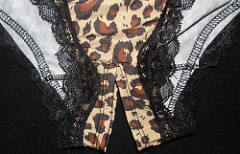 I tend to call this type of panty (with two strips of fabric on either side of the crotch) "open crotch" panties instead of "crotchless" panties. That is why I'm referring to these as "open crotch" -- because they're made with two strips of fabric that lie on either side of the crotch & in between them is open. On these panties, the open crotch runs all the way from the front of the panty to the back. While wearing, this open space begins about an inch above where my clitoris is located and runs to more than a few inches past the halfway mark of my butt crack. Then length of the open crotch split is 5 1/2".
Made in China.
Panties' Measurements
One Size Fits Most
As mentioned, the lace trim is 1" wide.
Across the entire crotch, including the 1" lace trim: 4"
Open crotch-split naturally has about 1 1/2" wide of open space.
Length from top front of panty to crotch: 8"
Waist: 13"
Across front of panty: 6" wide, including the 2" of lace trim on sides.
Length from top to where the crotch split begins (the back is the same): 5"
Each fabric strip that lies on either side of crotch is 1 1/2", icluding the 1" lace trim.
Across widest part of butt: 10"
Across maller part of butt: 5"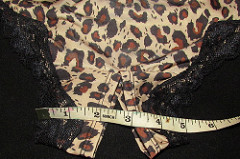 The simple design and thin material means they'll comfortably fit a wide variety of sizes, but the 0/S will probably only fit up to a size medium before they begin to stretch, and since the material is so thin, I worry they'd run if stretched too far. However, these fit like your basic panties, so you can go by your regular sizing. I think they'll at least fit 4" larger than me.
My Measurements
Jean/shorts/size: Zero
Weight: 93lbs
Height: 5 2"
Waist: 26" Lower waist. Where I'm a bit wider, the love handle area: 29"
Material & Care
80% Nylon, 20% Spandex.
Handwash only, hang to dry.
The material is cheap & thin! No store-bought panty feels thin like this, but they're comfortable & lie against my skin like a thin sheet of paper, not at all constricting my body like most panties. The leopard is printed on the outside, the inside of the panty is white. They don't look like they'd run, but when I put them on, the leopard print is a tiny bit fainter, so I feel the material may run if they're stretched.
Wearing During Sex
These can be worn during sex, and aren't the worst, but I ended up removing them because the open-crotch is not open enough for me. Like I said, the two fabric strips come together, covering my crotch, so this did cause me to have to push them aside during sex. For someone who just really wants to wear panties during sex, that may not be a big hassle.
As for wearing during oral sex, they're a pain! We tried, and had to remove them. The fabric strips get in the way and wouldn't stay open.
For the person who wants to wear crotchless panties (just in the bedroom or even under clothing for everyday wear) but doesn't like too much of the crotch being exposed, for instance maybe it's uncomfortable for your crotch to rub your jeans, these wuold be a great choice.
Experience
Packaging
These come in a sealed cellophane bag. The panties have a tag attached by a safety pin & ribbon (as all Coquette pieces do). The tag has about 4 images of someone wearing them, but you can remove the tag and seal the bag back up (it's sticky) to gift.
Fit & Personal Comfort
I've included a lot of information on the fit already, but I'd like to go deeper in detail about how they fit my body, particularly, how the open-crotch fit my body.
These are so comfortable. I go panty-less most of the time and only wear panties if my jeans are too showy when I bend over or when I want to surprise my partner when his hands find their way down my jeans. The point is, I can wear these without feeling any discomfort or remembering they're there. They're about un-noticeable as panties get, while wearing as everyday panties.
I love that they feel hardly there & they don't ride up my crack, but are still a sexy-enough cut/fit.
These are semi-low rise to regular-rise on me. I'm extremely short and seem to have a short crotch because most panties sag on me, so for me, they're a good length. They aren't high-rise and don't peak out of my low-rise jeans, but on taller or longer bodies, they will probably be a little more low-rise.
With most panties, the open-crotch is wide enough that the majority of my crotch is actually exposed completely while I wear them, even under jeans and while sitting down. These however, must be sewn slightly differently or have wider strips of fabric because they do not fit me like most of my open-crotch panties. Instead, I cannot even tell these have the open crotch. The strips of fabric come together and cover my entire crotch, revealling nothing. They actually feel like I'm wearing regular panties and I can wear them all day long without noticing.
While wearing them, my partner never knew they were crotchless until I bent over, and then he said "OMG! Are those open
butt
panties, like for... backdoor sex?" That should give you a good idea of how these really fit me. The fabric does come open when I lie down and move my legs far apart, but only then or if I bend over. The open crotch should have began further up in the front, and thinner fabric strips would've actually caused the open-crotch effect.
I am giving these 3 stars because the fit is right on. All my other crotchless panties were tight in some areas and saggy in the crotch and totally uncomfortable everywhere. I don't know why crotchless panties are always so ill-fitting. As far as fit goes though, these are a relief. The quality of the material and the placement of the open-crotch is barely a one star. Had they been more decorative, perhaps ruffly or something, I think I'd be more excited to wear them, but as they are, it's just another pair of cheap panties, only my butt-crack's exposed. They aren't any sexier than any other plain brief panty.
Follow-up commentary
2 months after original review
I still wear these panties as everyday panties under my clothing. I love that they're comfortable enough to wear under jeans. They're decent, but still nothing super sexy. I've found them useful for lingerie that matches the leopard print, so I'm definitely happy I bought them. They're convenient to have, but I still stand by my "cons."
This content is the opinion of the submitting contributor and is not endorsed by EdenFantasys.com
Thank you for viewing
Leopard crotchless panty
review page!