Parisian Appeal
The To Paris chemise has a fitting name. The design is romantic and sweet. Of course, my husband ended up hating that aspect of it, but I quite liked the design and look of the piece. The sizing worked well for me, but won't fit all of the sizes listed in the chart. There are tons of loose threads which makes the overall quality look not so wonderful.
Published:
Pros
Pretty design, Underwire, Slimming to waist, Comfortable
Cons
Won't fit all of listed sizes, Lots of loose threads, Weak straps
Dream Girl's To Paris chemise is a set that comes with the chemise and matching thong. It has underwire for added support. It's pink accents add a sweet touch to the black mesh of the main fabric. I fell in love with this when I first saw it pop up on Eden.
PACKAGING
This chemise comes wrapped in the pink tissue paper than many Dream Girl pieces come in. No hanger is included.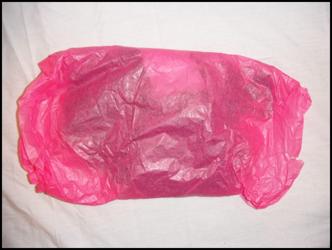 SIZING
I have this in the large. It come in sizes small, medium, and large. For the large, I should be between dress sizes 10-14. My bust should measure between 36"-38" and be a cup size C-D. My waist should measure 28"-32". My hips should measure between 38"-40".

The thong is 15" across. It is 6.5" down. It has a 3.5" cotton liner. The chemise is 22" long. It is 13" under the bust. Each cup is 5.5" underneath and 5.25" high. The waist is 11.5". The hips are 14.5". The straps are adjustable.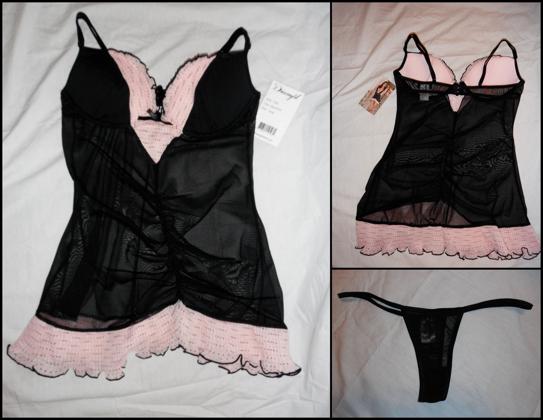 My actual size is a 6 with a few size 4's and 8's scattered about. My waist is 28" and my hips are 39". My bust is a 36D/34DD. I'd like to start out by complaining about Dream Girl's size chart. I wear a medium in pretty much every lingerie brand on Eden except Dream Girl. I'm not a fan of having to buy a larger size and I'm sure most girls feel the same way. It's like when Express changed their size chart recently and now I have to buy size 8's instead of 6's even though my waist is exactly the same and I still fit my old size 6's. It makes you feel like you've gained weight when you haven't and really my self esteem is not a fan.
Anyhow, this piece fit me well. There's room to go in the waist and hip area. My breasts explode out a bit, but that's sort of par for the course with most lingerie for me. While there is room left in the waist and hip, I do not think this would go up to the full sizes listed. I'm thinking maybe two inches or so above my measurements but not much more than that. There's room, but not that much. The material doesn't have too much stretch to it to accommodate the range of sizes listed in the size chart.
The length of the piece is quite short. I'm 5'6" and when I wear this the middle part that comes upward does not fully cover my lady parts. The back doesn't cover my butt entirely either. This won't work for the taller girls, but will cover well for shorter ones.
MATERIAL
Both the chemise and thong are made of 90% polyester and 10% spandex. The black main part of the chemise and the thong are mesh see through material. It is very see through mesh. The mesh has a little stretch to it, but as mentioned not enough to fit a huge range of sizes. The mesh feels a little rough if you rub it in between your fingers but feels comfortable against the skin. I'm able to wear this for extended periods without itching or irritation. The pink accenting is see through material, but it doesn't appear to be a mesh in the same fashion as the main material. It's holes are smaller and closer together. It is see through, but due to the coloring it is harder to actually see through the material.
DESIGN
The cups are split between black material and the pink accented material. The pink accent is pink with black polka dots. This material is runched together to create a layered effect. It is then extended beyond the cup for a ruffle appearance. In between the cups is a small bow.
The middle of the piece is bunched together in the middle. The bunching in the middle creates a slimming effect on the waist. It is a single line down the middle of the piece where the material comes together.
The bottom of the chemise is not an even line. It comes upward in the middle to create a backwards V. It is done in the same pink material as the cup accenting. It is also layered to create a ruffle effect.
The back is plain black aside from the bottom where the pink material is still present.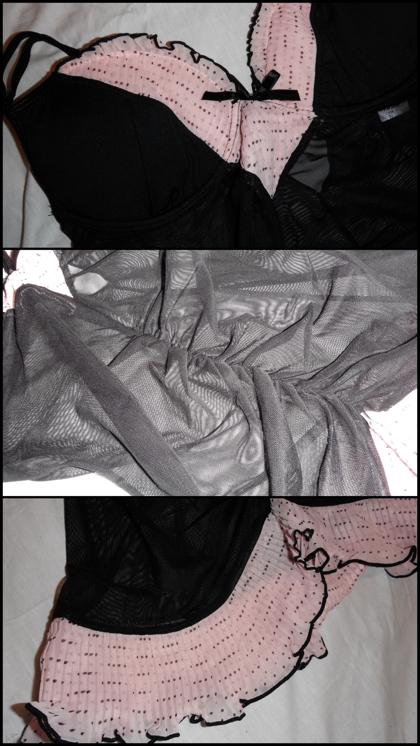 Experience
SPECIAL FEATURES
This piece is underwire. The underwire offers a small amount of support for those that are larger busted like myself. It will likely do more for C cups and below.
QUALITY
There are a lot of loose threads along the seaming and the pink material by the cups and the bottom of the chemise. In fact, loose threads are abound all over the chemise. The straps feel very fragile like they may snap apart, though this hasn't happened yet. It's just a feeling I have like they may. The seaming is done well and lines up properly in all places.
CARE
This should be hand washed in cold water. It should be line dried. It should not be placed in a drier or ironed. It should not be bleached.
EXPERIENCE
I really think this is a pretty chemise. It fits well and is slimming to the figure. It's comfortable enough to wear to bed, which I have done a few times. My husband doesn't really like it. He says it's too sweet. He likes more sexy lingerie rather than delicate flower lingerie. Oh well. I still wear it and he doesn't react too badly, so it's not a total loss. It's not my personal favorite, but I do like it a lot.
I can't quite give this a full marks ranking because the quality isn't really there. The loose threads are all over and I can't shake the feeling that the straps are going to pop at any given moment. I'm also iffy on the size chart because I don't think it will fit the range that it says it will.
All in all, I give this four stars. It's really beautiful, but it's not quite everything it could be.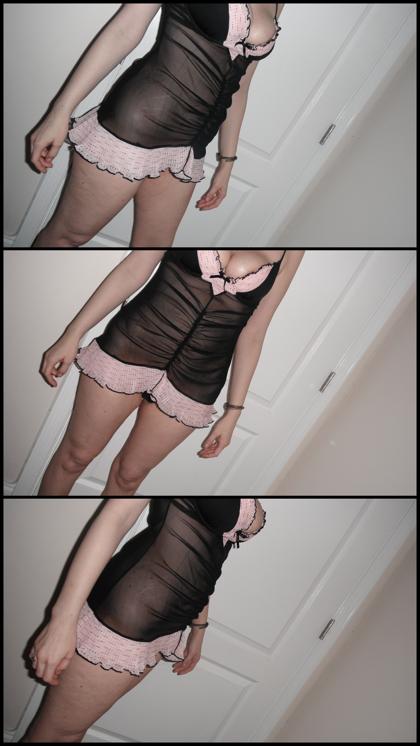 This content is the opinion of the submitting contributor and is not endorsed by EdenFantasys.com
Thank you for viewing
To Paris chemise and thong
review page!