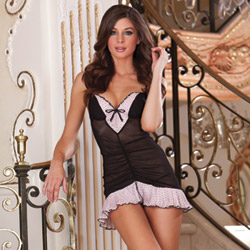 To Paris chemise and thong
Chemise by DreamGirl
To Paris Chemise and Thong (Large) Review
There's something so sweet about this set that makes it hard to resist. Is it the sheer fabric? The pink trim? The bow? Whatever it is, this set is both sexy and cute, making it a welcomed addition to my lingerie closet. Unfortunately, however, the quality does leave something to be desired.
Published:
Pros:
Pretty, Has underwire!, Lightly Padded Cups, Trim Is Cute
Cons:
Poor Quality, Mesh Feels A Bit Rough
When I first saw this piece, I was torn. It's so cute, and yet I couldn't imagine that it would flatter my curvy figure. The cups looked too small, and the seam down the center looked like it would draw attention to my less than flat stomach. Despite those worries, I just couldn't resist. I was pleasantly surprised by how cute this looked on me, but the quality leaves me wondering if it was worth what I paid for it.


What's Included:
This is a two piece set. It includes the To Paris chemise and the matching thong. No hanger was included, so you will need to provide your own.

Material and Care:
Both pieces in this set are made out of 90% Polyester and 10% Spandex.

The cups on the chemise are made of a solid material that is not see through. This means that you will have some coverage for your breasts, if that is important to you. The rest of the chemise, on the other hand, is very sheer. The pink trim on the skirt of the chemise is also see through, but it should be noted that the trim feels like it's made out of a different material than the rest of the chemise is made out of.

The thong is also completely see through.

When I first touched the mesh on both the chemise and thong, I thought it felt very rough. That said, the mesh is comfortable against my skin when I wear it, even for extended periods of time. While it's comfortable on, I do wish that it felt nicer to the fingertips; after all, when I wear lingerie, I want it to say "touch me" to my guy.

The solid material on the cups of the chemise feel much softer (and more touchable) than the mesh portion.

The tag on the chemise states to "dry clean only". Personally, I just hand wash it in cold water, and then hang it to dry.

Sizing:
Dreamgirl has made this piece available in 5 sizes; small, medium, large, 1x/2x, and 3x/4x. I purchased this in the large.

According to Dreamgirl's size chart, a large should fit someone with the following measurements:
Cup Size: C-D
Bust: 36-38
Waist: 28-32
Hips: 38-40

I fit all of these measurements, though just barely. The chemise fits me a bit tightly, so if you're on the higher range of the size chart? You might want to size up. That said, while the chemise does fit me snugly, it is still comfortable.

The bust portion of the chemise is a little small. When I wear this, I feel like my large c/small d breasts are constantly about to burst out of the top; thankfully that's not a problem, as I only wear this in the bedroom. Still, if you want a chemise that will actually contain your breasts (and you're a bustier girl), you might want to look elsewhere.

The chemise is fairly short. I'm 5'6" and my lower half was nearly exposed when I wore this.

The thong is, essentially, a throwaway. It's not going to fit those with wider hips well, and honestly, I would be surprised if it fits someone with 38" hips comfortably. For me, with 40" hips, the thong dug into my skin so much that it was extremely unflattering.
Experience
Design:
In the stock photo on Eden Fantasy's website, it appears that the trim is almost white. That's not the case. The accent trim is a very light (and very pretty) pink with black polka dots. The pink trim is found on the bust portion of the chemise, and on the skirt. The pink fabric is sewn in a way that makes it look like there's a sort of sideways ruffle to it, which is very sexy.

Now those of you that don't like bows... well, unfortunately, there is a bow, right in the center of the top portion of the chemise. The bow is not huge, and it doesn't overwhelm the piece. In my opinion, the bow actually adds a hint of cuteness to this very sexy chemise. That said, if you don't like the bow, it shouldn't be difficult to remove it with a seam ripper

The cups on the chemise are very lightly padded, and they do have underwire. This means that your girls will be offered some support. The cups are also solid, so they are not see through.

There is a seam going down the center of the chemise, which causes the piece to pull to the center, creating a sort of "layered" look.

The straps on the chemise are attached to the piece. They are very adjustable, as well.

The thong is your basic black, mesh thong. It does have a pantyliner, so it's suitable for everyday use (if you can fit comfortably in it). The pantyliner is left open on both sides, so if you put a bullet in, it may fall out.

Packaging:
This piece was very simply packaged, with just pink tissue paper surrounding it. There was a hang-tag attached to the chemise, as well.

Quality:
For $29.99, the quality of this piece is pretty bad. There were a lot of loose threads, and there are many areas that look like they're about to fall apart. If you pull even lightly on this chemise, I worry that it will break. All in all, I would rate it a 3, mainly as the piece is sexy. Quality issues, and the fact that it doesn't fit my breasts properly, bring the rating down.
Follow-up commentary
13 days after original review
I wish that there was an option to say that I still like it, but not as much.

I know that it seems like it's rather soon for me to be writing a follow up review, but I have had this item for a long while now. I just don't find myself ever reaching for it, so it doesn't get worn much.

I finally did decide to wear it the other night, and what do you know, it ripped! The area that ripped is right where the little skirt (the pink trim) meets the black mesh. Unfortunately it ended up fraying immediately, so it's not really possible to fix. For $29.99, the quality is really disappointing. It shouldn't tear this easily.
This product was provided at a discounted price in exchange for an unbiased review. This review is in compliance with the FTC guidelines.

Thank you for viewing
To Paris chemise and thong
review page!