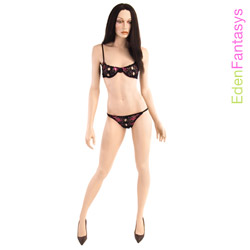 Twinkle me pink peek-a-boo bra set
Peek a boo bra and panty set
by Coquette
Peek-a-boo! I See You!
This is a sexy set that can be worn by quite a large multitude of women, and most importantly, it's comfortable enough to wear all day long. Wear it to work to make yourself feel even sexier than you already are, and keep it your own dirty little secret! You'll sparkle in this little number!
Published:
Pros
Very comfortable, very sexy, well made, available in multiple sizes.
Cons
Hand wash only, sequins can fall off if you're not too careful.
I'm always on the search for new lingerie to add to my collection, especially styles I haven't tried before, so when I got a chance to review this peek-a-boo set I jumped at it.

I'll start with the packaging. The box itself measures 6" by 11" and features a photograph of a model wearing the set on the front. The back of the box has a smaller photograph of the same model only from the back to show you the back of the set as well. It also features a description of the set in 5 different languages as well as washing instructions and the size of the set, which comes in small, medium, and large.

This set is listed as a size small, which to Coquette would mean that to be most comfortable in this set, you would have to generally be a size 4-6, B cup, 34-36" bust, with a 26-28" waist, and 36-38" hips. I wear a 34B bra, under my bust measures 28 1/2" and around measures 31". I've got about a 25" waist with 33" hips. Everything fit me very comfortably and nothing felt like it was too loose or too tight.

For the other sizes available, Coquette has the following measurements listed:
Medium: size 8-10, B cup, 36-38" bust, 26-30" waist, and 38-40" hips
Large: size 12-14, C cup, 38-40" bust, 30-32" waist, and 40-42" hips

If you find yourself between sizes I would recommend going up in size to ensure a more comfortable fit.

The bra laid flat measures 25" across and will stretch up to 36". It features your standard double stack hook and eye closure on the back. There are 3 columns, each spaced about 1/2" apart. The 'straps' attached to the cups that go around the back are made from a sheer solid black lace. The straps are adjustable and measure 17" extended fully, but will also stretch up to 20". Each cup measures about 5" across and is made up of a sheer lace decorated with magenta sequins that have been sewn on. There are two "peek-a-boos" on each cup, each just over an inch long and about 1/4" wide. There is a small black bow at the top of eave of the peek-a-boos. This bra also features underwire support. There's nothing out of the ordinary in how Coquette has gone about it, but it is very nice. Something worth noting is that you might want to be slightly cautious if you have pierced nipples, because the jewelery could become caught on one of the holes meant for peeking.

The panties have the same general design as the bra. The front is made from the same lace and sequins and the back is made of the same sheer black solid lace. They measure 12 1/2" across the top laid flat, but will stretch all the way up to 19". With them laid flat from the top of the band to where the laces change is 6". In that 6" are 3 peek-a-boo holes exactly like the ones in the bra. The band is made out of a fairly sturdy elastic band and that goes all the way around the top and also around each leg opening.

Should you misplace your box, Coquette has been kind enough to provide you with a material list and washing instructions in the form of a tag located on the inside of the eye portion of the back of the bra. They tell you that your lovely set here is made of 82& Nylon and 18% Spandex and that you should only hand wash in cold water, drip dry, and never bleach or iron. If you like the sequins on your outfit, you should probably heed these warnings, as they have a tendency to come off for whatever reason.
Experience
I have to start by saying that this is one of the most comfortable sets of lingerie I've ever even tried on. I love wearing mine out and about and the first time I wore this set I had it on for 8 full hours without even batting an eye. The second time was only for a few hours, but it coming off had nothing to do with my comfort level ;)

Nothing dug in, nothing felt like it was falling down or off. The only problem I had with the set was that depending on how I would move to pick something up or something like that my nipple would pop out of one of the holes in the bra, which wouldn't have been a big deal if the barbels I have in my nipples didn't sometimes get caught when trying to come back in. Most of the time however they would just sit with one end of the barbel sticking out of the hole in the bra with no real problems.

As for the panties, if I weren't able to feel my jeans through them so well, and if they had an extra little panel for catching any discharge that occurs naturally throughout almost any 8 hour span, and were easily machine washable, they would end up in my normal rotation of underwear. They were just that comfortable.

The only thing I didn't like was the fact that even though I've only worn this set a few times so far I've already lost a few sequins. Well, that and I would absolutely love there to be an extra panel in the bottom of these panties like regular ones have, just so I could feel confident wearing them all day long.
Follow-up commentary
9 months after original review
I'm still trying to figure out if it's feasible to actually add a crotch liner these panties, because they are still that comfortable. This set doesn't get worn all that much, because of the disappearing sequins and the fact that my nipple rings sometimes get caught when they pop out of the peek-a-boos on the top. But it has handwashed pretty well. Lost a few more sequins, but either way. I might knock the set down to 4 starts retroactively, because it's not going to be a forever set, but it's still definitely worth investing in.
This product was provided at a discounted price in exchange for an unbiased review. This review is in compliance with the FTC guidelines.
Thank you for viewing
Twinkle me pink peek-a-boo bra set
– peek a boo bra and panty set review page!