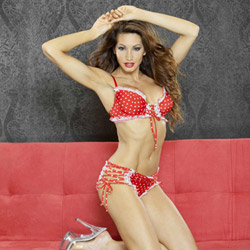 Perfect pin up bra and panty set
Bra and panty set by Fantasy Lingerie
Perfect pin up is perfect
If you like the vintage look, and especially the sweet, sexy pin up look, this set will be a hit! It's cut to flatter curvy frames extremely well, and doesn't leave you feeling overly exposed. Your partner will see hints of what's underneath through the lace-up parts that may send them right over the edge! Though it isn't the most comfortable set I own, it still ranks up there among my favorites. Sadly, it will not be as flattering to thinner frames or smaller busts.
Published:
Pros:
Sweet, Sexy, Very adjustable, Flatters curvy frames
Cons:
Slightly pokey and scratchy in places, Won't flatter very small busts, Doesn't come in plus sizes
*Overview / Packaging / Material

The Perfect Pin Up Bra and Panty set by Fantasy Lingerie includes a bra and matching panty. It's solid red, with 0.25" white polka dots all over and white lace trim. The bra has a double hook and eye closure in the back and laces up in the front. The panties have a small bow in front and lace up on both sides, making both pieces very adjustable.

The set comes in small, medium and large, and is made of 92% polyester and 8% spandex. The washing instructions are: "Machine wash –warm, gentle wash, darks separately. Tumble dry low, remove promptly. Do not twist or wring." I recommend using a mesh lingerie bag.

The set is made in China. The bra and panties come on a hanger, inside a plastic bag slightly thicker than what you get from the dry cleaners.

This set could fit under clothes that are not extremely tight fitting or tailored. Just try it on first to make sure you can't see the outline of the strings or the lace through your clothing.

*Panties

The panties with this set are cut in the boy-short style. This means you can wear these panties worry-free regardless of the state of your bikini line.

These panties have a stretchy elastic waistband, and the lace up sides allow further adjustability. The material panels measure 10.25" across, and can stretch up to 15.25" across. The lace-up sides can provide an additional 6.25" of room on each side. The panties can adjust from 10.25" across up to 21.25" across.

The leg holes measure 6.75" across unstretched. They can stretch up to 9.5" with the elastic, and can also gain an additional 3" across from the lace up sides. They can go from 6.75" across to 12.5" across. They also have a white lace ruffle (with red edging) that hangs down 0.75". This ruffle is on the outer 4" of each leg hole on the front and the back.

There are 5 metal grommets on each side for the ties to zigzag through. The grommets are set in a panel of white netting with a strip of 0.5" white lace next to them to frame them out and give them a finished look. The grommets are closer together towards the bottom, at 0.5" apart, at the top they are nearly 0.75" apart. The sides can easily be adjusted to make the top or bottom of the panties larger to customize the fit.

The front panel of the panties measures 7" from the bottom of the crotch to the top of the waistband. From the bottom of the leg hole to the top measures 4.5", with an additional 0.75" of lace at the bottom. In the center is a small, non-functional white bow measuring about 2" across. It is lightly tacked on, and can easily be removed. It sits on top of a small, 1" strip of vertical elastic. This elastic provides a bit of ruching, or gathering, on the front panel.

The back panel of the panty measures 9" from the bottom of the crotch to the top. From the bottom of the leg hole to the top measures 4.5", with an additional 0.75" of lace at the bottom.

This panty also sports a cotton crotch liner! It measures 3" long by 1.5" wide. There is a pocket between the panty and the crotch liner, so you could easily slip a small toy in there for a little discreet fun.

*Bra

This is an underwire, non-padded, non-lined bra. The cups are designed to be full coverage cups. They are 5" across, 5.25" tall straight up the middle, with an additional 0.75" of white lace with red edging. There is one dart, or seam up the middle of the cup, that measures 4" tall from the underwire up. There is a small 2" wide white bow on each side where the shoulder strap meets the cup. The bow is non-functional, and easily removable.

The shoulder straps are adjustable via plastic adjusters. They can go from 9" long to 18" long, and can stretch an additional 5". They are sewn into the cups in the front, and attach to the band in back via a small plastic loop.

The bra measures 30" across the band, from tip to tip, unstretched, and 28" across unstretched on the smallest setting. The lace-up front allows for additional adjustability, giving you an extra 6" to work with. The lace-up front closure is also completely functional, so the bra can open in the front or the back. The grommets are set in the same white netting panel as the panty, with the same 0.5" lace trim on either side of it. There are 3 metal grommets with 0.5" and 0.75" between them.
Experience
*Sizing / Fit

The Fantasy Lingerie sizing chart for the Medium size of this set is as follows:
Sizes: 10-12
Bust (in): 37-39
Wasit (in): 28.5-30.5
Hips (in): 39.5-42.5

I found this to be pretty accurate. My measurements are 39-29-39, but I usually wear a size 8 and this set fit me perfectly.

*Bra

I wear a 34C bra, a size 8 in clothing, and usually a size Large in panties (because I do not like my panties to cut into my skin at all). The bra does allow for a bit of jiggle when I walk, but it still holds my chest up where I want it to be. The Medium bra does have room for an even larger bust, but might not be as flattering for a very small bust. Even though the cups aren't really formed cups, they gather and have several pleats in them when worn on a very small bust.

*Panty

I really love the cut of these panties. The top is cut with a slight downward curve, which is very flattering to the curves of a woman's body. I get full coverage from this panty, but that is because I really watched the hip measurements on it, and fall just under the smallest prescribed measurement. The back of the panty curves down nicely, and hits me just below those 2 small dimples on the small of my back. It's very flattering, and could even make your body look a bit curvier than it is if you are short on curves. Even for curvy frames, I find the cut of this panty to be extremely flattering. I have to make sure and pull it up firmly, since the material is stretchy, but once it's on it stays put.

*Experience

*Hers

I absolutely love this set! There is something absolutely sweet and innocent about it. It gives complete coverage, and I think it would actually make a REALLY cute bikini. Even with the sweetness and innocence about it, this set still manages to be very sexy too; it's a great mix! I found it to be very flattering, and felt sexy and confident the moment I put it on. The workmanship is fine and I didn't find any unfinished edges or poorly sewn hems. I'm thrilled that it has a cotton crotch liner too! It's not the most comfortable set I've ever worn, and it isn't well suited to wearing during sex, but I forgive them that because I love how it looks so much.

I give it 4 stars. (I'd prefer to give it 4.5 stars, but that isn't possible.)

*His

This is easily one of my all-time favorite lingerie sets! Being a huge fan of the vintage look, there is nothing about this set that I dislike. It is cut perfectly for curvy frames, and manages to be cute while still being sexy. The set covers completely, but the lace-up areas are great for the "slow reveal". They show a little extra skin, and provide a great way to slowly undo the bra.

I give it 5 stars.
This product was provided free of charge to the reviewer. This review is in compliance with the FTC guidelines.

Thank you for viewing
Perfect pin up bra and panty set
review page!