Pleather and Bling, Not Really My Thing
The Bound By Diamonds teddy might be just the thing to inspire a night of naughtiness. Skimpy fetish wear can be fun, but don't expect this piece to last forever. It's very adjustable, but not very comfortable, and it suffers from poor quality.
Published:
Pros:
Unique
Cons:
Prominent seam in bra cups, poor quality, tricky to get on without help
The bra and short skirt/panties set pictured on the product page isn't the Bound by Diamonds teddy. This is the Bound By Diamonds Teddy. Or, at least the box it comes in.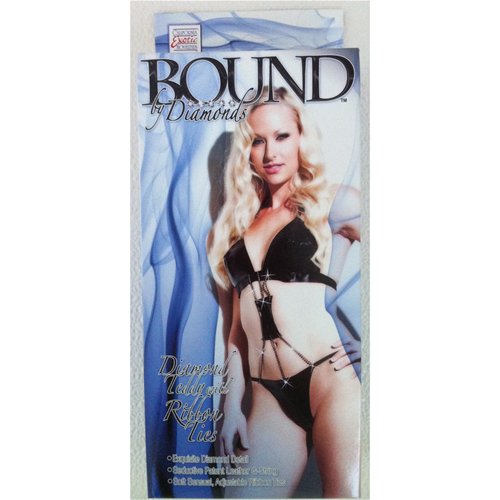 Granted, the packaging is very similar, as both pieces are made by Cal Exotics and are indeed part of the Bound By Diamonds collection of fantasy/fetish gear that includes vibes, restraints, strap-ons, and lingerie playwear.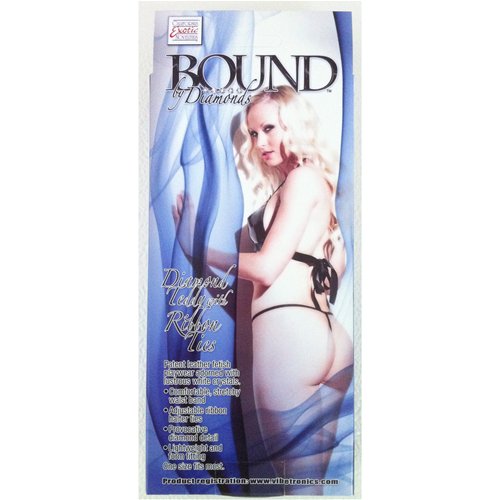 Meant to look like patent leather, this teddy is made from a material that is 67% polyester and 33% polyurethane. It has a halter-style bra top with long ribbon ties, so it's very adjustable, and a g-string panty which consists of a triangle of the same pleather-like material and very stretchy elastic that also allows for a lot of adjustability. A swatch of matching fabric and 6 strings of small rhinestones connect the two, making it a one-piece teddy. This is a hand-wash only in cold water kind of garment. The packaging claims it's "one size fits most" and I suppose that's true as long as you don't have an unusually long torso since the rhinestone strands are not adjustable.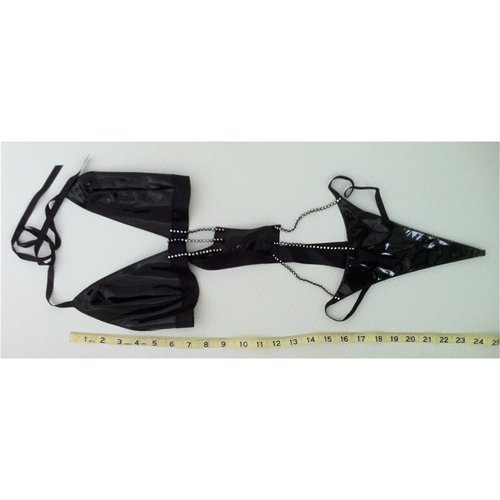 The bra cups might be too small for those who are bigger busted. I'm a B-C cup, depending on brand and/or style, and I got good coverage with these, but I barely filled them. The bra cups are positioned a bit too far apart for me to get much, if any, support from them. Also, this means that my boobs aren't pushed up and together, so there's no real cleavage. I wear a 32/34, which is a fairly small bra band size, so this may not be an issue for those who wear larger sizes.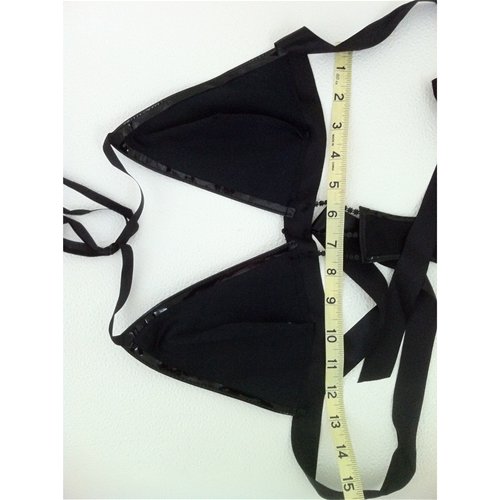 I did not like the prominent seams in the bra cups, though. I could feel them up against the undersides of my breasts, which wasn't all that pleasant. Pushing the seam out from the inside makes the bra cup go all pointy like in the picture on the box, but that didn't make the seam feel any smaller.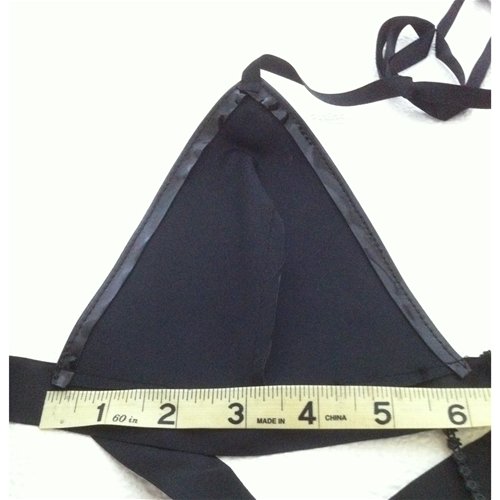 There's plenty of wide, satiny ribbon to tie the bra on with. At first I thought this teddy would be hard to get on by myself because I'm really not at all flexible and wasn't sure how I'd get the back tied. But I was able to do it by tying the bra on backwards, moving the bra cups to the front before tying the top, and then banding over to step into the g-spring. Of course, this gets the teddy on me, but not adjusted all that well. The best way for me to get the optimal fit was for somebody else to tie the back band for me. I'm not able to tie it tight enough by myself, and so I end up tying the top too tight to compensate, which pulls the bra cups up (so I feel like I'm constantly tugging them back into place) and puts pressure on my neck.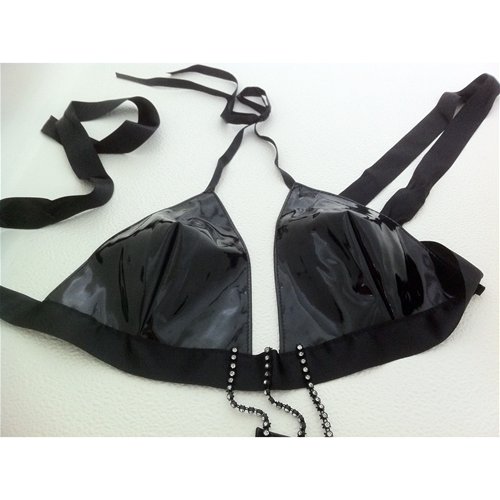 As for the panties, I'm not really a fan of thongs and g-strings in general because they typically don't fit me comfortably. But, oddly enough, I was pleasantly surprised by this piece because the g-string actually looks okay on me. I still don't think it's all that comfortable having a strip of elastic up my butt crack, but at least the front part fits, without any excess gaping at the crotch.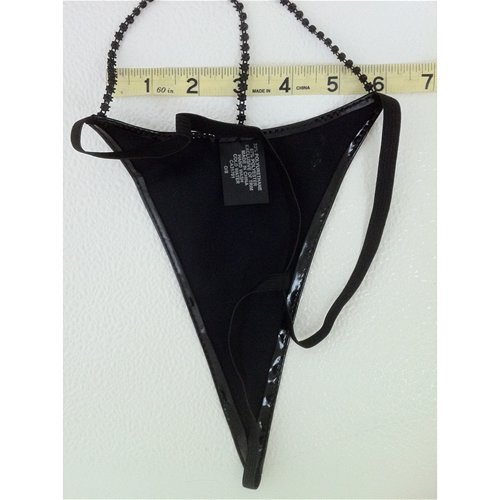 The middle section doesn't look as good on me as it does on the model. I'm around 5'3" tall, but I have short legs, and I was worried that this teddy would be to short for my long torso. But as it turns out, the bottom string of diamonds actually have slack in them unless I'm standing up so straight I'm almost leaning back. I honestly didn't think that this piece would be at all flattering since it's so skimpy, but the pleather swatch and strands of diamonds give the illusion of a more hourglass shape. There's nothing there to help hold you in, so my post-childbearing belly is clearly visible, but this actually looks okay on me from the front. The side and back views aren't at all flattering on me, though.
Experience
Unfortunately, the Bound By Diamonds teddy isn't all that well made. Just trying it on the first time I managed to accidentally pull loose one of the strings of rhinestones, so now it's just barely hanging on by a thread. Out of the box I noticed some frayed stitching, and then of course there are the bra cup seams I've already complained about. But, I suppose for the price this is really meant to be more of a novelty item, and I did have some fun with it because it's so unlike anything that I've worn before. Usually I tend to go for the more classy looking bustiers and corsets, which are prettier (in my opinion) but often come with a hefty price tag.

This might look like the ideal thing to wear to seduce/surprise your lover and then keep on while having sex. After all, there's hardly anything to it, so you can just pull the elastic on the g-string out of the way for easy access. Sounds great in theory, but in practice this teddy just isn't that comfortable to wear for very long. The bra doesn't stay in position very well if I move around a lot, and the rhinestones feel rather abrasive when they're stuck in between bodies.
This product was provided free of charge to the reviewer. This review is in compliance with the FTC guidelines.

Thank you for viewing
Bound by Diamonds teddy
review page!