(Plus Size} A for Effort but needs "government help"
Four stars because it is comfy and does fit well. It really is adorable on - however, the design should have been modified for plus size women to give us a bit more length. So minus one star for not covering my "assets".
Published:
Pros:
Comfortable to wear
Velvet straps add nice touch
Youthful looking
Cons:
Designed for women with short torsos
Must be hand washed
I think sometimes that our nation is wonderful - but perhaps we have some of our priorities a bit out of order. I mean - we can put a man on the moon - we can send a probe to Mars - we can create a polio vaccine - but we can't create lingerie for plus size women? With the number of curvy, plus size women in our country, could it be that our priorities are just a bit out of whack?

Mind you, I'm not saying we should give up our research into cancer cures and saying we should go back to having dirt roads and no parks or recreation. But in all of our spending - couldn't we at least set a bit aside - perhaps a million dollars that's been designed to build a bridge to nowhere, and use it to create grants so that designers who want to create plus size items that fit and flatter could get some training and education? Half of the million could go as grants to companies who are willing to develop fabrics that are flattering also.

Trust me - we'd probably make that million back in a year in sales taxes, etc. as women all over the country rejoiced over their new selections of lingerie. I know I would do my part at buying new lingerie. Companies like Eden Fantasys would rejoice at the influx of new customers who just HAD to have their products.

As many of you may know, I had Sam (aka Julia) mentor me for doing lingerie reviews because I wanted to add this to my list of items I felt I could do good reviews on. When I graduated, I celebrated by buying five new outfits (hey - Eden was the one offering 30% off a $150 order and I had a lot of gift cards I'd been saving). This is one of them.

I ordered it because when I looked at Coquette's size chart, I saw that the queen size would fit women wearing sizes 18 - 26 if they wore a 46-54D bra. Their waist could be 38-46" and their hips could be 48-56". I wear 22/24 with a 44D bra. My waist at 49" is outside their range and my hips are pretty close at 57". I figured that this item looked like it might be forgiving of my flaws and let's face it - it was just too fun and flirty to pass up. I wish I could say I'm 100% happy with it. I'm not. I love the fabric and I love the design but its too short.

After wearing this for a while, I think the designer of this outfit would be a perfect candidate for a grant with the program I'm suggesting. I mean - this outfit is adorable and the fabric is comfortable. The strips going down the front are a soft black velvet and really dress it up. I even love the velvet straps that are adjustable. The lace is very flattering and easy to wear with no scratching. I think the combination of the bows at the breast and front of the straps is a great idea also and ties the outfit together. The fact that the item is 82% nylon and 18% spandex really helps the outfit mold to my shape and fit me like a second skin - a bit too closely though perhaps. Then again, I was a bit outside the size range you list. I'll even consider hand washing it as you recommend because of the velvet straps but I may break down and wash it in cold water on the delicate cycle while using a lingerie bag.

However, here is what I'd like to say to the designer for his/her future study with my grant program:

"Honey, really - us plus size gals need not only width in our outfit (which you gave plenty of) - but we need some support of our breasts and we need to cover our "assets". They are not usually our greatest strength. If you only added in a bit of support with some underwire and added another 2-4" of length, this flirty outfit would not only be a hit but it could become a classic for the plus size gal. Your name, as a designer would be on the lips of women all across the country as we looked for your next design.

Please, wonderful designer, study our body shapes just a tad bit more and then try again.

Enclosed is your grant money for your studies."

Alas, the grant is only a figment of my imagination - at this time.
Experience
So here is how this adorable outfit looks on my 5'4", 265 pound "real plus size model" known as "me". Please note that while I'll "take one for the team" (thanks to Oldman for that awesome quote in a review once) - I won't be cheeky for y'all - so I'm wearing a pair of boyshorts.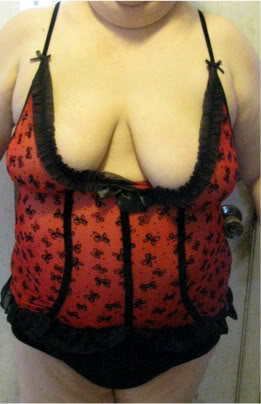 Sorry to show off the lack of support - I really did try to not make the girls so noticeable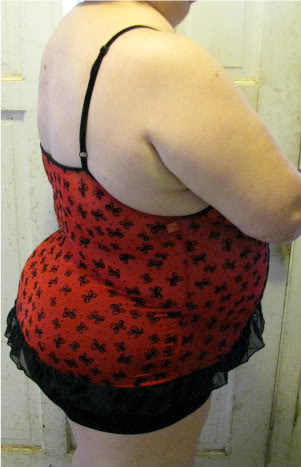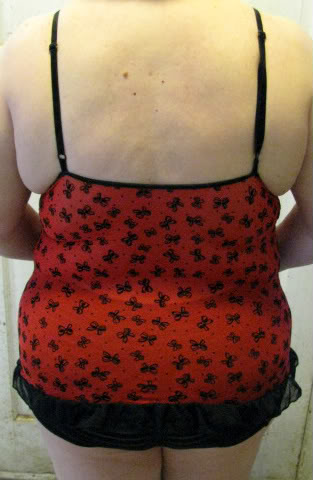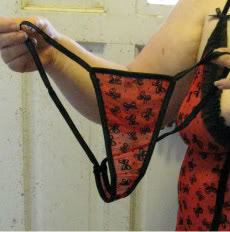 The G-string 'aka' "BUTT FLOSS"
This is the only outfit my husband has asked me if I'm sending back (due to lack of bust support). My response was along the lines of "No way! I love the fabric and the way it makes me feel".
So this one is for me...
Before I close this, let me get back to the idea of my grant program for a moment though. I really think I may have a great idea!
It is time for all of us plus size women to write our senators and congressman. Tell them that while they're doing their pork barrel spending, we, as a community of women have one request. We want a one million dollar grant to be placed in the budget. Half of it would go for designers willing to train to create ATTRACTIVE lingerie for plus size women and the other half would be for fabric designers to create fabric that works well for us.
I'm gonna write my senator and tell him that I will cover his "assets" at election time and vote for him if he'll come up with a grant program to help lingerie designers to cover my "assets" now.
After all, us plus size women know what's important - right?
This content is the opinion of the submitting contributor and is not endorsed by EdenFantasys.com

Thank you for viewing
Bow mesh cami with g-string
– camisole set review page!