(Plus Size) I forgot I was wearing an underwire bra!
In spite of the fact this needs to be handwashed, I must give this a five for comfort, design, and giving me back the feeling of "sexy".

I went to look at myself in the mirror a bit ago while I was wearing this and came back to my desk humming "Dancing in the street" and doing little dance moves - simply because this made me feel sexy. I love it.

I am going to make one change though - remove the bows!
Published:
Pros:
Sequins
Very comfortable
Forgot I was wearing underwire!
Cons:
Sequins
Handwash
To my normal readers, I apologize for not using my template but I want to do a different format with a couple of reviews tonight.
My mom always used to think that she had to think a month about whether or not to change her brand of peaches - but I was always determined to not be like her. So whenever a new line of lingerie comes into Eden that carries plus sizes, I try to jump right in there and grab some so I can review it for y'all. I call it "taking one for the team" - but that's not really true since Eden has an awesome return policy and if you live in the U.S. at least - they even pay the shipping to return items. So, I figure it's worth my time and money to try things out and give you reviews.
I found one size chart for the Magic Silk lingerie but Beck found an even better one:

Thanks Beck!
This set is currently sold on Eden Fantasys in sizes: SM, LXL and Plus Size.
It comes in the box pictured below: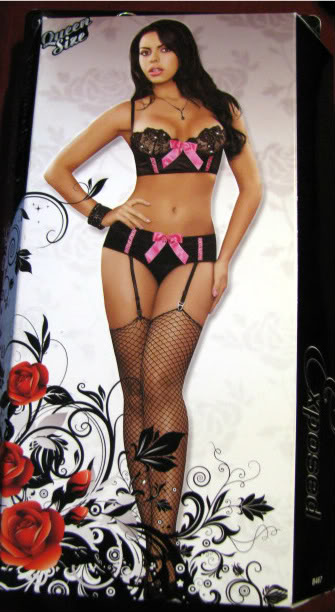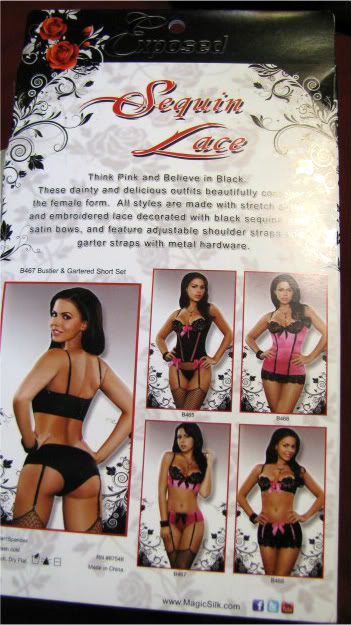 There are tabs on the side of the box that you pull out and open the side and remove the plastic bag holding the items inside. The garters were attached to the shorts and not packaged separately.
According to the tag, this is 94% polyester and 6% spandex and needs to be hand washed in cold water and dry flat. Since the bra has sequins in the bust area, I definitely would follow those instructions.
I'm so excited about this purchase that I'm going to show you pictures first and THEN share the measurements.
A close-up of the cup to show the sequins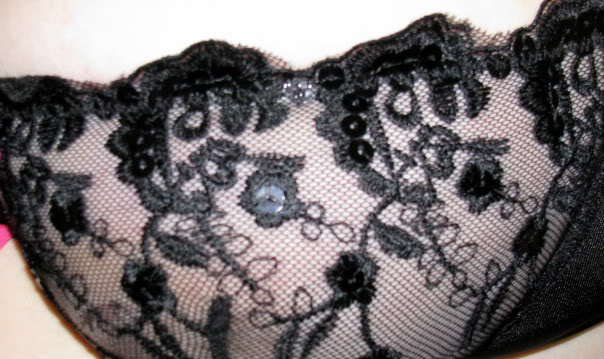 Both the Bra and the shorts have two stripes of this lace-up ribbon on them: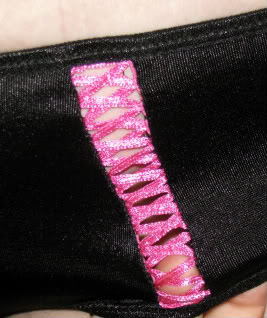 A close-up of the breast support that the bra gives: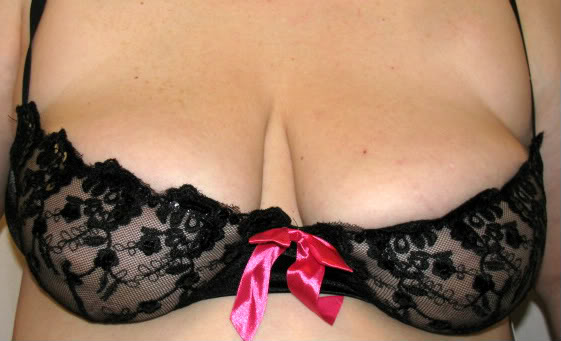 This wide band is so comfortable and we probably could have put it on me in the tightest setting for a bit more support: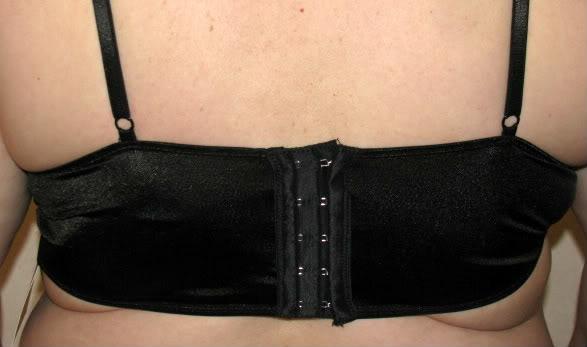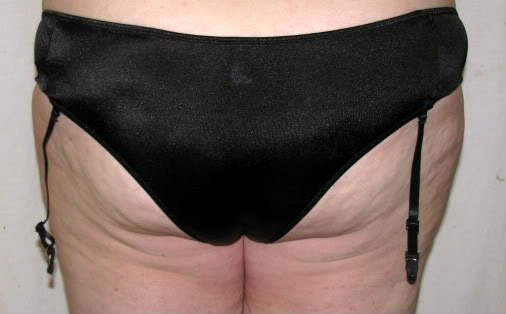 The back: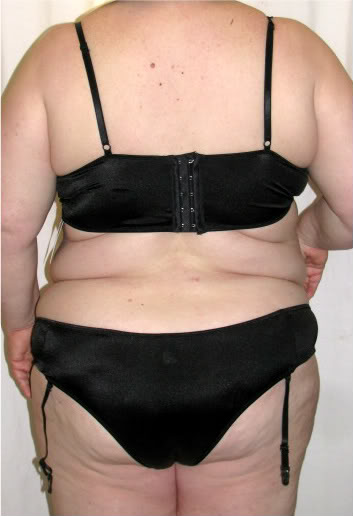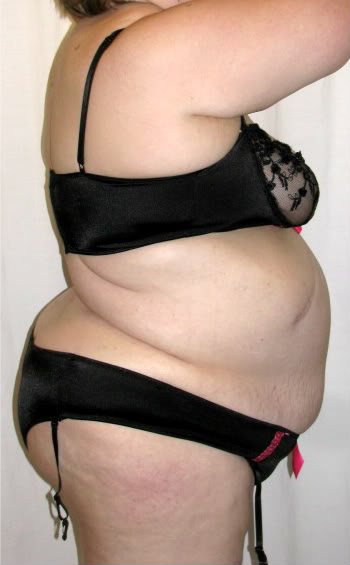 We realized the garter was messed up AFTER we took the photo: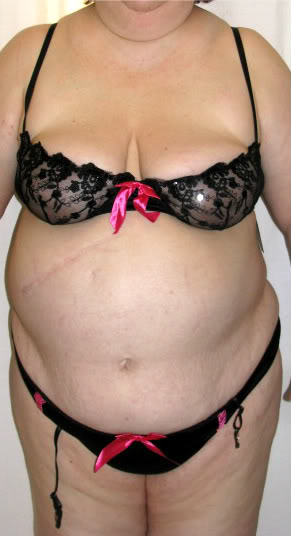 Some of you who normally read my reviews may be waiting for pictures of my daughter in it. Sorry...that won't happen. She put her hand on the material to pull it out of the plastic bag and smiled at how comfortable the fabric felt, and I pulled it out of her hand and won't let her near it again now. I'm not giving up another item to her (ok - I may give her the shorts - but you're stuck with ME as your model).
Experience
Now let me get down to details for the measurements for you.

The Bra

I wear a 44D bra. The total unstretched length of this bra was 33.5" at the bottom. It easily stretched to 42" without feeling like I was pulling on it hard. The lace cups are about 6" long and 8.5" wide. In the back, the band of the bra is 5" wide and it almost has a "wet look" to it. There are two sets of eyes for the 5 hook and eye closures in the back. The strap for the bra is adjustable up to 21" long and it is 3/8" of an inch wide. It is probably THE MOST COMFORTABLE bra strap on a bra that I've ever owned.

Normally, I hate underwire and you'll often see me mark down a product a bit because of the underwire. If all underwire bras were like this, I would not mind wearing them. I went to the bedroom and laid down to read a book in this outfit and forgot I had a bra on. In fact, I went to the closet to grab a bra when I saw myself in the mirror and went, "oh...I didn't take that outfit off".

When it was time to come out here and do the review for y'all - I didn't want to take it off - especially the bra (I'm going to put it on under something and surprise my hubby tonight). For years, I tried to go bra-less cause I hated the feeling of them - but I would have worn them all those years if they'd felt ike this (and I bet my boobs wouldn't hang so low either).

The Garter Shorts

I'm still going back and forth on whether to keep this or let my daughter "steal" them. They aren't uncomfortable - but I just splurged and bought 4 new pairs of underwear at Cato's yesterday. She loves the short style and these are a bit low on me. Mind you - I can stil wear them (I wear size 10-12 depending upon the brand)...but she might look cuter in them and she's a size 8/9.

Unstretched, the waist band is 18" long but it easily stretches to 25" and could probably go further.

It is about 11" to the bottom of the crotch and the sides are 3.5" long.

Best of all, the garters are REMOVABLE!

I'm very excited about this outfit - plus another one that I got from this company. I'm so excited, that I ordered a demi bra set just a few minutes ago that Eden just got in from Magic Silk after I'd placed this order. This could become a favorite company for me for some underwear (although I still love my Cato's stuff).
This content is the opinion of the submitting contributor and is not endorsed by EdenFantasys.com
Thank you for viewing
Bustier and gartered short set
– bra and panty set review page!