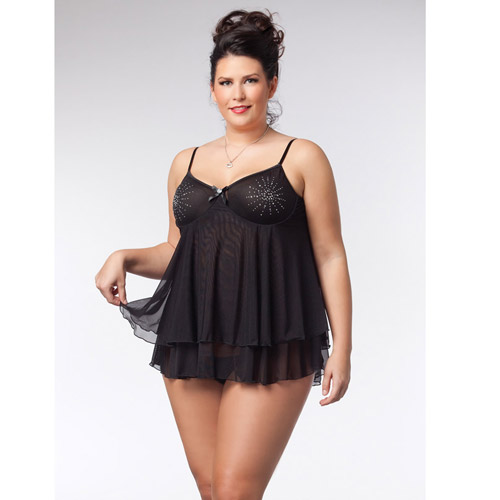 Starburst underwire babydoll
Babydoll and panty set
by Coquette
(Plus Size) You must be my lucky star
The flare of the skirt makes this babydoll fun and attractive, and suitable for most shapes. The sparkly rhinestone effect on the bust adds to the look, but also means the item will require extra care. I would give this 5 stars if it came with proper sizing instead of One Size and Plus. As it is, go with your bust size in deciding whether this item will fit you.
Published:
Pros
Attractive
Hides figure flaws
Super-fun floaty double layer skirt
Cons
Rhinestones may fall off
Only two sizes, one-size and plus
What it is and how to wear it?

The Starburst Underwire Babydoll is a simple black chemise with a rhinestone starburst design on each breast. Because of the rhinestones, I would not recommend it as sleepwear, and the mesh is too transparent to work as a top. This is a piece made strictly to turn the wearer into eye-candy.

It is only available in black, in One Size and Plus Size.

Packaging

The babydoll and thong came folded into a pink and white box with a photo of the model on the front and back. My box made a rattling noise, which was a little alarming. I expected all the rhinestones to have fallen off. It turned out that none of them had come loose, and the rattling was caused by two packets of silica gel, one of which had a hole in it which had caused some of the silica granules to fall out.

Material and care

The fabric is 82% nylon 18% spandex mesh, in two layers (only one layer for the thong). The care tag says hand wash only, no iron, and I intend to follow that advice. The rhinestones are not going to survive a machine wash, I wouldn't think.

Design

The slip style adjustable spaghetti straps attach to the top of the underwire cups. Each cup has a starburst design on it in rhinestones, which are glued on. At the centre of the cups is a little black bow with a larger rhinestone accent. From the bottom of the cups, the babydoll flares out to an almost circular hem, with the bottom layer a couple of inches longer than the upper one. This is the lovely, floaty dress that you can spin in. The back of the gown attaches with a bra strap which has about an inch of adjustability built in with a small keyhole opening beneath it.

Sizing

centre top of front to hem 18"
top of cup to hem 22" (15" from base of cup)
width of front approx. 16-17" - under cup and 49" upper hem 53" lower hem
cup width & length 9" wide by 7" long
strap length adjustable to 17.5" (slip style)
g-string 36" hip circumference, 13" fabric triangle length

All measurements are unstretched

I should have realized, looking at this, that only the bust size would matter. The skirt flares out so much that waist and hip measurements are generally irrelevant. Of course, if you intend to wear the thong, then you'll have to pay attention to that. Since I'm a B cup, I really should have gotten the One Size instead of the Plus. I think the Plus is more suited to a C or D cup.

Overall

I feel very pretty in this little babydoll, it does an excellent job of hiding my bulges. I love the starburst design, but I anticipate that the rhinestones are not going to last forever. I suppose eventually when enough of them fall off, I'll remove the rest and just use it as a plain black nightie. Overall, I'm very pleased with this, and only wish I'd ordered a size down so it would fit a little better at the bust line.
Experience
Photos
The black mesh did not photograph well, and I was unable to get any photos of me wearing it. The photo of the plus size model is quite true to life though, so hopefully that will help.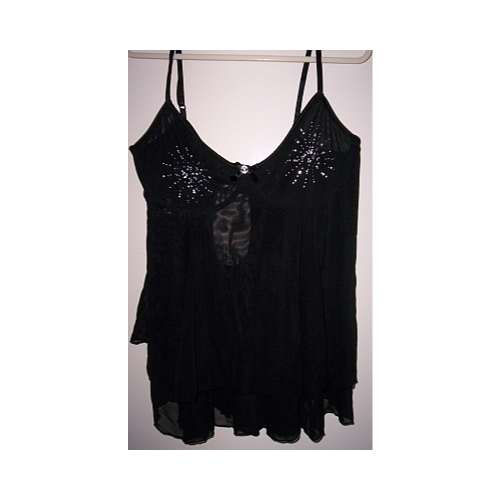 Full length - the floaty skirt layers do not show well at all.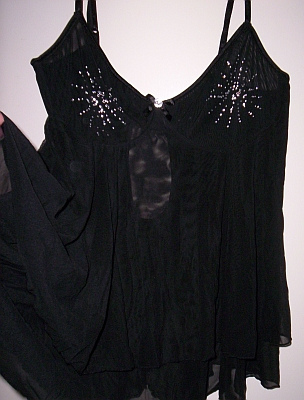 An attempt to show the layers.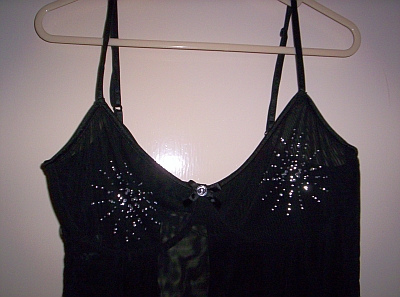 Starburst detail on bust.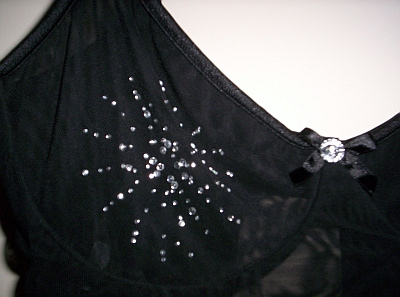 Starburst detail closeup.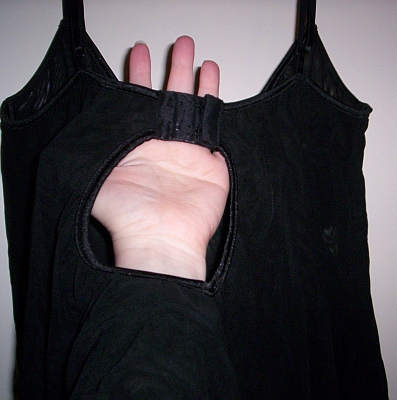 Adjustable back, with keyhole opening.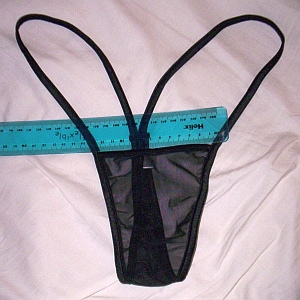 I never wear the thongs, but I know some people do.
Follow-up commentary
1 month after original review
I got a chance to wear this for my boyfriend, and it was a hit. I felt pretty in it, and he loved the way the rhinestones enhanced my breasts.

The lack of proper sizing came back to bite me when we were laying down and cuddling, as the underwires were too large for my B-cup breasts and became very noticeable and pokey. I ended up taking scissors to cut a small hole in each side so I could push the wire out. It fit me better without the wires, but it still wasn't quite a proper fit. I really wish Coquette had done proper sizing with this instead of one size/plus size. Women don't come in two convenient sizes, believe it or not!

So far, I haven't lost any rhinestones, either during wear or whilst hand-washing. I haven't risked machine washing or trying to sleep in this babydoll, as I don't think either activity would be very forgiving.

Luckily, the babydoll is pretty enough that I can forgive it being slightly too big, and it has definitely earned a place in the lingerie rotation. Now I just need to get some black panties with rhinestones to complete the look.

This product was provided free of charge to the reviewer. This review is in compliance with the FTC guidelines.
Thank you for viewing
Starburst underwire babydoll
– babydoll and panty set review page!