Pointy top, too low garters and an all-around feeling of "meh"
This set was a bit of a letdown for me. It looked really nice in the product picture, but once it showed up and I actually tried it on, I was definitely not impressed. I would rather have saved my money for products of a better quality.
Published:
Pros:
Nice wet-look material
Decent enough paddle for casual play
Cons:
Pointy bra
Garters start WAY too low
Too large in some areas, too small in others
Awful thong
Packaging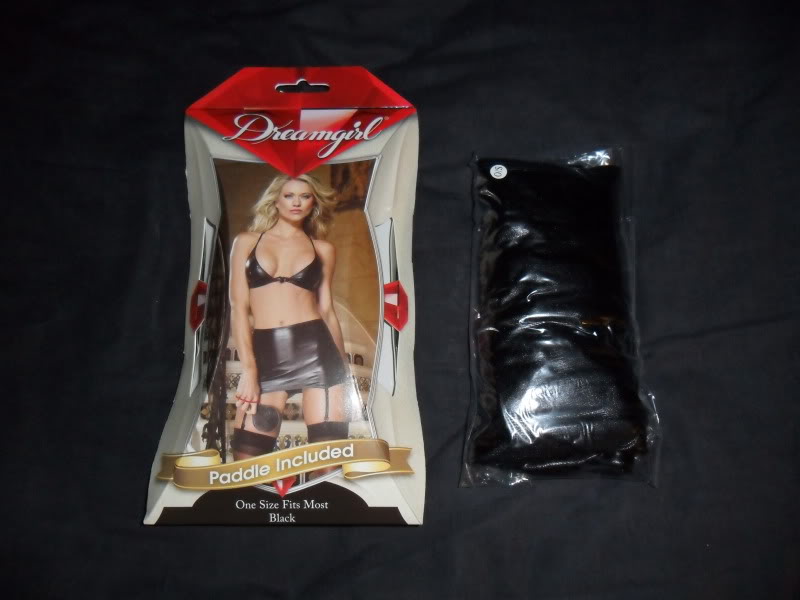 This came in the usual funny-shaped cardboard box that many DreamGirl items come packaged in.
Inside the box, which was quite easy to open, the products were folded up in a plastic package.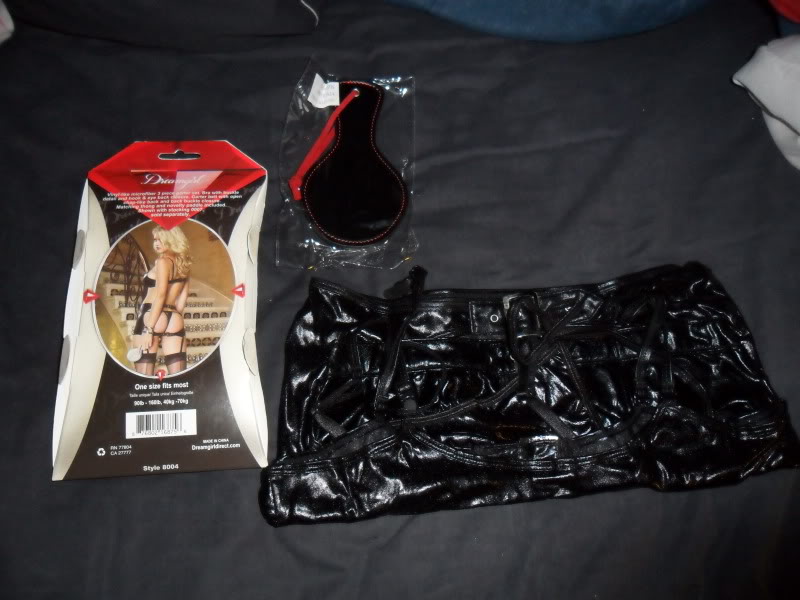 Here's the back of the box, and the clothing unfolded just a bit, as well as the paddle that comes with the set.
The packaging is not really discreet, but it is fairly compact and would be easy to tuck away.
I would not use the box to store the products long term, as it is not all that durable and is shaped awkwardly, making it less than ideal to fit into a drawer or other similar space with other items.
Quality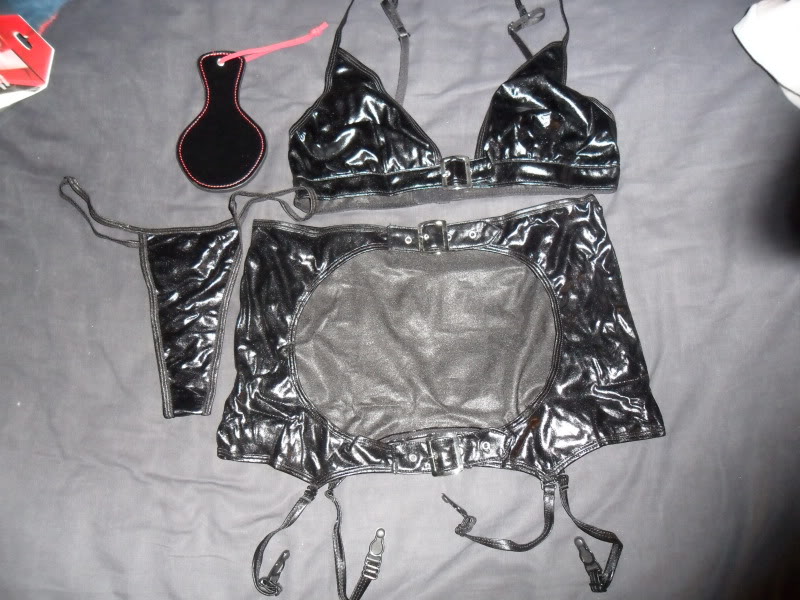 The set unfolded, showing the back of the skirt and the front of the top and thong
The quality was just fine for a set of such a low price, but it was nothing spectacular. I found no loose threads and everything seemed decently put together. The wet-look pieces all have a softer
The paddle is fine, nothing awesome, but it would be alright for light play and does inflict a decently painful smack. It is VERY small, though, so it really is just a cute little extra, not something to be used seriously and it likely would not stand up to long-term use.
Fit
This is really where the bra, thong garter and paddle set failed. As a one-size item, I did not expect it to fit me perfectly, but it was really wonky.
Here are my measurements:
Height: 5'7"
Bust: 40" - Bra size: 38C
Underbust: 33"
Hips: 38"
Butt: 43"
I found that, though my problem usually lies with items being too small, this one was actually too large in some areas.
Bra
The bra was the worst part. It was just a touch too large for me in the cups, though it was a little tight around the band. The straps were fine and mostly unremarkable, but it really is the cups that I want to focus on, here. The darts sewn into them which should have given them a proper, round shape, ended up making the bra POINTY instead. As the cups were a teensy bit too small for me, this made it look like I had enormous, conical nipples which stuck out 2cm! It was not a good look, and even if the cups had been my size, the points would have remained an issue, as they stuck out no matter how I tried to pull the bra into shape.
The buckle in the middle is totally cute, but I really wish these were less pointy...
Garter Skirt
This was yet another letdown, mostly because the garters started FAR too low to provide any actual support for a pair of stockings.
The overall fit of this was OK on me, though it was a touch tight around my hips. As the back portion of the skirt is cut out, this would fit plenty of people with all manner of various sized butts, but do beware of the size of your hips, as the waistband doesn't have much stretch to it at all.
The skirt came down to below my mid-thigh, and the garters (even when fully tightened) came down another inch or so from there, making them completely useless for holding up stockings, as usually stockings come up to at least my mid thigh, if not higher. It was almost comical when I tried to wear stockings with this, but it was ultimately disappointing.
Thong
The thong that comes with this set is, like many thongs that come along with sets, basically an afterthought. It wasn't falling apart or anything, but it was pretty awful in general. The fit was way off; it came up much too high on me and was not flattering at all. It also wasn't very durable, with the wet look finish wearing off after only a couple of wears.
Follow-up commentary
1 day after original review
I do not wear this anymore, and it is packed away in a drawer somewhere. I had aspirations of doing a little sewing to make the top fit better, but it just doesn't seem worth it...
This content is the opinion of the submitting contributor and is not endorsed by EdenFantasys.com

Thank you for viewing
Bra, thong garter and paddle
– bra and panty set review page!