Sexy Little Number with Added Bonus
If you like the look of vinyl, and are looking to add a little kink to your bedroom, this outfit will lead the way. It's sexy as hell and the paddle is perfect for reddening your ass.
Published:
Pros:
Sexy, comfortable, metal clips on suspenders, novelty paddle
Cons:
Hand wash only, bra too small
This sexy outfit looks fantastic! The polyester/spandex blend is shinny, and almost has a vinyl-type look. It's comfortable to wear, and looks sexy as hell. The buckles, especially on the back, add a little more naughtiness.
It claims to be one size fits most, but that wasn't quite the case. The garter belt fit great, but the bra top was way too small and my breasts kept falling out of it. I'm a size 12, with rather large breasts (D or DD, depending). The material is stretchy, so I could get the bra on, but it would roll down under by breasts with any "jarring" movements (like doggy style). And based on my size, and how it fit me, I think it would be loose on a petite girl...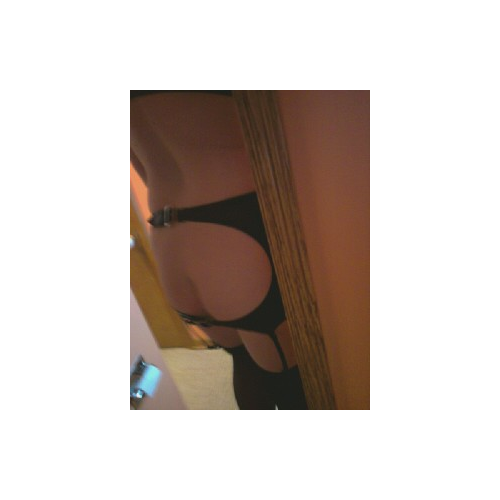 I was very pleased with the actual suspenders on the garter. All four are removable, but did not slide or come off throughout the whole night, which I have had happen with other removable straps. The clips are metal and held my stockings in place with no problem. Even through some pretty heavy romping around, position changes, and rolling around in bed, they never slipped or popped off. They actually held well enough that I would consider wearing this garter as a day piece, but it would have to be under a loose skirt/dress, due to the buckles on the back. I may actually do that this week. It would be exciting, being at work, knowing I had such a naughty little thing on under my clothes.
The only thing I would change has to do with the buckles on the back. The extra fabric hangs and doesn't lay flat. I had to fold it back under the metal of the buckle. It was only a minor issue and did not have any real bearing on the outfit. The only reason I noticed is because I was taking pictures.
The thong fit, and looked good, if worn under the garter belt. I don't wear panties under my belt, because, if I've got a sexy get up like this on, I want to leave it on while I'm having sex. And if you have any familiarity with garters and panties, the panties must go on top if you plan on taking them off. I did put the thong on top, but with the design of the garter, it didn't look quite right. So I decided to take it off while I was prancing around my house in this outfit. And my husband didn't mind! If you are planning on wearing this outfit, but taking it off before sex, then I would wear the thong. If you're like me and want to keep it on, just forgo it.
All three pieces are hand wash only. If you're careful, I don't think the bra and garter would need to be washed with every wear.
The paddle that comes with the outfit is cute. It's small, black leather, with red stitching. It is all leather, and the handle and paddle are one solid piece. This makes it just flimsy enough, which adds to the smack sound and feeling. The handle is a little small and would become uncomfortable if you were planning on using it for more than just a few minutes. It gives a good "thwap" sound and definitely leaves a nice sting. It doesn't take too many smacks to pinkin a rear end with this paddle. Designed as a novelty paddle, not for those into regular punishment, it does a good job. I don't think that it would hold up long term, if used on even a weekly basis for real punishment (D/s). But used when wearing the little number above, with the open, chap-like back on the garter, it will have her cheeks red in no time!
Follow-up commentary
2 months after original review
I still love this little thing. I've taken the opportunity to wear the garter belt to work a few times. OMG! I was so excited and turned on when I got home, from having this dirty little secret, from feeling the strap in the back rub against my ass all day, my poor husband didn't stand a chance! So, as much as I loved it the first time, I'm definitely in love with it now!
This product was provided free of charge to the reviewer. This review is in compliance with the FTC guidelines.

Thank you for viewing
Bra, thong garter and paddle
– bra and panty set review page!