Pretty, but maybe a little too... busy?
I really wanted these panties to work for me, but it just wasn't meant to be. I found these panties to be overwhelming, simply due to how busy they are. Also, neither of the sizes worked for me; the OSFM gave me muffin top, and the OSFM-XL looked way too baggy. Still, if you can get past the busy look, the itchy waistband, and get a proper fit, these are very pretty.
Published:
Pros:
Unique, Stretchy, Mostly comfortable, Pretty
Cons:
Ruffle waistband is itchy, Won't fit most, Ribbon and straps were fraying, Very busy
I've always thought that cage panties were really sexy, so I had a hard time resisting these. I loved the idea of these panties so much that I actually purchased them in both one size fits most and XL, just so that I could ensure that I would get the best fit possible. When they arrived, however, I found myself feeling overwhelmed by them -- and not in a good way.
First, let's discuss the item a bit...
Basics:
This sexy pair of panties is made by Coquette. The panties are now marked as discontinued here on EF, but they were once available in pink OR blue. I purchased the blue pair.
Material & Care:
These are made out of 80% Nylon and 20% Spandex.
The material does have a decent amount of stretch, especially the back straps. I have noticed, however, that the straps do tend to STAY stretched out, which isn't exactly a good thing. The straps are soft and comfortable on my skin, though.
The waistband on the panties is not quite as stretchy as the back straps. The waistband also features a little ruffle that goes all the way around, which can actually be pretty itchy. The ruffle feels rough to the touch, and I genuinely hate it. It just tends to irritate my sensitive skin.
The front of the panties is not as stretchy. This area consists of a blue material, which feels almost silky. This blue material is covered in a floral lace/mesh overlay. The overlay is delicate, and so you will have to be careful not to snag it on things. The interior of the front of the panties is also quite comfortable on my skin, as it's silky and smooth to the touch.
There is also a big bow on the back of the panties, which is made of some type of ribbon. The ribbon is shiny and smooth to the touch, but it doesn't appear to be high quality. The edges of the ribbon seemed to e fraying right out of the package.
To care for these panties, I would suggest hand washing them in cold water, and then allowing them to hang dry.
Sizing:
These are available in one size fits most, and one size fits most XL. I purchased both sizes, as I wasn't really sure what size would work best for me.
The OSFM should fit someone with 38-40" hips, whereas the OSFM-XL should fit someone with 42-50" hips. technically, by the size chart, I should only just fit in the OSFM, as my hips measure 40".
Technically speaking, both sizes DO fit me comfortably. The thing is, the OSFM gives me the appearance of major muffin top, which just doesn't LOOK sexy! The OSFM-XL, on the other hand, tends to just LOOK baggy, which is also not a sexy look. So, it seems that these panties and I are just not meant to get along well, as neither size works properly for me.
If your hips are around 38" or smaller, I'd suggest going with the OSFM -- otherwise, you're going to end up with a bit of muffin top. The OSFM-XL should fit everyone that it claims it will, as well. If you fall somewhere in the middle, though, you're kind of out of luck with these (unless you like muffin top or baggy panties).
Here is a picture of the two sizes together, so you can see just how big of a size difference exists between the two: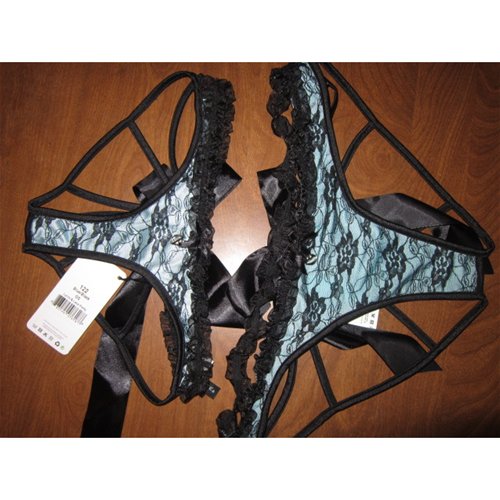 Design: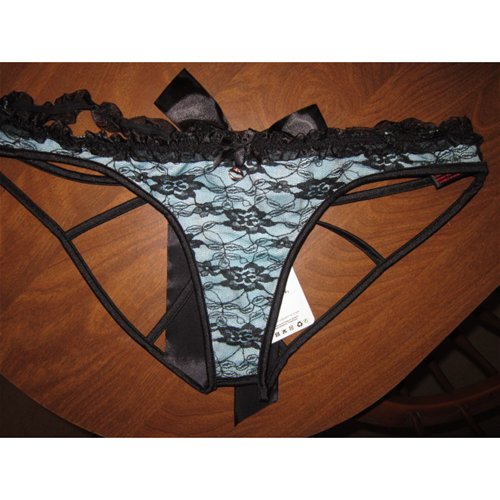 As you can see, the panties are meant to be a bit low-rise, but still full coverage in the front. They're also meant to be opaque in nature, with a pretty little lace overlay. There is also an adorable little charm, in the shape of a pair of lips, found right on the center front of the panties.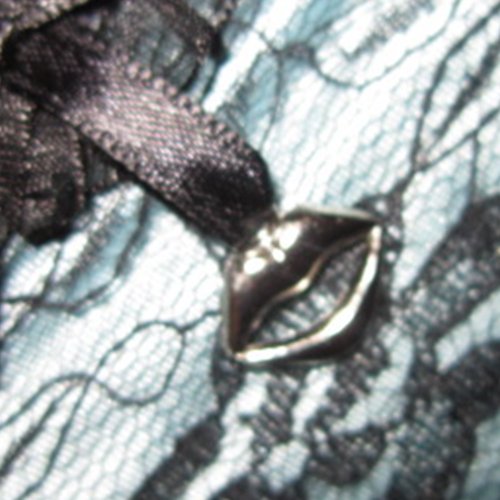 The modest (yet busy) appearance of the front provides an interesting bit of contrast when you take a look at the back view.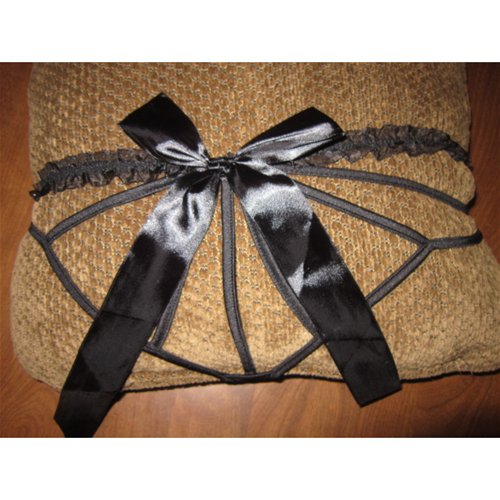 The back view is, to say the least, strappy. The middle strap basically ends up functioning as a g-string, while the other straps frame your bum.
The back also features a really large ribbon, which I personally dislike. The ribbon is securely sewn, so it's not something that you can undo or remove easily. In my opinion, the ribbon makes these panties entirely too busy.
The panties could technically be worn during sex, but you would have to pull the middle back strap aside. Also, depending on the front of the panties fit you, you might also find yourself having to push that area aside, too.
Experience
Quality:
The quality is decent enough, though there was some slight fraying on the back straps and the ribbon. The fraying wasn't overly noticeable unless you got right up close, but it was still disappointing. The little charm also does not appear to be securely attached, which is a letdown, too.

Experience:
These just were not for me. They were way too busy, and I found myself overwhelmed by them whenever I wore them. My partner, on the other hand, liked the cage back look, but he felt like these panties just had way too much going on to be sexy.
This product was provided at a discounted price in exchange for an unbiased review. This review is in compliance with the FTC guidelines.

Thank you for viewing
Blue lycra and black lace panty
– sexy panty review page!