Pretty chemise with pinstripes! (3X/4X)
I wore my hair up with this chemise and put some sexy glasses on with fishnet thigh highs with the lace trim and some basic black heels. The hands of my partner couldn't stay off of the material of the chemise and my skin. This is super sexy on the body and I think this will flatter any body types. I am a curvier female and my partner went wild over this. Try it out and see if it works for you. I like that it's lightweight and airy. I really adore this lingerie set!
Published:
Pros
* Very Comfortable
* Classy Design
* Eye Catching
Cons
* Needs Bigger bra cups for the Plus sizes
I bought this fuchsia chemise and thong set by Dreamgirl on a whim after reading some of the reviews on this chemise. The color and black pinstripes on this chemise really drew me in and I thought that if I bought a size up, it would fit me better because of the large cup sizes. When I order many pieces of lingerie, I usually have the problem of the body portion fitting me loosely but the cups are too small. I decided to change it up a bit and order a larger size in the chemise. This did work for me. It was loose and comfy; The only downfall is that the thong is loose. I can just wear one of my solid black ones underneath or wear none at all. The chemise and thong arrived inside a clear plastic packaging on a basic hanger.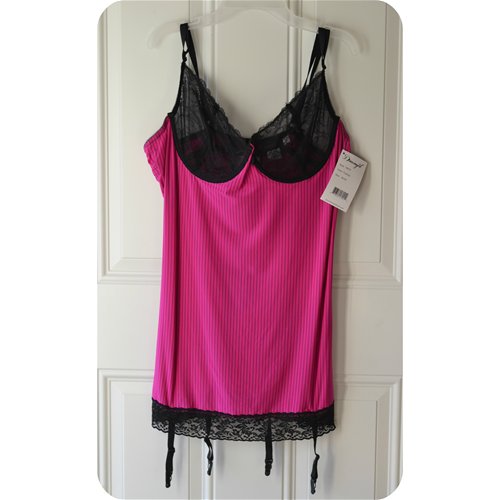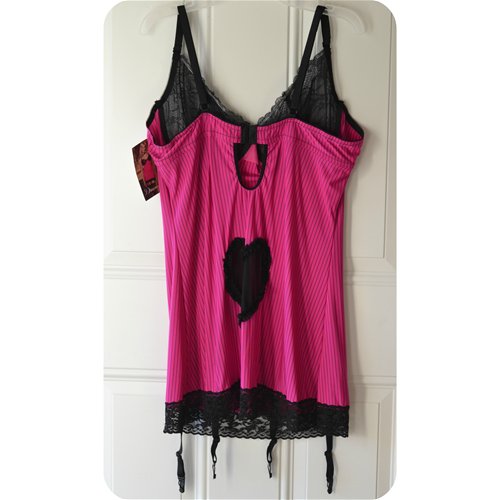 I have listed the Dreamgirl sizing chart below:
Dreamgirl sizing chart
Dream Girl
Size Cup Bust (in) Waist (in) Hip (in) Inseam (in) Weight (lb)
Small 2 - 6 A - B 32 - 34 24 - 26 34 - 36 34½ 90 - 120
Medium 6 - 10 B - C 34 - 36 26 - 28 36 - 38 35 120 - 140
Large 10 - 14 C - D 36 - 38 28 - 32 38 - 40 35½ 140 - 150
Sm/Med 2 - 8 A - B 32 - 34 24 - 26 34 - 36 35 90 - 130
Med/Lg 8 - 14 B - C 36 - 38 28 - 32 38 - 40 35½ 130 - 160
1X/2X 16 - 18 D - DD 40 - 48 36 - 40 42 - 48 36½ 165 - 225
3X/4X 18 - 20 DD 48 - 54 40 - 44 50 - 56 37 225 - 275
O/S 2 - 14 B - C 32 - 38 24 - 32 34 - 40 35 60 - 160
Q- O/S 16 - 20 D - DD 40 - 54 36 - 44 42 - 56 36½ 165 - 275
Bra underwire length:12"
Bra cup diameter: 7"
Bra straps longest length: 20 1/2" - unstretched
Bra straps longest length: 27" - stretched
Bra straps shortest length: 10" - unstretched
Bra straps shortest length: 13.5" stretched
Area in between both bra straps: 2"
Total length of chemise unstretched 24"
Total length of chemise stretched 29"
Waist measured across unstretched: 17"
Waist measured across stretched: 21"
Cup size will fit D-DD best.
Garters
Garters at shortest length:6 1/4"
Garters at longest: 7 3/4"
Thong Sizing
Thong back is T-shaped
Waist measured across unstretched:18"
Waist measured across stretched: 22"
Top front to top back unstretched: 19"
Top front to top back stretched: 29"
Length of total crotch area: 10 1/2"
Length of cotton crotch panel: 4 1/4"
Heart Dimensions
Across heart: 6"
Heart length from top to bottom at center of heart: 5"
Heart length from top to bottom at top of curve: 6"
These thongs are stretchy both vertically and horizontally in all areas.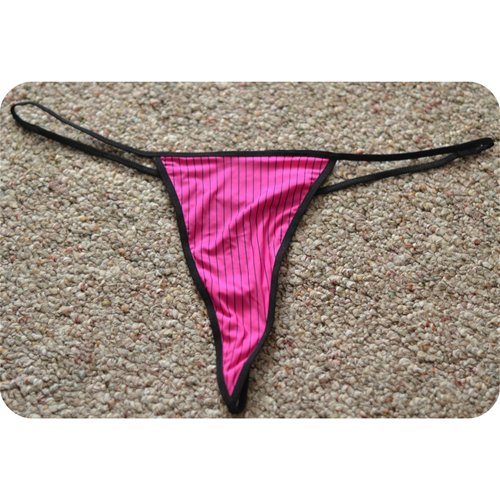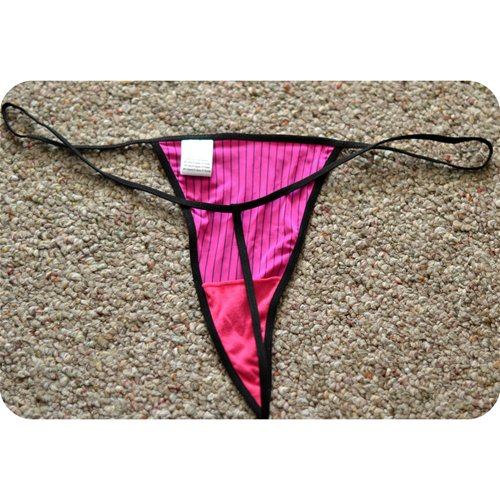 My sizes:
Breast/Bra Size- 38F
Waist- 37.5"
Hips- 42"
Height- 5'2"
Torso length from collar bone to top of pubic bone- 25"
Material
The Stocks and bondage chemise is a very silky feeling material.
The thong and chemise are made from:
89% Nylon
8% Spandex
3% Polyester
The bra straps have a very large length range to fit someone as short as me (5'2") or someone who is quite tall. The bra straps don't dig in or cut into my shoulders. These are not the very thick kind. These are the exact kind used on a bra.
The cups to the top have underwires and they are very supportive, even for breasts that are above the largest size on the size chart. They fit me well but there was still some spillage. There wasn't enough for me to return the product but like I stated before, the sizes that it will fit best are D-DD. These will give nice cleavage and support in those sizes.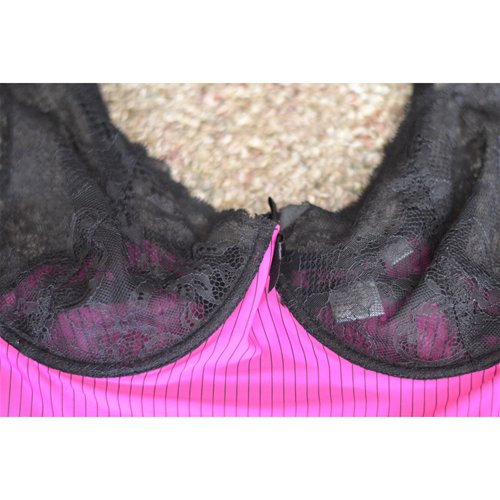 The chemise is supposed to fit snugly against the body and flatter your curves. The black pinstripes on the fuchsia material looks great! It also shows the gorgeous curves of the behind. The material is so silky smooth that I actually slept in sans garters. The garters are removable and that is a plus with this chemise set. It's very comfortable to wear this around the house. The lace trim at the bottom gives a very nice contrast with the coloring of this piece. This looks to be high quality and to me, it looks like something that could be purchased at Victoria's Secret. The black pinstripes give it a classy, yet bold look.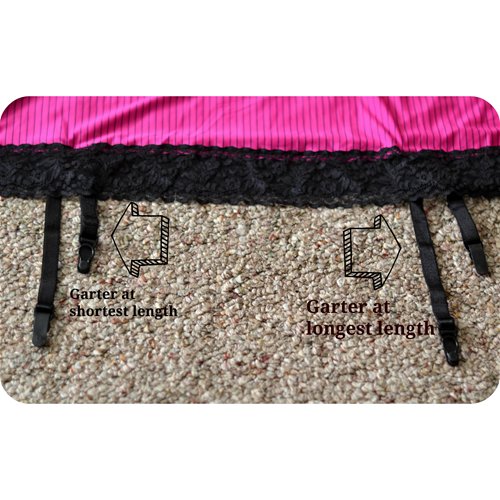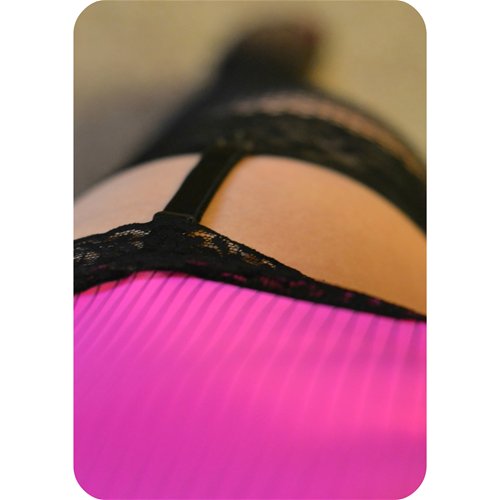 Experience
(Continued)
The chemise has a heart shaped panel in the back near the behind. You can see the thong through it because of the sheer mesh panel. At first, I really didn't know if I liked it or not but once I had it on, I really liked it.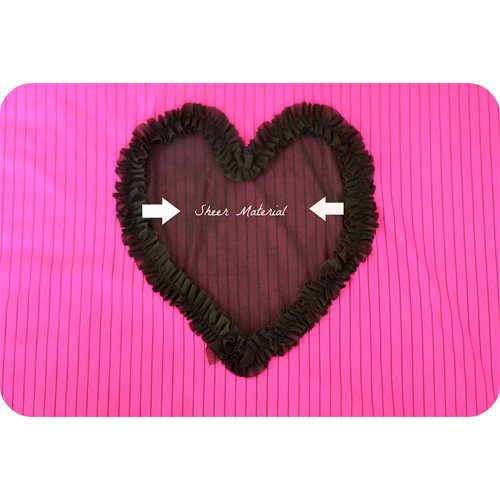 The back of the chemise has a bra type closure. It closes with a hook and eye system. There are 3 rows to choose from and 2 hooks. This really helps in adjusting the size to a perfect fit for your body type. I kept it on the tightest closure. The hooks did not bother me like some have in the past.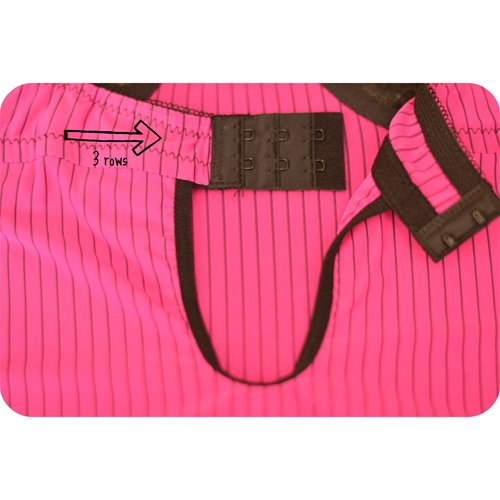 Elastic runs on each side panel underneath the under arm area. This elastic is 8 3/4" unstretched and 10 1/2" stretched. These elastic panels are made to run to the bra closure. This helped with the support of the breasts.
The underwires didn't bother me. The cups themselves have a lace material on the outer layer and a sheer material on the inside. Since both of these layers are sewn together, it also helps with the breast support. The lace is actually unfinished at the top but there is a seam that runs along the the top of the lace and is reinforced by a plastic feeling material that is very thin and it helps hold the two materials together better.
In between the two underwires, on the inside of the cups is a sheer pink material that is connected to both cups. This material ensures that the stretchy pinstripe material won't rip out from the middle. There is a small, black bow that is in the middle of the two cups in the front of the chemise. This bow measures approximately 2". This bow is sewn on by 2 single threads and can be easily removed by a seam ripper or a small pair of scissors.
There is a lace trim that runs along the bottom of the chemise. This lace is much softer and it is not the same lace as on the breast cup. I really like the lace on the bottom of the chemise.
The lace also covers up the garters, which is a nice touch. It doesn't fully cover the garter, but it comes down about half way. I haven't had that function on other chemise sets and I really like it.
The garters are removable and they are a sturdy plastic. The thongs are big on me but they do seem to fit true to size for a 3X/4X. These are extremely stretchy and they have a smaller elastic band on the waist of them.
The thong has a cotton crotch lining that is pink in color. It has a double layer of cotton. The sewing on the thong seemed to be off a bit as I will show in the photos below. Since it was in the crotch area, it didn't make a difference to me.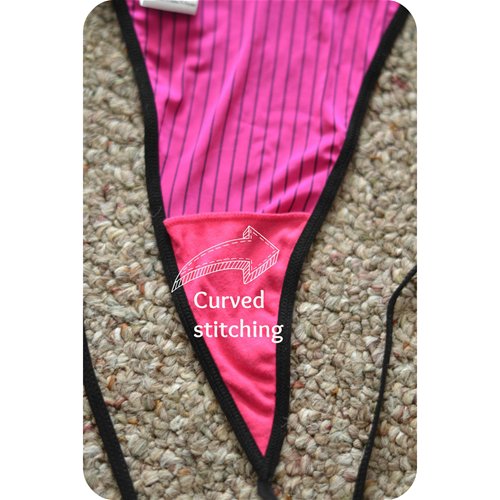 There are tags on the thong and chemise and they don't seem itchy, just a little annoying.
Hand wash in cold water and hang to dry.
Follow-up commentary
1 month after original review
This is in my top 10 lingerie pieces that I own, I really love pink and fuchsia with black. This is a stunning number that has so much potential.
This content is the opinion of the submitting contributor and is not endorsed by EdenFantasys.com
Thank you for viewing
Stocks and bondage fuchsia garter slip and thong
– chemise review page!