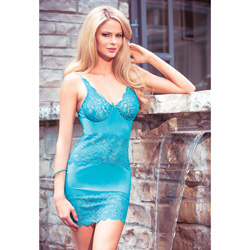 Oceanside chemise
Chemise
by Coquette
Pretty, comfortable, flattering, a unique color, soft...really, what else could I ask for? (S)
This is a beautiful chemise that can be worn to seduce a partner or to sleep. It features soft microfiber and lace with sheer cups, and a sheer middle section and bottom that show skin while also hiding areas that some people feel uncomfortable showing. It has a flattering fit and is well worth the cost, even if the underwire popped out on the one side.
Published:
Pros:
comfortable as sleepwear, soft, BLUE, unique design, semi-conservative, adjustable straps, stretchy
Cons:
underwire popped out on one of the cups
The Oceanside Chemise by Coquette would have received 5 stars had the underwire not poked through. Eventually, it will probably need removed, because it will come out during my sleep and could injure me or my partner. That being said, this is still easily worth the cost, and I am actually surprised it is $32.99 because it is way better than some things I have purchased for $40+! This is the softest, most comfortable, and most flattering thing I have ever slept in. If you are on the fence about this product, purchase it immediately! If you dislike underwire, it would be really easy to remove it.
The Oceanside Chemise is an appropriate name given the beachy color. It is a beautifully bright turquoise. It features both soft microfiber and lace. The cups are made of lace and are completely see-through. They have a hidden underwire as well, which I think makes this piece look even better. There is a bow between the cups and non-removeable straps that adjust to many lengths. There is microfiber beneath the bust and almost as a skirt that covers the entire butt and genital area if you pull it all the way down, but there is lace at the middle (stomach area) and at the very bottom. The lace at the bottom begins just were my butt ends if I pull it all the way down (in the pictures, it is kind of scrunched up a bit so a bit of my butt shows though). I think this design is really sexy, although my partner would prefer it without the middle section. I disagree though, and really like it how it is.
The material is clingy, but actually hides areas such as love handles really well. I was really impressed by how I looked in this versus a basic black slip I bought by Fantasy Lingerie, which hugged everything without hiding anything. This will make anyone feel sexy by covering enough to hide anything you are insecure about but also show off some skin at the same time, and in such a beautiful color, with such soft fabrics.
The chemise is made of 90% nylon and 10% spandex, so it has some stretch to it. It says "exclusive of trim" which could mean the straps, bow, and/or the lace. The lace is incredibly soft and not snaggy like other lace and mesh lingerie. I ran my nails over it and didn't feel any snaggy feeling as I have with other pieces. The tag says it should be hand washed only and hung to dry, which is pretty standard for most lingerie. It is made in China.
Measurements for size Small:
Cups, left to right - 6"
Cups, top to bottom - 6"
Space between cups - .75"
From bottom of cup to first lace area - 3"
First lace area length - 5"
From first lace area to second lace area - 6.25"
Second lace area length - 5.5"
Total length from top of cup to bottom of chemise - 20"
Width below bust - 13"
Width at the very bottom of the chemise - 17.25"
Strap thickness - 1/4"
It is pretty stretchy even in the lace, which adds a few inches onto some of these measurements if stretched.
This size small fits me perfectly. My measurements are:
Waist - 26"
Height - 5'2"
32C cup
Size 0 or 2 dress size
I think a B, C, or D could do well in a size small, but an A cup might have a hard time filling the cups. They aren't molded, but might look a bit baggy on someone with small breasts. Very large ones might pop out a bit. The underwire provides support which is great, but if you end up like me with an underwire popping out, you will lose that support. Keep that in mind if you do plan to use this for sleeping. I do highly recommend this as either seduction wear or sleepwear. It is great for either. Also, with the underwire, this makes it easier to wear underneath of a dress as a surprise for your date.
The lace is a floral pattern and closely matches the microfiber fabric in color, but they are not exactly the same. The edges are not straight, but are cut nicely in the shape of the flowers, as indicated by pictures below.
The chemise arrived in a clear plastic bag with a Coquette tag attached via a safety pin. The tag featured the stock photo, which was the same as that featured on EF. It was folded in the bag pretty teensy and did not come with a padded Coquette hanger. It wasn't wrinkled at all and doesn't seem to get wrinkly, which is good for travelers.
Pictures: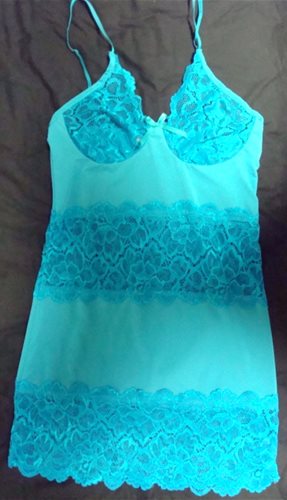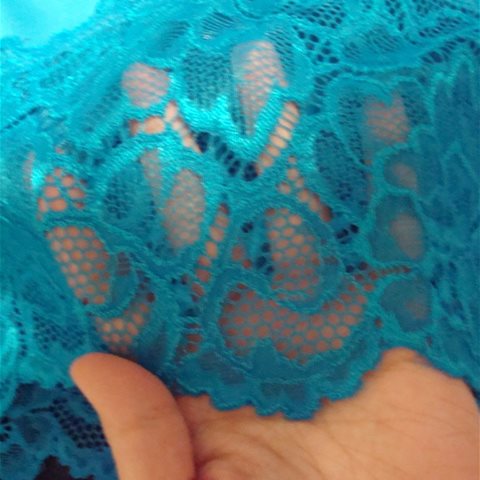 Experience
I love this chemise! I am really disappointed about the underwire, because I think it makes my boobs look great, and I am not sure how it will look without it. I don't think if I had just worn this to seduce my partner that it would have happened. I have slept in this several times and it is very comfortable, but the cups slide around as I sleep and I think that all of the shifting caused the one to pop out. I would sew it in, but I think a machine would be best for it and I don't own one. I'm also not about to borrow my mother's to do it. Other than that, I think this piece is great quality and my partner and I really like it. I sleep in it about once a week and have really loved having it. It's definitely one of my absolute favorite pieces. I love that it is comfortable enough to be worn to sleep in. I feel sexy in it, too, and I think that it's definitely one of my top 3 favorite pieces of lingerie.
The underwire popping out: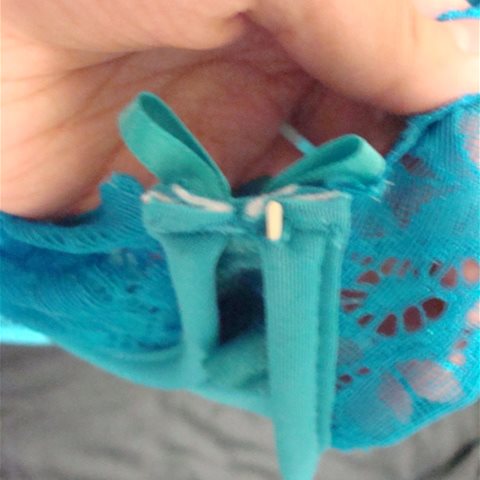 The chemise worn: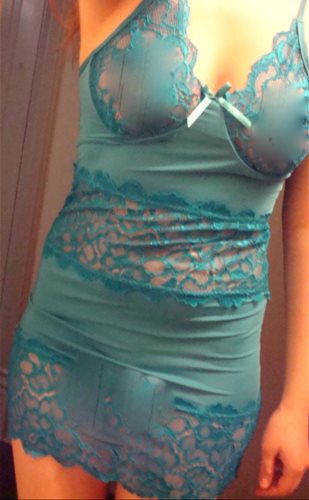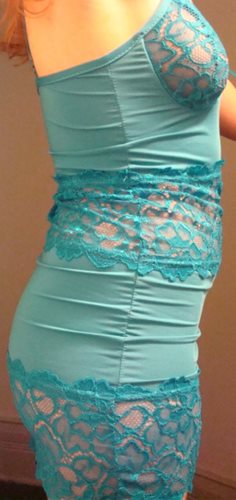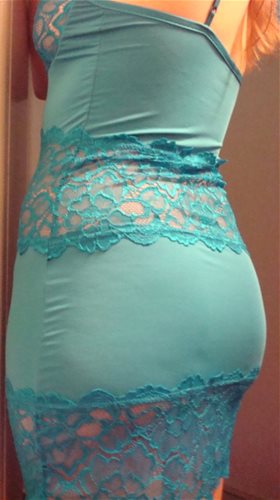 This product was provided free of charge to the reviewer. This review is in compliance with the FTC guidelines.
Thank you for viewing
Oceanside chemise
review page!