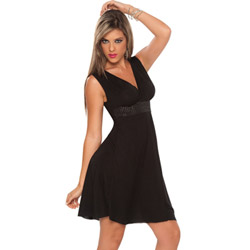 Classy elegance dress
Dress
by Espiral
Pretty little black dress can be dressed up, or down.
This little black dress is classy and comfortable at the same time. You can easily dress it up, or down, depending on your mood. With that said, this dress is for all occasions, and will get plenty of wear. Every woman needs a classic black dress, and this one will never go out of style. The only thing about this dress is that the fabric can be sheer at times, which may require you to wear a camisole, and/or slip underneath. This item is the perfect addition to anyone's wardrobe.
Published:
Pros
Fits all body styles, stretchy, comfortable, sexy and feminine.
Cons
Can't adjust it if you want it tighter, needs a camisole or leggings due to thin material.
Use
Are you looking for a classic black dress for any occasion? Look no further, the Classy Elegance Dress by
Espiral
is just that. With the style of this dress, it can be worn to any kind of event: party, work, club, bar, pretty much anywhere. With the style and cut of the dress, it's figure flattering, and hides any tummy imperfections. Layer it with a camisole, and/or leggings, and wear this little number to work or a business meeting. Add a cute cardigan, and go out for a night on the town. This little black dress is classy, and comfort all in one!
Design / Craftsmanship / Material / Size / Fit
The Classy Elegance Dress by Espiral is only available in the color black. It comes in sizes S, M, L, and XL. There are two white tags sewn into the dress, which are located in the bust region at the side. The white tags state the size, as well as "AM:PM By Espiral", and "65% polyester, 35% spandex". The cardboard tag states that the dress is made up of 93% polyester, and 7% spandex, which is completely different from what the original tags state. Which one is correct? I'm not too sure, but I do know that this item can be easily shrunk if accidentally thrown in the dryer (yes, I accidentally shrunk mine). That means this article of clothing can easily be shrunk, if not properly taken care of.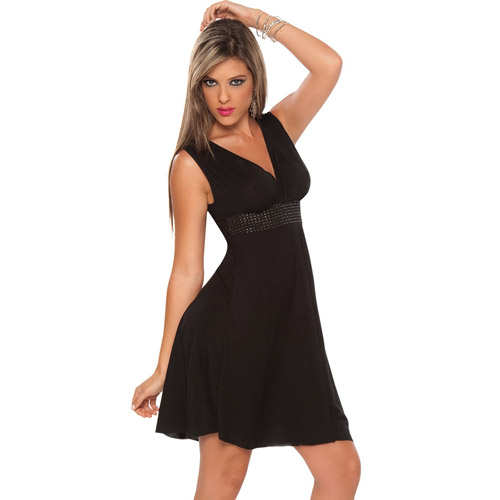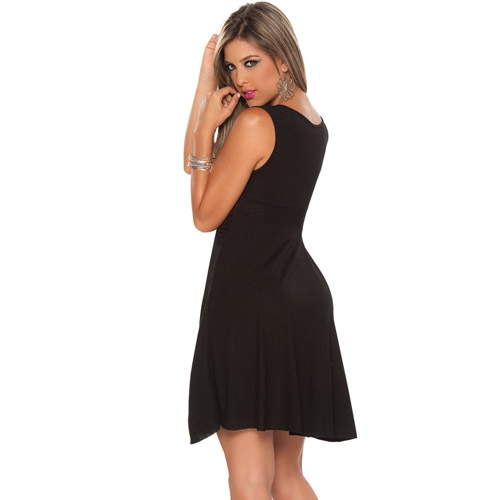 The fabric of this dress reminds me of a t-shirt, which isn't exactly classy material. However, the style of the dress itself is classy. The fabric is a little sheer in nature, and will require wearing a camisole underneath, and/or leggings if you wish to wear it to work. You can easily dress this item up, or down, making it great for any type of occasion.
Starting from the top of the dress, it features a "V" style neck, that criss-crosses in the bust area. The thickness of the straps are perfect if you require wearing a bra, as the thickness is 3". Starting from the top of the strap, to the middle of the bust, it measures 12" in length (XL), and has a thick elastic belt built in below the bust. The belt measures 2.5" in thickness, and 15" across. The belt is made of an elastic material, so it stretches easily to slide the dress on. The belt has a silver pattern, which dresses it up. The pattern is silver strands that are sewn in, that run horizontally across, and have a black zig-zag embroidery that run vertically down the belt. The belt helps add support to your bust region, and adds a slimming effect to the body.
The length of the skirt from below the belt is 21", and flows freely away from the body. In the middle below the belt, the fabric gathers a little, which creates a nice flow of the skirt, to help hide any tummy imperfection that you may have. Espiral pays attention to the quality of the craftsmanship. The seams are sewn well, and even after multiple washing the hem hasn't budged like other clothing I own.
The back of the dress is solid black, and doesn't show the belt design. The top of the dress at the back, there is no "V" neck shape, as it's round in nature. The design of this dress, covers your back, and won't reveal any bra straps if you require to wear one.
Care and Maintenance
This item you will want to wash by hand in cool water, and use a detergent that is mild. I personally like to use zero for my lingerie. You will also want this item to air dry. Even though there are products out there that you can put this in and wash in the washer, I wouldn't recommend it, as the item could shrink. With the item made of mostly polyester, it could easily shrink.
Experience
Packaging
The dress came wrapped in a clear plastic bag type of packaging. It had a clear little hanger, which looked like it's used for the purpose of showcasing the product on a store wall. The bag came sealed, so you could tell that the item was brand new, and the original cardboard tag with a model wearing the dress was attached. The tag also includes the size, model number of the dress, but no washing instructions on it.
With this being one of the first items of the Club Wear for Eden Fantasys, I was a little nervous about buying it. I'm so glad that I decided on taking a chance, because it actually looks nice on. With my tummy being my problem area, this dress actually helps hide it, and brings all the attention to my bust area. I wear a size 14 or an XL, and the XL fit me perfectly. My bust I normally wear 38D, and this fit my bust perfectly as well. I wear this out to all kinds of places, bar, family's home, work... it's quite versatile. Wearing this item for every day, it requires a camisole underneath, but it looks great on. I also find that if I'm wearing this to work, it also requires a slip or leggings, as the material is quite sheer/thin. This would make for a great addition to anyone's wardrobe.
Overall, I love this little black dress. I personally like to wear this item with jeans or leggings, and make it more of a casual outfit. With the material being more of a t-shirt material, I feel it's more of a casual item. I will probably get more use out of it once the weather gets warmer. This dress is classy, comfortable, and an excellent cut for those that have some extra junk in the tummy area. This dress is super flattering, and I wish it came in more colors. I can't wait to try out more items from Espiral!
Follow-up commentary
1 day after original review
I'm still loving my little black dress, that goes with almost everything. It's a classy style, but more of a casual feel due to the fabric nature of the item. With that said, you may want to look for a different fabric black dress if it's for an occasion more elegant. To me, this is still a great dress.
This product was provided at a discounted price in exchange for an unbiased review. This review is in compliance with the FTC guidelines.
Thank you for viewing
Classy elegance dress
review page!