Little Black Dress
Most short dresses fit me like a shirt, but this one is actually passable as a dress! However, be ready to pull your boobs up to your nose to get them to fit!
Published:
Pros:
Actually long enough to be worn as a dress!
Cons:
Boobs need to be sky-high to sit above the band, much smaller on top than bottom.
I haven't had much luck with Espiral yet, but I was hoping this would be a "Third time's the charm" deal. (You can read about my other experiences
here
and
here
!) Although I didn't exactly fall in love with this dress, it was definitely a step up from the other two!
The dress is made of 65% polyester, 35% Viscose (pretty much the same as rayon). It feels like very thin t-shirt material. If you have the EdenFantasys t-shirt (I think we all have at least 6 by now!) it is very similar in thickness, but not as soft. The care tag has no verbal instructions, just those symbols that i can never figure out (see my review of the
black dress
for a photo of the symbols and more info.) Although I *think* you're supposed to hand wash this, I have a feeling it would be fine on delicate as long as you turned it inside out first.
Due to the fabric being SO thin, you will most likely want to wear something underneath if you wear this out of the house. Despite the name "Classy Elegance Dress", it actually reminds me much more of a swimsuit cover-up than an actual dress. I was expecting a thicker, more luxurious feeling fabric, to be honest. My hand through the fabric in normal sunlight. Pardon the cat fur.
From the photo, I thought the band below the bust was stretchy (probably elastic?) and studded. Instead, surprisingly thick, sturdy-feeling elastic with some stretch (not a ton), decorative zig-zag stitching in black thread and some silver "thread" that looks and feels a lot like tinsel sort of woven in. The dress is available in sizes small through XL, and in my experience dresses and tops from this brand tend to run small (the lingerie seems to be okay, size-wise) so I ordered the XL. I usually wear a size Large dress (10/12) and this fits about like an 8/10, despite being XL, so you should order up a size if you have a medium to large bust (the bottom part is pretty flowy, so you can get by with larger hips). The size chart says XL should fit 40" bust, 31" waist, 40" hips. I'm 38D, 32" waist, 39" hips, and it is a bit small on me (especially the bust!) but wearable.
The dress measures 36" long from the seam atop the shoulder down to the hem. It's pretty short on me, but I'm tall (5'11"). I think it just barely passes as long enough to wear out in public on me, but since most women aren't as tall, it should be fine. Laid flat, it measures 17" across below the bust where the decorative band is. The elasticized band is only in the front, and will stretch about 2-3", but due to its thickness and stiffness, I have a feeling you would be quite uncomfortable with it stretched more than an inch. The fabric that makes up the rest of the dress has a bit of give to it, but nothing significant enough to really alter the fit here. If you measure from the bottom of the band down to the hem, it's 22", which may help you determine how long the skirt will be on you.
Experience
The only area that I have a fit issue with is (surprise, surprise!) the bust. It does fit, rather tightly, but not enough to kill me or anything. My real problem is that at least on me, the band sits REALLY high. If I just put this on normally, with my breasts at their normal position in a bra, the top of the band (which should sit below your bust) hits just below my nipples, with the bottom of my bra resting right around the bottom of the band. If I reach in and hoist my bra up so my boobs are like, up to my nose, I can mostly get the band to sit below them. I really wish there was a way to make this area a few inches longer! (I may actually cut the top of the "sleves" apart at the seam and add something to extend it the next time I'm feeling crafty.)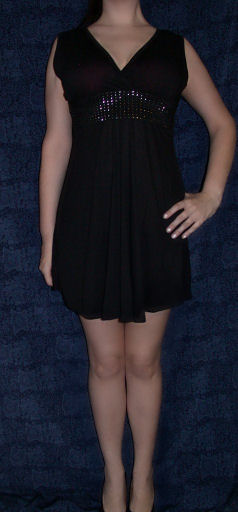 This is a problem I have with this style of shirts and dresses pretty frequently, though, so it may not apply to you.
I could technically wear this without a bra, since the band holds my boobs WAY up on its own, but the tightness of the bust area smooshes them into weird oblong shapes if there isn't a bra to help shape them, and that combined with how sheer the fabric is rules out the no bra idea for me.
If you are pear-shaped, this dress may be a great one to check out, since there is quite a bit more room on bottom than on top!
This product was provided free of charge to the reviewer. This review is in compliance with the FTC guidelines.

Thank you for viewing
Classy elegance dress
review page!