Pretty Purple Set!
I am VERY happy to have gone with my instinct and ordered this when I did, since it was discontinued immediately after I ordered! This bra is what I wanted most from this set, and I have to say, I am not disappointed.
Published:
Pros:
Pretty bright purple and lace, comes on a nice padded hanger, lovely bra and garter...
Cons:
Thong, the sizing is not for everyone
I was happy with the packaging of this. It came in a plastic sleeve, but the bra, garter, and thong came on a nice Coquette hanger that is black, padded satin, with a little black bow on the hanger. Very cute and will look nice hanging in my closet! I t has clips on it for hanging things, and I could even use it to hang other lingerie piece I have.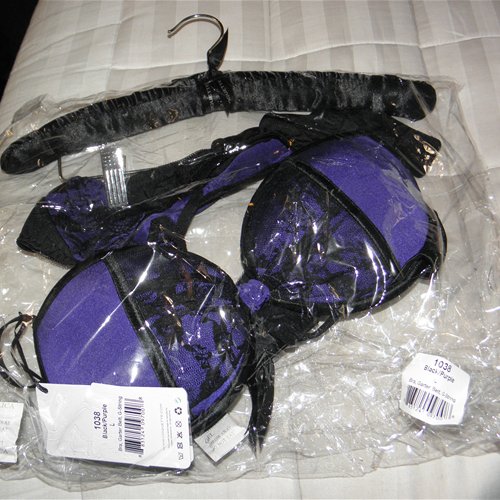 THE BRA:
The bra is the main reason I bought this, to be honest. I didn't really care about the thong or the garter belt, as long as the bra worked out for me. I don't really care for thongs anyhow, but I will sometimes make exceptions. Though I wasn't expecting much, since I know I've gotten lingerie "sets" in the past that just sort of included a thong that has ended up being stiff and awkwardly sized/shaped, that I would never really wear (and this thong is no different). As for garter belts, I like them and I have a few, so I don't really see a need in getting more of them. Although, I thought this one was pretty, so that was kind of an added bonus. But what I really needed was a new bra that fit, and having one that was bright purple and lace sounded lovely! I bought this set for the prospect of having a nice looking, well-fitting, much needed new bra.
The bra fits me well. It lives up to being a real push-up bra, it is padded and has what feels like a metal underwire in the cups. It gives great cleavage and lift. I wear a 38 C or D, and I find that these cups give full coverage which can sometimes be hard to find. My nipples are totally covered in this, without feeling like a have a risk of spilling out. This has typical hook and eye closures, 3 rows of them. This will fit probably a 36, possibly even a 34 inch bust, and at maximum a 38. As I said, I am a 38, if you wear a 40, this will not fit. I can wear this pretty comfortably on the last, loosest set of clips. Since it is new and the underwire is stiff and metal, I can feel a bit of pressure on my ribs from it, but nothing too uncomfortable or bothersome. I figure once I wear it for a full day, it will get broken in and that won't be noticeable. If you are a C or D this will fit you best, anything much bigger might find this too constricting. The padding on the inside of this won't really add a full cup size, but it will give you some nice lift and shape. I only feel comfortable wearing push-up bras, and I was worried that this one would be too small, or the straps would be awkwardly placed. Thankfully, that is not an issue, and this looks quite flattering! This can be worn are lingerie, or as a pretty everyday bra under clothing. The fabric is not itchy or bothersome, the inside and outside feel almost silky to the touch, with the purple fabric feeling especially soft. The straps are not removable, so this cannot be worn in different ways, but I actually like bras with sewn-in, regular straps because I find that they always fit me best. The straps are adjustable, like typical bra straps. The cinching in the middle of the cups with the purple piece of fabric is actually cute and flattering, I was worried it would alter the look/fit of the bra. I've had bandeau style tops in the past that had that same style and I find that it can fit poorly and make things awkward. However, in this case, it is not a problem at all. It is just a purple piece of the silky-feeling purple fabric, sewn into a tube shape, around where the bra connects. It is mostly just there for decorative purposes I gather; which, might I add, is a nice alternative to the bows, flowers, and charms that are sometimes put between the cups on bras, that I know a lot of people end up removing.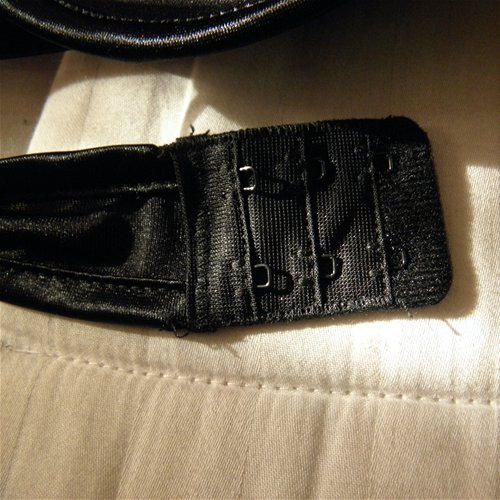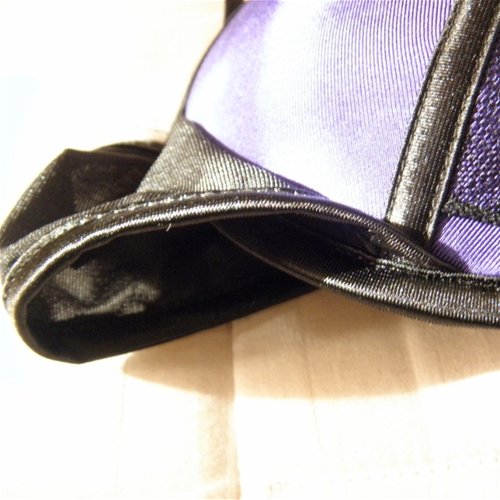 Lace overlay detail on the cups: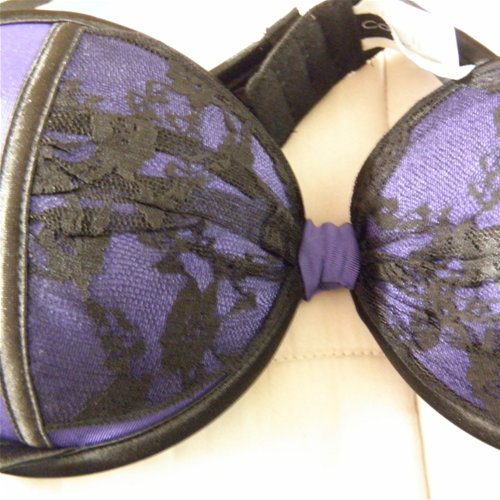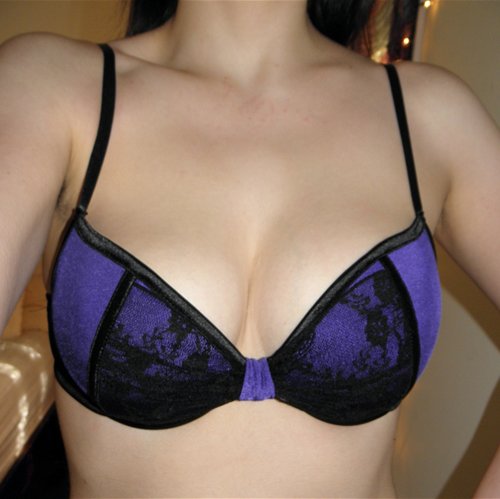 THE THONG:
The thong is stiff, and a sort of awkward shape. There isn't much of any stretch to the fabric of it. The front of it is more square-shaped than anything thongs I would consider wearing. There is no liner. The back of it, the thong part, is awkward and divides into two straps that seem high up and strangely designed. I don't think this thong is very practical.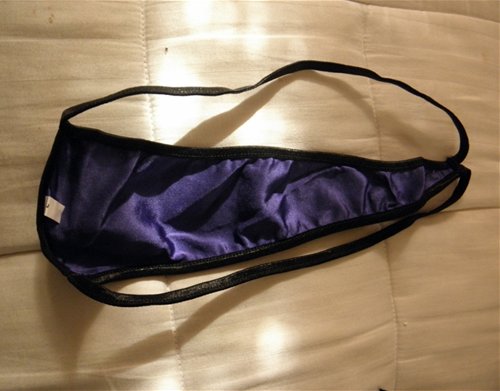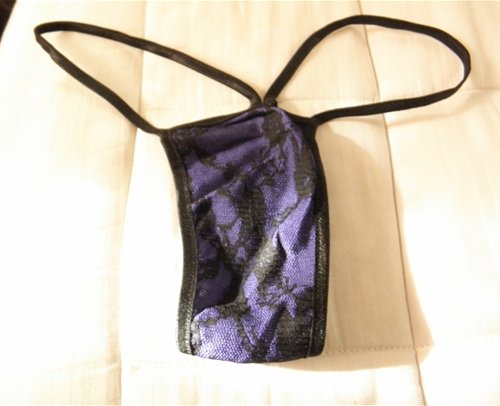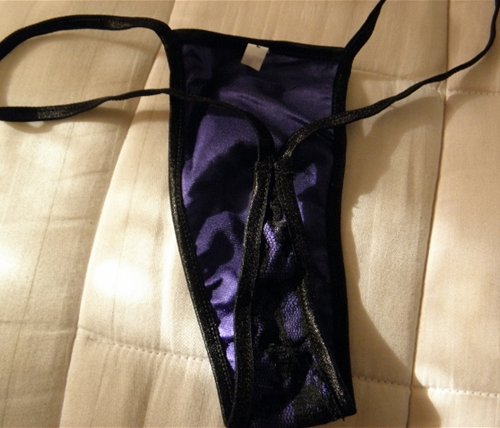 Experience
GARTER:
The garter feels very silky, and looks very pretty. It has a nice hook and eye closure, 3 rows of them. This fits my 38 inch hips very comfortably and well. I can have it on the snuggest hooks, and there is not only room for stretch, but it fits comfortably without sliding around and without slipping. The hook and eye closure on a garter is ideal, I think, as I have some garter belts that have closures that are like what you get on removable bra straps- those sometimes flimsy plastic hooks. With the hook and eye closure, you know it will stay secure, and that there isn't a chance of the closure snapping or anything. Again, I can wear this on the snuggest closure, and the fabric has much give and stretchiness. This would fit someone, on the same hook setting (that being the tightest one), with a waist or hips at least probably 10 inches wider than mine, probably more. When I wear it, I can forget I'm wearing it, because it's that comfortable. The fabric is comfortable, with enough stretch, and is not irritating at all. The straps are flat on the side that touches the skin, and sort of textured on the side that shows.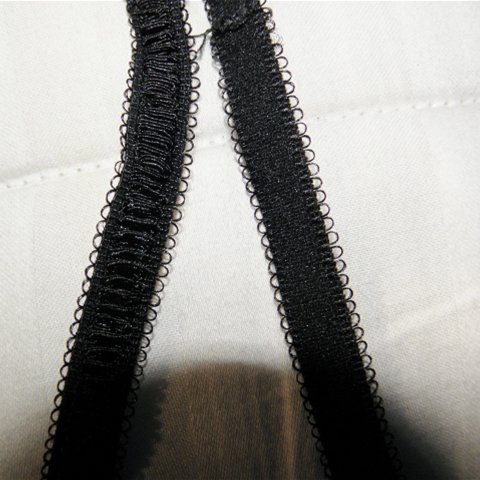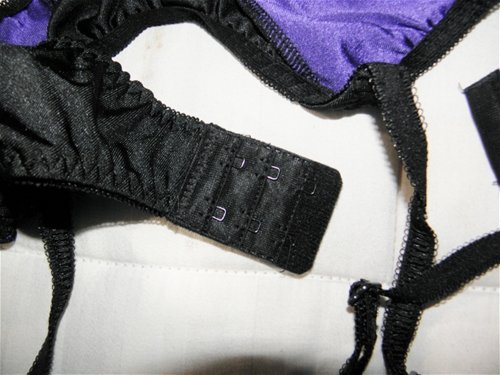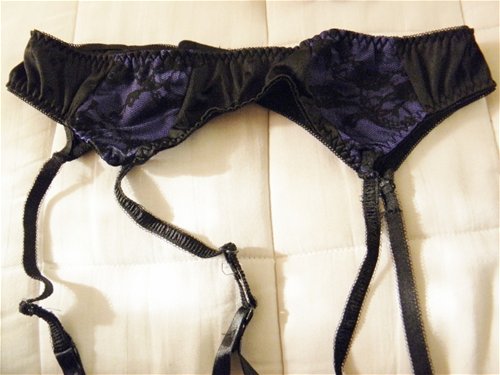 As for care, for all of these pieces, I would hand wash in cold water and hang to dry.
Honestly, as I sit wearing this bra and garter while I write this review, I realize that if this hadn't been discontinued, I'd probably order another. Really, the bra is that cute, and it alone was worth the price of the set for a decent bra. Not to mention, I got this on sale! I feel very lucky to have gotten this set!
Follow-up commentary
2 months after original review
I still like this, but I've come to decide that this bra is a bit...stiff? The thong was trashed soon after I got it, since it was such an awkward fit. The garter belt is fine. I've worn the bra enough times now, and it is still kind of stiff. I think part of it may be that the underwire is so stiff and can kind of dig in, and the other issue is the cups being very stiff. This isn't my best bra, but it's better than some that I have. If it were a bit more comfortable I would wear it more often. Aesthetically, it looks great though.
This content is the opinion of the submitting contributor and is not endorsed by EdenFantasys.com

Thank you for viewing
Bra with garterbelt and g-string
– bra and panty set review page!