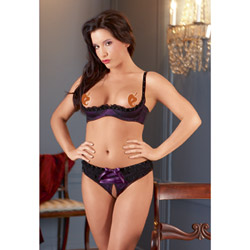 Hebe bra and thong set
Bra and panty set by Cottelli
Purple Mountains Majesty
The Hebe set is a beautiful shade of royal purple and studded for a bit of a rock n' roll twist. I love the quality of the pieces and that they run very close to the size chart. However, because of this, the set isn't very stretchy and doesn't have a lot of give, so it didn't fit me, personally. I still think it's a well made product and would look very flattering on someone closer to the size range.
Published:
Pros:
Supportive, Good quality, True to size
Cons:
Only runs S-L
This set is an awesome choice to showcase your goods in a really flattering way. The shelf bra look can make perky boobs look that much perkier, and the panties offer a little glimpse of your ass from behind. Being that the set is also crotchless, this allows for easy access if you're looking to have intercourse with the outfit on. If not, then it's great for a little peek or a tease.
Material:
The set is made of a mix of Polyamid and Spandex, both of which are resistant to oils and solvents. The Spandex portion is only 10%, so there isn't a ton of stretch there. Along the cups, rim of the panties, and bra straps are little crystals that give the outfit a really cute look. They're plastic rather than glass and seem to be glued on pretty tightly. I love all the mixed media on the outfit, such as the ruffles and corsetry. The ribbons that are located on the front and back of the panties are a satin texture and are sewn on. They're there for aesthetics only and don't actually lace up the piece in any way. The materials are really well made and sewn. There aren't loose strings hanging or snags along the fabric. There's an overlay of black lace over the purple and it isn't scratchy or bothersome in the least. I love the lace overlay look and Cotelli definitely nailed quality in the pieces material wise.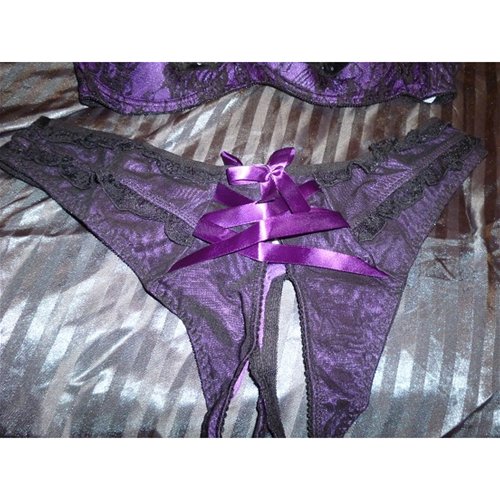 Fit:
I was really bummed when this didn't fit as I hoped. I can barely squeeze my 170lbs into this, and this outfit isn't as stretchy as I originally thought it would be. The spandex gives it a tiny bit of give, but overall, this didn't fit me well and because it's so very revealing, I can't post pictures of all the problem areas of the fit. I ordered the set in a L hoping that I would be able to get away with it. I didn't nearly rip it getting it on, but it looked awkward and awful on me. If you have a bit of boob sag, they'll probably hang over the cups and won't give you the perkier look on the product photo. The sides also didn't fit my 38Cs, but the large may fit yours if they're a bit perkier than my own. The tag on the bra will tell you the bra is sized 85B, because the company is based in the Netherlands. It doesn't translate to US sizes well, as this bra doesn't have cups and really only needs to fit you around band wise. The band fits me great and I'm a bit overweight, so the L is accommodating in this area. The panties don't have all that much stretch and with my measurements, I was lucky to get in them at all.
My Measurements:
Bust: 39"
Waist: 38-39"
Hips: 44"
Weight: 170-175lbs
The panties barely fit around my hips. The fit was horrid and the crotchless portion stretched out due to my size and showed a lot more than I feel was meant to be shown. If this ran in XL, it probably would've fit perfectly. As I am a bit larger than the sizing chart, I knew I was taking a chance and just hoped for it to run large. I would say this set runs pretty true to size. If you wear an XL easily, I would opt out on this.
Packaging:
The packaging is simply a plastic casing with the product photo covering the front. The back portion is clear, and if you're a private person, it's not discreet as to what is inside or how the garment looks. This is a more revealing set, so you may not want the packaging lying around for kid's eyes. The product photo on the packaging shows the model's nipples, among other things.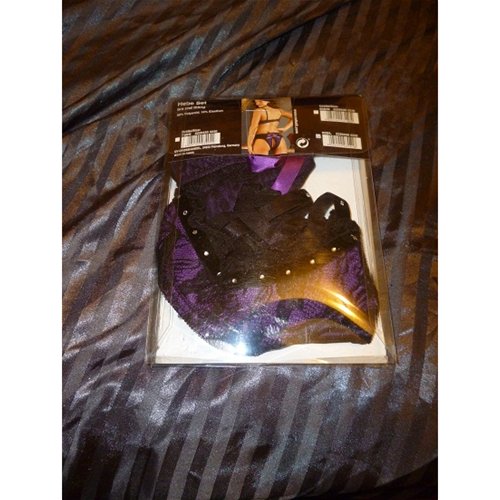 Care and Maintenance:
The instructions on the tag aren't clear. They're in another language entirely. It instructs to wash all dark colors separately and not to iron the garment. As with most lingerie, the assumed instructions would be to hand wash in cold/warm water and hang to dry. Because of the rhinestone details, I wouldn't throw this in the washer/dryer without placing it in a pillowcase or lingerie bag first. Sometimes I machine wash my lingerie garments anyway if they don't have a lot of intricate details that could be damaged in the process. This is a piece that I wouldn't take the risk for, as it's pricey and extremely well made.
Experience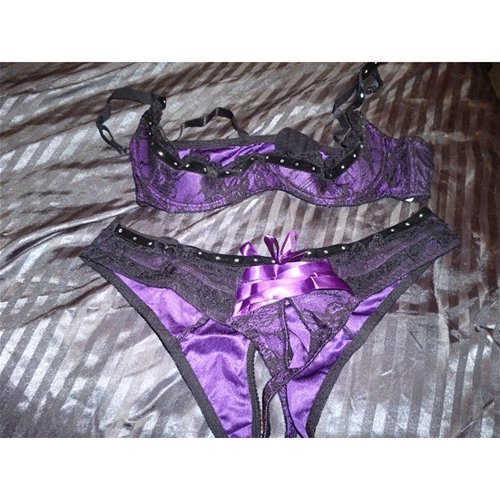 As you can see, the visual aspect of the piece is stunning. It definitely won't be everyone's cup of tea, but this color happens to be my girlfriend's favorite shade of purple so I snagged it after I had it on my wish list for ages. I'm sad to say this is the piece that made me give up on shelf bras for good. I've tried a few before this piece and felt maybe they were just low quality and unsupportive, but they're just built for those who have a perkier set of tata's than mine. When you have saggier breasts, they tend to hang over any shelf, even the most supportive. Case in point - this item is wonderfully made and very supportive with under wire, but my boobs still weren't helped at all and this made for a really unflattering look. My body is pretty disproportionate, though, so most things don't fit at all. The panties were a disaster and barely fit over my hips. I think if I lose about 30lbs this set would fit me great, but until then, it's probably going to serve as motivation to get the last of my weight off. It definitely isn't made to fit anyone who wears over a size L normally.
I still love the look and feel of the materials and rated it highly because it didn't fit me, but for someone that falls within the size chart, I'm sure it'll be flattering and look awesome on them.
Follow-up commentary
8 months after original review
The sizing of these pieces just honestly made me sad. The quality is up to par with the price tag, but I never got to wear it because the panties would even make it past my thighs. The sizes definitely run a little small and it's unfortunate, as it's one of the sexier pieces Eden offered when it was sold. I really think overall it's a quality, well made set, but just didn't fit me correctly.
This product was provided at a discounted price in exchange for an unbiased review. This review is in compliance with the FTC guidelines.

Thank you for viewing
Hebe bra and thong set
– bra and panty set review page!