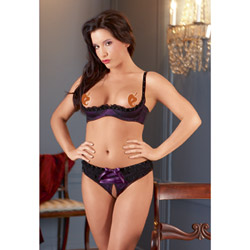 Hebe bra and thong set
Bra and panty set
by Cottelli
Quality Meets Sexy
While the price may scare some people away, I assure you that this set is quality and worth the money. The bra is incredibly comfortable and supportive. The panties don't get in the way and are able to be maneuvered for whatever type of stimulation you are into. I highly recommend this for anyone who is looking for a shelf bra or a convenient crotchless panty. Or both!
Published:
Pros:
high quality, soft, comfortable, underwire, good for anal and vaginal play.
Cons:
little tight around the panties
Presentation
This "Hebe" Set has been on EF for a while now, and I have been very curious about the Cottelli company. Their items do tend to have a higher price tag, so it made me wonder if their lingerie was really worth it.
This set comes folded neatly in a plastic box with an insert of the bare-chested model. Cottelli is not a company that photoshops their images, so you will find the model in her full glory right in front of you. The groin part is somewhat obscured, but you have big nipples popping up at you.
This doesn't bug me in the least, because the model looks less plastic-y and thin than other companies' models.
On the back of the insert, it gives the bare bones of information: just the fabrics used.
Materials and Craftsmanship
This set is made up of 90% Polyamid and 10% Elasthan. Which, translates to English as 90% Polyamide (an extra e!), and 10% Spandex. I assume this is exclusive of the rhinestone and velvety trim.
Now, I have to say here that this is the most comfortable bra I have bought on EF. It is on par with my Victoria's Secret and other brand name lingerie in terms of comfort. I don't even feel the underwire. Now the padding of the shelf bra at first seemed a bit cheap. But once I put it on I realized that it is pretty normal in the way of bra pads (I just haven't owned a shelf before). The fact that the mini-cups didn't wrinkle or crunch in the small box means that they aren't poor quality.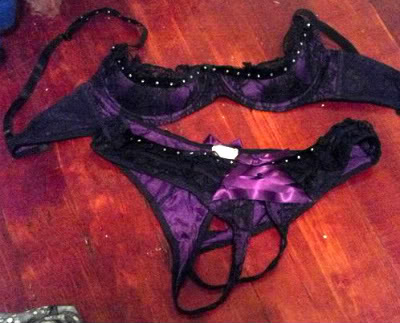 This isn't the best photo of the set but sadly it is the ONLY one of my photos that captured the actual colors of this set. All others came out too blue/dark, no matter what background or flash or camera setting I used.
I figure this is because the soft purple material is covered by black lace.
Craftsmanship is flawless. There is not one stitch amiss on this entire set. Even on the lace ruffles on both the top and bottom! All perfectly and sturdily sewn at the ends. As a rhinestone hater, I have to say these are pretty well embossed on. I am not sure exactly how they got these on. Bedazzling? They each seem pretty firmly rooted in the fabric, all perfectly spaced and attached.
This piece, for quality alone, is worth the money.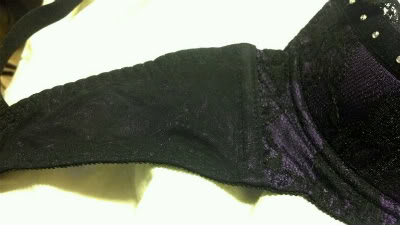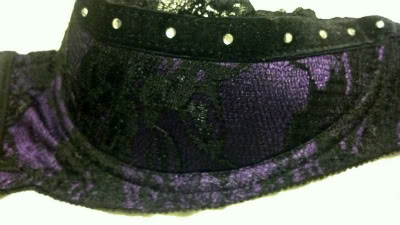 Care
Since Cottelli is from the Netherlands, the primary language on the tags is not English but Dutch. As a result, other than the pictures, there is only one phrase of instruction on the bottom of the tag. "Dark colours to be washed separately."
But here is what I gather from the pictures: hand wash only, triangle, hang to dry, do not iron, train crossing.
Experience
Sizing and Fit
I got this set in a size Large. According to the size charts, this makes this set fit someone with a bust of 38-42", and with hips 41-44".
Well, the chart is sized a bit larger than what you actually get. But if you normally buy a large for online lingerie, this will do you just fine.
I am 32" under the bust, my bust is 40". My hips are roughly 39 or 40" depending on how high or low I want to wear panties. My butt is about 44" around.
I found the bra to fit perfectly (I have it on the tightest clasp). I learned my personal preference with bras, because while I have full C's, I didn't like the shelf part really. I think I prefer an open bust entirely, with only a little wire. Women who want the shelf and a little support will enjoy this bra especially. I felt very comfortable and secure in the bra.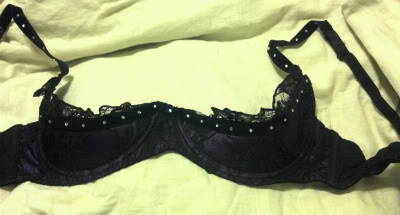 Now, the tag on the bra reads "85B," so I looked it up and it seems that this means 38A in the US and 38B in the UK. I suppose that could be accurate, but this is a shelf bra so it's not really a "cup" bra.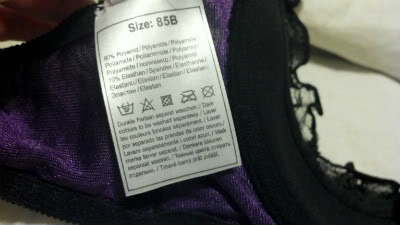 As for the panties, while they do fit, anyone larger than 40" at their hips will not fit. They were slightly uncomfortable around the band due to the size, but I realize that the band is the only part that holds these panties up and in place. As for the crotchless portion.... Yes, it is indeed large enough. Those who enjoy anal play will have no troubles with these. Those who just want to fiddle and diddle with the clitoris and/or vagina will also like these.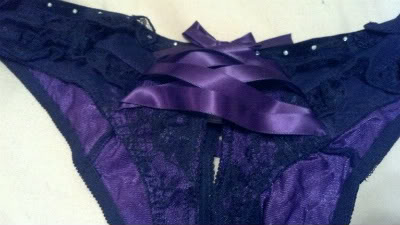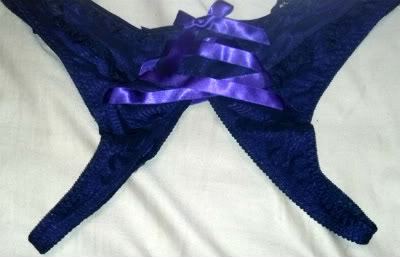 Pulled the bottoms wider apart for this picture.
Measurements:
Shelf is about 2" long at the center of the bust
Band of bra: 29-38"
Panties: 28"-40" to the max with stretch.
Suggested Sizing for Large:
Under the bust: 32-38"
Bust: Probably best to be at least a C cup, (since the shelf will swallow up smaller breasts)
Hips: 36-39"
Before I could even snap the bra in place, I was pounced upon by my boyfriend. The panties didn't chafe or feel weird during sexual intercourse. I found that if I let the crotch part do what it wanted, it rests a little close together. When I adjusted the back over the beginning of my butt cheeks, it held the panties open wider in perfect placement.
My boyfriend especially loved these, he said he barely felt them during the act.
Overall, I am more than pleased with this set. If EF decided to get some of the other Cottelli lingerie items that interest me (ie: not the leopard print ones), then I would buy in a heartbeat! Definitely worth the money!
Follow-up commentary
4 months after original review
I still think this set is sexy and very well-made. I can't get over how comfortable and high-end the materials are. While I still think a complete open bust looks sexier on me, the little balcony provided here is nice for those who want extra support.

I would still highly recommend this to others. It is so definitely worth it.
This product was provided free of charge to the reviewer. This review is in compliance with the FTC guidelines.

Thank you for viewing
Hebe bra and thong set
– bra and panty set review page!