Purr-fectly Sexy
This chemise has quickly become a favorite! It is super comfortable, flattering and sexy without being trashy. Perfect if you want something sexy to lounge around in, or are looking for a piece that covers you up a bit!
Published:
Pros:
Super comfortable, easy to care for, sexy without being skanky
Cons:
Only 3 sizes available
This is by far my current favorite piece of lingerie from EF! It's the perfect combination of sexy and comfortable, and has been a go-to summer staple for the few weeks I've had it so far!
Coquette's Leopard Chemise is made from 80% nylon and 20% spandex, giving the fabric a feel very similar to swimsuit material. It is super stretchy, and hugs every curve of my body like crazy! One great thing about the material is that it doesn't wrinkle, so you can toss this in a dresser drawer or suitcase with no worries, although I prefer to store mine hanging up to keep the bra cups in nice shape. The care tag suggests hand washing and hanging to dry, which is probably the best plan.
One of the few cons of this is that it only comes in small, medium, and large, which is such a shame because this would be awesome on larger sizes, too. I ordered the large, which according to the size chart will fit sizes 12-14, C cup, 38-40" bust, 30-32" waist and 40-42" hips. I fit that pretty well at size 11/12, 38 D, 34" waist, 39" hips. At 5'11 and 150-155 lbs, I have a pretty "average" body shape with lots of curves. This piece fits me to a tee, although I wouldn't mind if it was a little less clingy in the stomach area.
The bust area is almost like a real bra- the cups are very solid in structure, with built-in underwires and push-up padding. It's so rare that I find lingerie that actually supports my breasts, but this does the trick! The bra cups are 7" deep from the center down, pretty similar in coverage to a normal bra.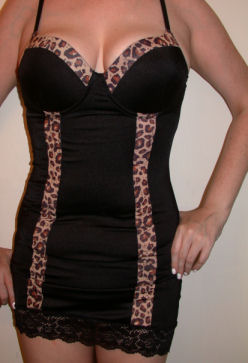 The chemise measures about 26" long from the center of the bust (the dip between the cups) down to the hem. I'm quite tall, and this actually comes down to my fingertips if I stand with my arms down at my sides. It does tend to ride up a bit if you wear it for a while, though.
As far as size, I'd say the Large would work best on a US size 10-12. It might fit a 16, but if you're a 12 or up, it's definitely going to be clingy, possibly in an unflattering way. The cups are probably going to look odd on anything smaller than a C cup, since they're firm and shaped, but anything larger than a D or smallish DD is going to come spilling out.
You could definitely wear this during sex, and be quite comfortable doing so- it's even comfortable enough to sleep in. It would also work well worn as a slip under a black dress. I'm a big fan of just wearing it around the house, since the fabric is light and breathes well, making it great for hot summer days. I'd also say this is perfect for travel- it's lightweight and won't take up a lot of room in a suitcase, won't wrinkle, and if housekeeping knocks on the hotel door you won't be totally embarrassed to answer while wearing this.
I really love the design aspect of this chemise, too. The leopard trim and lace at the hem are enough to make it interesting and give it some personality, but there's enough plain black that it doesn't feel trashy or over the top. It's kind of hard to make classy leopard print lingerie, but Coquette totally pulled it off here!
I also own
this
chemise by Coquette, and of the two, I prefer the leopard one. I can't quite put my finger on why, but the leopard is just a little bit more flattering and more comfortable.
This content is the opinion of the submitting contributor and is not endorsed by EdenFantasys.com

Thank you for viewing
Leopard chemise
review page!