Raspberry Fields Forever, unless you're short
This is a great piece, but like most One Size Fits Most, it doesn't fit super petite women and probably won't flatter larger women. It looks great, and is really well made, but unfortunately I can't like it because I can't wear it. The bottom is great, but its the top that wasn't designed for women like me.
Published:
Pros:
Looks nice
well made
Cons:
Won't look right if you're short
Not for petite women
Sizing
Shoulder to Bottom: 31"
Shoulder straps: 7"
Back gap: 9"
Diameter at bust: ~18.5
Circumference at bust: ~34.5
Diameter at waist: N/a, cut out
Diameter at hips: 14"
Diameter at bottom: 19"
So apparently, this piece is part of the 'Save the Ta-Ta's' collection, and donates a part of its profits to breast cancer research according to the tag. This makes me feel pretty glad to have gotten this since breast cancer is a serious disease, and I'm glad my money goes to help.
The packaging on this is better than the luxury Coquette pieces I got, although the luxury pieces comes with a really nice hanger. This however is folded nicely and isn't a lump inside a bag with a fancy hanger.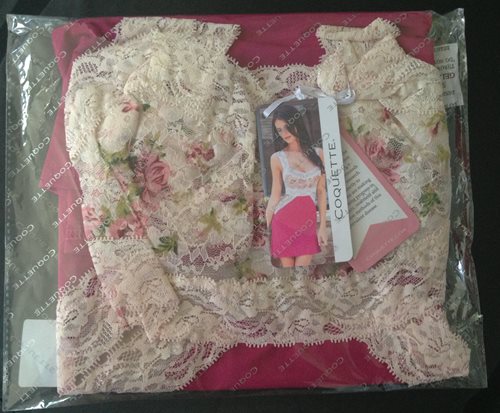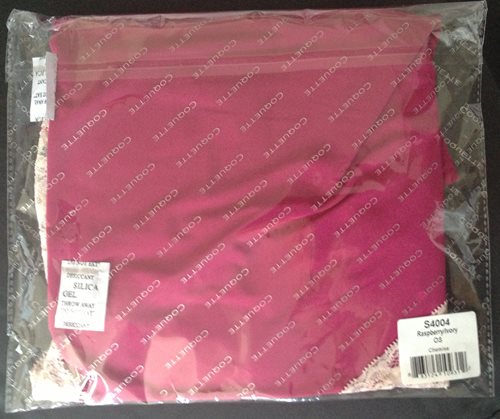 Unfortunately, it doesn't hang as well as it looks on the body though.

Because this is a cutout piece, be careful not to pull the front too low or else the back gets really weirdly high. My measurements are if the back is at the optimal level where it's not too high or too low. This piece is definitely not for plus sized women, as the cutout will lead to embarrassing muffining at the back and sides, though this isn't for the smallest people either since they'll be swimming in it and it'll look weird.
The bust size of this is approx a C cup, but larger breasted women can still fit just the back will be a bit higher.
While the bottom is opaque, the top isn't so if you go outside in this wear a bra that matches this, preferably something that goes well with beige and pink, so sorry no black.
The lacey top can be a little scratchy, but with a bra it should be no problem what so ever. The bottom however is very comfortable. It's flowy but has no shape so it might look odd on some people. This wouldn't look good on anyone with smaller hips since the way it falls doesn't create the illusion of more hips, in fact it flattens them even more so! Because of the gap, be careful not to pull the bottom down too much or else you might accidentally moon someone, and that is never any fun in public.
For me, I was unfortunately a few inches too short to wear this and too small breasted, a few inches taller and a cupsize bigger it would look great on me. Due to my height, my torso was actually too short and the thick lacey area scrunched up a bit. Pulling it down a bit didn't really help since my shape doesn't match the proportions of this piece and the cups became too low which made awkward bunching there and also exposed my bra. One size fits most never fits someone my size unfortunately. The thing about this is, you can't really be too tall for this piece, only too short.
Durability wise, this piece is great. I'm always afraid of lace breaking, but it stretched and was very well made. The lacing was strong and so was the opaque fabric on the bottom.
If you aren't short, and have at least a C cup, this is for you. Otherwise, sorry. :(
This product was provided at a discounted price in exchange for an unbiased review. This review is in compliance with the FTC guidelines.

Thank you for viewing
Raspberry Fields cut out chemise
review page!