Red lace to stir up the night (SM)
Are you a fan of red and black and looking for an inexpensive lingerie piece for you or your partner? If so, the red and black strappy lace teddy by Rene Rofe could be a wonderful addition to your lingerie collection. My only complaints about it is that it is a thong style teddy, the middle doesn't fit me perfectly, and it doesn't come in a variety of sizes.
Published:
Pros:
Inexpensive
Cons:
Doesn't come in a variety of sizes.
What it is
This is a red and black teddy with halter-style bra straps that tie around the back of your neck. It is from a company that Eden just recently picked up Rene Rofe.
Sizes Eden Carries
Eden currently carries this in sizes SM and ML. These sizes do not offer much variety for those that do not fit into that size range. I have the size SM and everything in this review will be based on that.
Rene Rofe Size Chart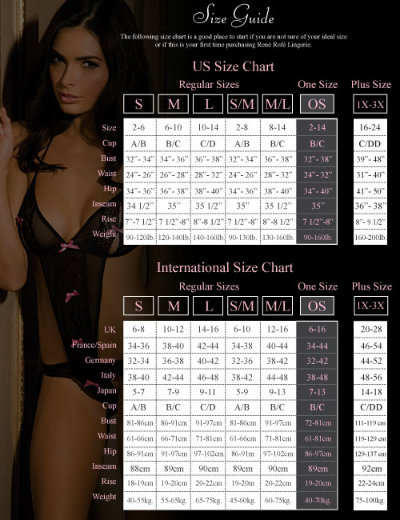 My current Sizes
Size 4-6
AA Cup
32" bust
27" waist
32" hips
121 pounds
Given the following information, I should be within their size chart and the teddy should fit me well with the exception of the bust area. I find this to be accurate. The only issue I have with it is the piece that runs down the middle does not sit properly. If I adjust the halter top to fix the middle, then the bust area goes above my breasts. I have some room in the cups, and feel this is best for those that are A-B cups just as their sizing chart suggests. Here's a picture of the middle stretched out.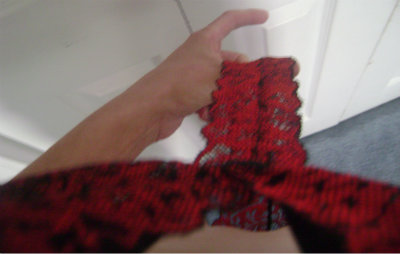 To slip this on is fairly easy and not complicated at all. I first step into the panty area and once I get the three straps on each side where I want them placed, I hook the strap around my back, and last I tie the halter straps around my neck. As far as lingerie pieces goes this is very simple to wear.
Measurements taken laid flat
If you need any more measurements, feel free to contact me. Excluding the halter straps, the overall piece is 22" long. It has 2 6" black straps at the bust, and is a triangle shaped bra that offers no support or underwire. This is not an issue for me because I am very small chested, but I know that is not the case for most ladies and that they prefer some breast support. I usually end up cutting any underwire pieces that I have and getting the underwire out of the piece so I was glad I did not have to do that with this piece. The bra area is outlined by black of the bra straps. The bra strap is adjustable from 8" at the shortest length and 14 3/4" at the longest length, The straps are adjustable like bra straps, but the clasp is not like a bras hook and eye closure, It just had a loop sewn into the material on one end and a clasp on the strap that it attaches to similar to that of a bra that closes in the front. Claped at the smallest point, the bra area is 10" wide and 6" long. At the longest, the bra area is 12 1/2" wide.
The torso area cannot be adjusted. Laying flat and unstretched this teddy measures 9" long from the bottom of the breast to the top of the panty. It starts out at 1 1/2" wide and gradually progresses to 3 1/2" at the top of the panty. The torso has scalloped edges.
The panty area starts at 3/4" wide and gradually decreases to 1/2" triangle for the thong area. The panty is held on by three strings and ends in a thong style panty. I am not a fan of thong style panties and prefer my lingerie to be boyshort style, but I did not order this for me. I ordered this for my husband and he thinks the thong style of this lingerie piece is very sexy. The strings measure 12 1/4", 12 1/4" and 15". The panty has a small triangle liner stitched in with an open pocket for the potential use of a small vibe fitting in there.
Front of the piece laid flat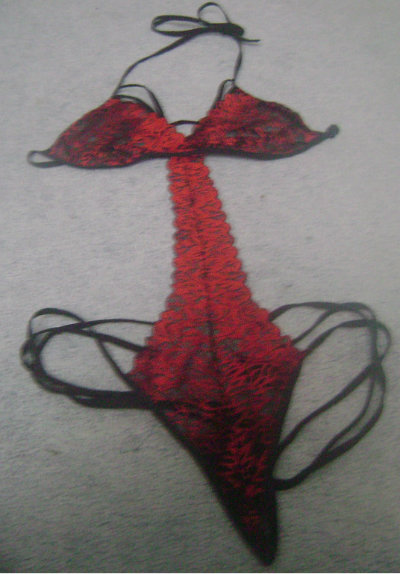 Back of the piece laid flat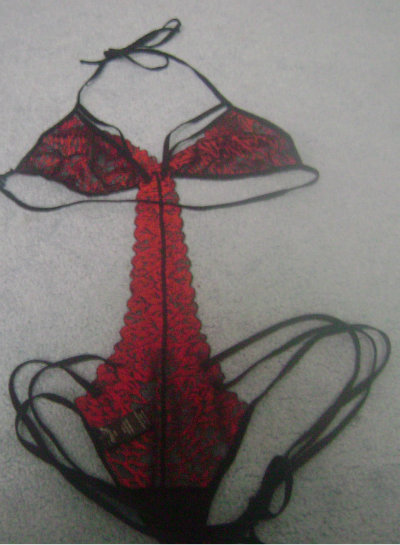 Material and Care
This teddy is made of 90% nylon and 10% spandex. According to Wikipedia, nylon is a generic designation for a family of synthetic polymers known generically as polyamidesis. Nylon is considered to be a strong silky material that is durable and hypoallergenic and also offers good resistance to oils, greases, and solvents and commonly used in stockings. Spandex is a synthetic fiber known for its exceptional elasticity. The name "spandex" is an anagram of the word "expands". It is strong, but less durable than latex and is resistant to body oils, perspiration, lotions, and detergents. It is commonly used in clothing where stretchiness is important for comfort and fit.
Experience
(continued)
The tag suggests to hand wash cold, do not bleach, line dry, do not iron, and do not dry clean. I would suggest following the instructions, but if you did not want to do that I would suggest throwing it in a lingerie bag or pillow case and wash on the gentle cycle.
Craftsmanship
As far as craftsmanship goes, I would not consider being rough with this at all. If you tug and pull on the material too hard, it may potentially rip. The edges are unfinished and have a pretty scalloped design to them. There are no loose strings or tears in the material.
Front of the piece while worn.
I'm wearing a strapless bra and boxer shorts so you won't see my nipples and pubic area. The piece is see through and I don't want to expose anything.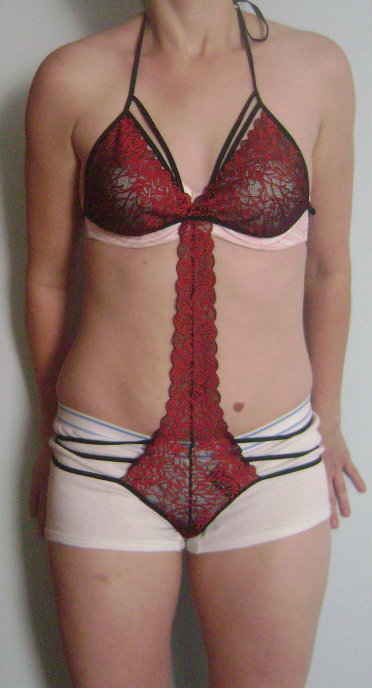 Back of the piece while worn.
There isn't much to the back it's just all straps from the halter, thong, and chest area.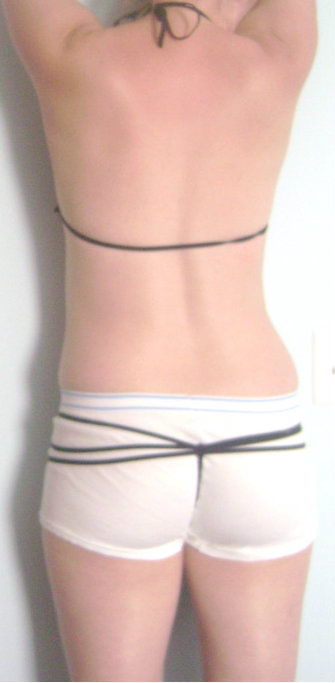 My husband has a thing for red and black color combination in lingerie and he loves when I wear teddies because they don't leave much to the imagination and he's a very visual man. I ordered this piece about a year ago from a company that was going out of business, and have worn it on several occasions. I do not have any complaints about this piece and neither does my husband.
I'm going to give it 4 stars because it does not come in a variety of sizes and the middle does not fit me perfectly, but other than that this is a nice, inexpensive piece of lingerie that has held up well in the year that I have had it.
Follow-up commentary
43 months after original review
This is still one of my husbands favorite lingerie pieces. It has held up well after wearing it several times.
This content is the opinion of the submitting contributor and is not endorsed by EdenFantasys.com

Thank you for viewing
Strappy lace teddy
review page!