Revealing Mesh For Him, Adorable Hearts For Her.
This ultra feminine (almost retro looking) set has a lot to give. Sadly it is only currently offered in sizes Small and Large. Although I can't say that this piece is amazingly sexy or super flattering, it's a nice solid set that can stand on it's own. The pieces are sexy yet simple, with just the right amount of flair to brighten up your bedroom.
Published:
Pros:
~Adjustable
~Stretchy
~Metal Garters
~Well Made
~Underwire
Cons:
~No Larger Sizes
~Cost
*Please note that this set was given to me as a gift and I didn't receive the g-string so I will not be reviewing that portion of the set, sorry for any inconvenience.*

~ Material/Design/Craftsmanship
This is a very feminine/girly piece, the material is a very light powder pink color and it is covered with little black heart spots. It's see through mesh, it has a bit of a stretch to it and is soft to the touch. Both pieces have the same design and black lace with pink inlay ribbon. Both the garter belt and the bra have elastic bands around the top. This allows the belt to fit around wider hips and bigger breasts to comfortably fit into the cups. The only difference with the bra and the belt is the elastic band around the top of the bra cups has lace ruffles over it.

I'm not as afraid of snagging the mesh on this set as I am with some of my others. The mesh feels strong and durable. This seems to be a well made set, I couldn't find any design flaws or sewing mistakes anywhere. Both the belt and the bra are made of nylon and spandex, they were made in China.

~The Bra
This demi-cup bra does have an underwire, however this isn't a very supportive or covering bra. I have D cups and I would say it covered about half of my breasts, just nearly enough to cover my nipples. The material that the bra/cups are made of is mesh and forms around your body/breasts. The cups can be pulled down under your bust relatively easy, providing for easy access to your chest. If you have large breasts I wouldn't recommend this design to you unless you want them spilling out. Also if you are self conscious about the shape of your girls or their appearance, just be aware that this isn't a forgiving bra. Because of the lack of shape and thickness, I probably wouldn't feel comfortable wearing this bra in public or for everyday use. I do think this is perfect for the bedroom though, you could probably wear the bra during intercourse if you'd like.

Between the cups there is a large pink ribbon that's sewn in place that cannot come undone. Around the cups there is a lace border that continues up to little pink ribbons and the thick straps that have their own lace and pink ribbon inlay. The straps are adjustable as is the back band (two hooks and three sets of matching eye closures). I liked wearing this bra, for me the material was comfortable and breathable. I didn't think that it was itchy or irritating at all.

~The Garterbelt
This garterbelt attaches to your stockings/thigh highs with four straps. The two in the front start with the same black lace with pink inlay ribbon that the bra straps have. The two in the back have the same plain black elastic that is also seen on the side of the belt. All four straps are adjustable as is the hook in the back where you secure the belt. All of the clips are metal with plastic fittings and are covered by black ribbon on both sides. If it's not already clear the garters are not removable, they're sewn on.

I was able to wear this despite having fairly large hips, which is great. The belt and garters were very easy to secure and stayed in place for as long as I wore it. I was comfortable walking around, sitting and lying down. You could probably get away with wearing this under your close in public if they weren't too tight fitting. I personally wouldn't wear this during sex being that it fits just right and I wouldn't want to rip it. But if you're spot on with the size chart you could probably pull it off.

~Sizing
I would say the sizing for this set being a large is almost spot on. I'm on the larger side of the chart (usually going with an XL when available) but this piece still fit me well when adjusted. Sadly because of the lack of larger sizes, if you are any larger than my measurements I would recommend looking elsewhere. Coquette's Large measurements are as follows in inches (mine in parentheses).

Clothing size:12-14 (16)
Cup:C (D)
Bust:38-40 (38)
Hip:40-42 (44-46)

~Care and Maintenance
According to the tag on the garterbelt, it would be best to hand wash this set. I'm assuming that I would also be best to let this one air dry. I wouldn't put it in the regular wash or dryer for fear of ruining the material.
Experience
As I said at the beginning of the review, I received this as a gift. This was my very first garter belt as well as my first product by Coquette. I was very pleased by the quality and detail in this piece. I would buy another set from Coquette with no question. My only problems with this set would be the lack of larger sizes and the high price. It's not showing up on the product page but this set costs $46.99. Honestly I probably wouldn't have purchased this set for myself (if it had not been on sale) at the current price. However, I have to give credit where credit is due. These are well made pieces that I think will last me a while. I wouldn't recommend this to a larger breasted woman, but other than that I think this set would look nice on a wide variety of people.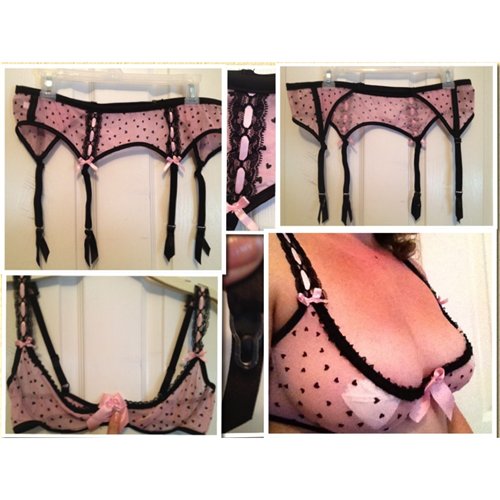 Follow-up commentary
3 months after original review
Although I don't use this set as often as I used to, but it's still a favorite in my collection. The material has held up quite nicely with no problems at all. I haven't had any problems with the garter clips, the still work like new. The only thing I would change about the set would be to make the bra a regular bra- meaning a more sturdy material then mesh. I stand by my original belief that this set wouldn't work on a woman with larger breasts. I continue to recommend this set to someone willing to pay the price for Coquette's higher quality pieces.
This content is the opinion of the submitting contributor and is not endorsed by EdenFantasys.com
Thank you for viewing
Heart mesh bra with garterbelt and g-string
– bra, panty and garter belt set review page!